Couple arrested, accused of squatting at Chandler home that was up for sale
CHANDLER, Ariz. - Chandler Police made an arrest at a home that was up for sale, after neighbors were calling officers about a couple staying at the home.
Clothes, a stroller, food, and other items scattered throughout the home, located near Chandler Boulevard and Gilbert Road. The items allegedly belonged to Gary Lynn, 29, Adriana Gamboa (26), and two children, ages two and four.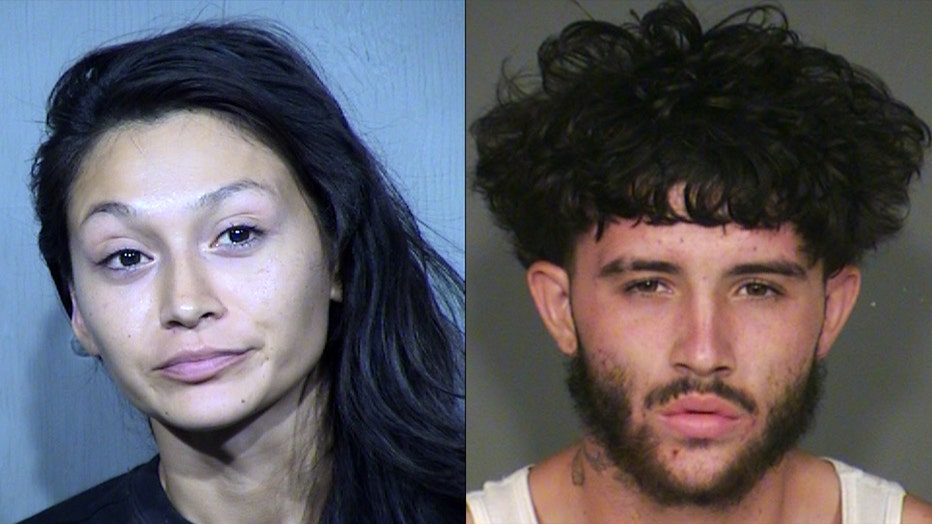 Adriana Gamboa (left) and Gary Lynn (right)
Police say on Saturday, a call came in for possible residential squatters. According to court documents, Gamboa was taking her kids a bath, and Lynn was charging his phone.
"I don't think that's cool," said neighbor Karelan Jensen. "You could have gone somewhere, elsewhere. It's a public place and not someone's private home."
Gamboa told authorities she wanted peace and quiet from a shelter she was staying at, and claimed she was a potential buyer. The pair entered the home after registering through an online real estate company, where potential buyers can view the home and get in after receiving a code.
"I think it's cool that you can go in and you don't have to deal with someone selling the house, and these people really saw themselves in it," said Jensen.
The family entered the home in Chandler by registering online, and then receiving a code to get in. Court documents state a representative with Opendoor toldf police that two logins were requested for the same day: one in the morning and one in the afternoon.
Both Gamboa and Lynn were arrested for trespassing, and the children were taken into custody.
Meanwhile, Opendoor has issued a statement on the incident.
Squatting is not uncommon. In fact, Patrice Pimentel, a real estate agent with Homesmart Lifestyles, says she has had squatters.
"In one of my rentals, we waited until they were gone and removed all of their things and change the locks, but it doesn't prevent them from coming back because they can break a window and come back in," said Pimentel.
Opendoor Trust & Safety measures