Phoenix Police officer released from hospital after being shot in 'violent and unprovoked attack'
PHOENIX - The Phoenix Police officer hurt in an "ambush style" attack has been released from the hospital on March 25, and the suspect was taken into custody not long before that.
According to court documents, the incident began to unfold at around 9:46 a.m., in an area near 7th Avenue and Broadway Road. The officer who was shot, described as a woman who has been with the department for less than a year, was responding to a hit-and-run accident call in the area of a black Chevrolet Camaro that crashed into a home. 
A witness also reported seeing the driver, who "appeared to be very agitated and was armed with a rifle."
"While approaching in her patrol car, the suspect pulled a rifle and began shooting at the officer," police said
The officer was able to drive away, but she had been shot in her left hip and was hit in the face by bullet fragments. She was taken to the hospital, where she was treated for non-life-threatening injuries.
"The Phoenix officer involved in this violent and unprovoked attack is being treated at a local hospital for a gunshot wound," officials said. By 6 p.m. on March 25, she was released from the hospital.
"She is in good spirits and will be recovering at home with family," the department said of her release.
The suspect, identified as 29-year-old Joseph Lopez, fled from the scene on foot after the shooting.
Police say a witness was able to record video of Lopez, who was wearing a white shirt and black hat.
The registered owner of the Camaro was contacted by police and said he allowed someone else to take over payments of the car. That person was found to be the girlfriend of the suspect, who said Lopez was driving the Camaro.
"Joseph had called his girlfriend and told her he was in an accident and asked for her to come to get him," court documents read. "The girlfriend arrived in the area, and saw the Camaro along with the police presence."
Investigators learned the Camaro had a GPS installed and after reviewing the device's history, police identified Joseph's home address, where they found blood on the door. Police knocked on the door, but no one answered.
Investigators were able to view nearby Ring doorbell camera footage that captured Lopez, who was wearing a white shirt and black baseball cap.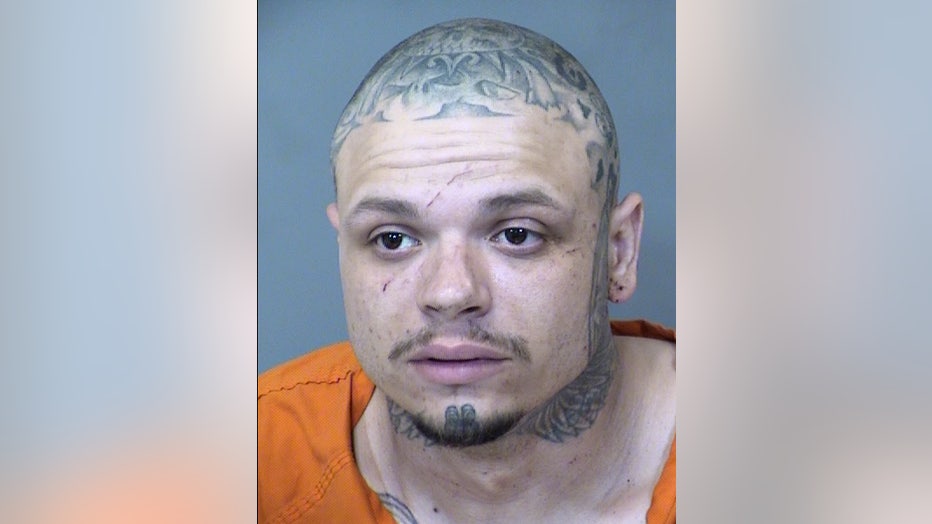 "Two witnesses to the vehicle accident that observed the driver of the vehicle positively identified Joseph Lopez as the subject who was driving the Camaro," court documents read. 
Police say the officer who was shot also viewed the video and identified Lopez as the shooter.
Lopez's mother also allegedly made phone calls to the suspect's brother in prison. The calls were recorded, and police say Lopez's mother said he was hiding in the same area of the crash and shooting.
Lopez was found by police and taken into custody after crawling out of a roof vent. He was taken to the hospital to be treated for minor injuries before being booked into jail for attempted murder and other felony charges.
During an interview with police, Lopez allegedly admitted to taking drugs and drinking alcohol.
"He admitted to taking over the payments on the Camero [sic], along with his girlfriend," court documents read. "Joseph said he could not remember if he did or did not shoot the officer."
Police said another officer suffered minor injuries during the search for the suspect due to a dog bite.
"This was an ambush on our officer, this is the reality our officers face every day when they put on this uniform, we stand ready to keep our community safe from criminals willing to commit these brazen acts of violence," Interim Phoenix Police Chief Michael Sullivan said. "I'm committed to reducing gun violence in this city, my officers are committed to reduce gun violence. I'm asking the community to partner with us in this effort."
Suspect makes first court appearance
"Mr. Lopez tried to kill a police officer," said Ellen Dahl, Deputy County Attorney with the Maricopa County Attorney's Office, at Lopez's first court appearance on March 25. "As the officer responded to the call in her patrol vehicle, Mr. Lopez got out of his car with a rifle and started shooting directly at her."
The prosecutor detailed more on Lopez's history.
"He is a documented member of both a criminal street gang and a protective custody prison gang. He was released from prison less than a year ago, and he's currently on probation as you just stated for another felony," Dahl said to the judge.
Lopez was given a million-dollar cash-only bond, but because of his previous felony release, he cannot post bond and be released.
His mother, Christina Gryzb, spoke with FOX 10 and said, "my son is not a monster."
The 29-year-old has been in and out of the prison system a few times and his mother says he needs mental health help that he hasn't been getting while on probation.
"I lost my youngest son, he lost his stepsister while he was incarcerated. Then just a month ago his best friend was killed. So he has a lot of grief, he's been asking, crying for help, and probation didn't help him and the system is just messed up," she said.
She says she's spoken to her son since the arrest.
"He's just been saying that he's sorry and that he doesn't remember," Gryzb said.
She has a message for the Phoenix Police officer now recovering from a gunshot wound to the hip.
"I'm very, very sorry, and my heart does go out to the police officer that he did shoot and I thank God every day she's here with us on this earth. I thank Phoenix Police for not shooting my son," Gryzb said.
She also has this message for the public.
"I just wanted everybody to know my son is not a monster. He was just crying for help."
A show of support for injured officer at the hospital
At the emergency room entrance of the hospital where the officer was taken to, a number of police vehicles could be seen in a show of support for the officer.
One of the first visitors at the hospital was the Maricopa County Attorney, Rachel Mitchell.
"We've seen so many police officers, all officers under attack in the community, and it's our way of showing support," said Mitchell, whose office will handle most of the criminal cases that follow.
Mitchell says it's a priority to visit officers in the hospital.
As of Mar. 24, there have been 10 incidents in 2023 where a Phoenix Police officer fired a weapon. This incident, however, marks the first time an officer was hit in 2023. Mitchell said she believes the math is simple: there are too many criminals, with too many guns.
"These are people in possession of a weapon that should not be in possession of a weapon," said Mitchell.
The Phoenix Law Enforcement Association released the following statement on the shooting:
"This morning, a dedicated Phoenix Police Officer was shot while responding to a call of a vehicle that had crashed into a residence. The caller advised that he thought the driver of the vehicle had fled the scene possibly with a rifle.
As the officer arrived on scene, the suspect--unbeknownst to everyone--had been waiting inside of his vehicle, jumped out with a rifle, and cowardly ambushed the officer. He fired several rounds at the officer with wanton disregard for everyone in the area. The Phoenix Law Enforcement Association is in close contact with the medical team and we are praying for the officer's quick recovery.
The increased violence towards responding officers is becoming far too common here in Phoenix and is absolutely infuriating. Words matter, and the increased hostility from activist organizations, and their elected allies, is creating an environment where many believe violence against police officers is acceptable thus normalizing this dangerous behavior. For years, these same people have boisterously blamed the police for the outcome of violent encounters, not even once acknowledging that police officers are needing to react to the attacks against them. Holding police officers 100% responsible for the unfortunate outcome of a deadly incident when we are only 50% of the equation is ignorant and perverse.
This behavior is unacceptable and must be condemned by our community and the Phoenix City Council. Phoenix residents, and the brave men and women who have chosen to stand in the void and protect law abiding citizens, deserve better." 
The scene of a Phoenix PD investigation near 7tth Avenue and Broadway on March 24.
Location of where the incident happened: