GCSO: Man dead after car was swept away by Tonto Creek floodwaters
TONTO BASIN, Ariz. - A man has died after being swept away by floodwaters in Tonto Creek floodwaters.
Gisela Fire says 69-year-old Robert Petitte was found dead after trying to cross the creek in a four-door sedan in Gisela. This happened 20 miles north of Bar X, the location where two young children were found dead last week. 
Authorities found his body a quarter-mile downstream.
Gila County Sheriff's Office officials say Petitte was trying to cross the creek Friday night when his car got stuck. He ignored two "Do Not Pass When Flooded" signs.
"He apparently left the house around 7:30 p.m. and wasn't seen from all night," said Richard Quarles, the Gisela Fire Chief.
GCSO found Petitte's car with all of the doors closed. It's believed he got out of his car as it faced upstream before being swept away.
GCSO says this death interrupted the search and recovery of 6-year-old Willa Rawlings, which was on its ninth day of searching on Saturday.
Two GCSO divers had to leave the search for Willa to find Petitte floating near the Tonto Creek shores.
"We're trying to find this little girl and people are still crossing creeks, not obeying signs," said Lieutenant Virgil Dodd with GCSO.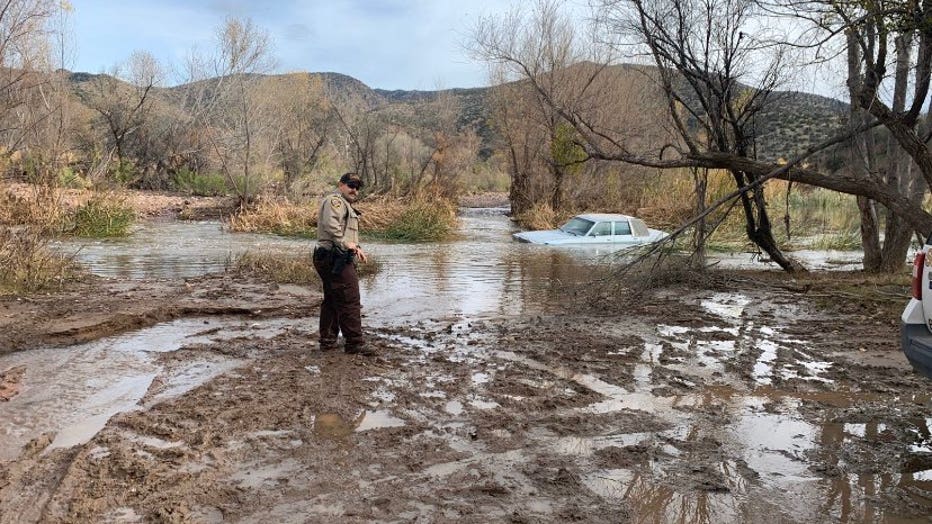 "And it is sad that while we're doing this, it's so happening so close and within our county," said Thor Knudson, GCSO Dive Team Coordinator.
It left five divers available in the search for Willa.
As another attempt to cross the flooded creek turns deadly, Chief Quarles says Petitte may have been impaired.
The area is expected to receive incoming rain and the National Weather Service issued a Flash Flood Watch for Gila County.
Authorities hope residents taking the risk wake up.
"They don't follow the warnings. They think they're above whatever is there and they're going to come out ahead, but they don't," Quarles said.
Crews return tomorrow for day ten of the search for Willa.