Gilbert High School student accused of sexually assaulting underage girl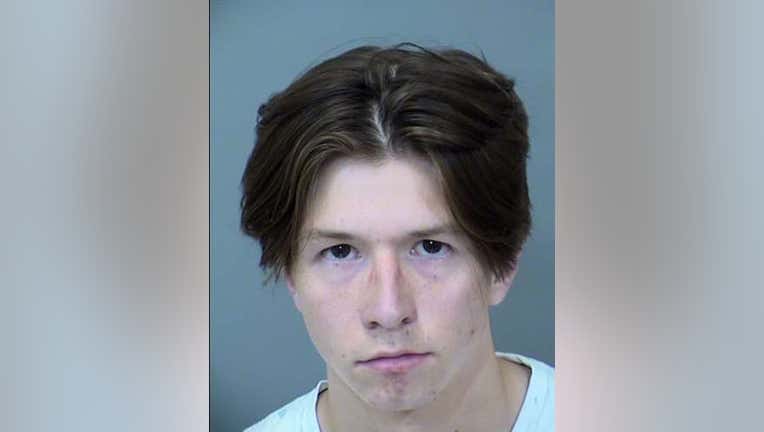 article
GILBERT, Ariz. - A student at Gilbert High School will be charged as an adult after he reportedly sexually assaulted a 15-year-old girl in the backseat of his car, police said.
The investigation began after the victim reported that her ex-boyfriend, identified as Chase Poskey, assaulted her in the parking lot of a Fry's grocery store back in January.
She told police that Poskey, who turned 18 in August but was 17 at the time of the incident, threatened to not take her home and that she would never see her family if she did not get in the backseat with him. Court documents say that he ignored all of her refusals and attacked her anyway.
"It was me doing what I wanted to do when I wanted to do it," Poskey reportedly told the victim in a recorded phone call after the incident. "I just kind of blocked you out and I'm sorry that happened."
The high school student was arrested by Gilbert Police on Sept. 15, and he admitted to having sex with the girl despite hearing her say "No," court documents said.
"Chase has a high sex drive and will block out everything when he is having sex," police said in a report.
According to court documents, Poskey told the alleged victim during a recorded phone call that it was not her fault.
"I didn't mean to force you. It was me doing what I wanted to do when I wanted to do it. I just kind of blocked you out and I'm sorry that, happened," Poskey reportedly said, during a phone conversation with the alleged victim. "I should of stopped when you said 'no.'"
 A judge has set a $10,000 bond for Poskey. He is also ordered to wear an ankle bracelet, and banned from talking to the alleged victim.
"If you think you're smarter than the court, sir, I strongly encourage you to rethink that, and listen carefully to your defense lawyer," the presiding judge said, during Poskey's court appearance. 
You can't have any communications of any type whatsoever. If the court learns you have violated that, if I happen to see you, sir, [I] guarantee your family is gonna need at least six figures to bond out."
Poskey is also ordered by the judge to not attending Gilbert High in person. He can, however, continue with school virtually. He is also banned from playing football or take part in any school functions.
Officials with Gilbert Public Schools released the following statement to FOX 10 on Poskey's arrest:
"Our administration was made aware on Wednesday, by the Gilbert Police Department, of this off-campus incident. We will do whatever we can to support Gilbert PD as necessary. It is extremely important to us that our students feel safe and supported. Our Gilbert High guidance counselors, school social worker, and district behavioral health teams are available to talk with and provide support for our students as needed."
More Arizona headlines
CLICK HERE TO GET THE FOX 10 NEWS APP
Tune in to FOX 10 Phoenix for the latest news: