Police K-9 handler injured, suspect dead following shooting in Glendale, police say
GLENDALE, Ariz. - Glendale Police officials have released more details surrounding a shooting that left the suspect dead.
According to a statement, officers were dispatched to a domestic violence call at an apartment complex near 63rd Avenue and Olive.
"Officers responded to a female victim who stated her boyfriend was making threats with a handgun," read a portion of the statement.
Patrol officers, according to officials, later found the suspect, and eventually began a foot pursuit.
"The foot pursuit led Officers to an area near the 6000 block of Alice Avenue," read a portion of the statement. "The suspect barricaded himself inside the trailer (which did not belong to him) and Glendale SWAT was called to respond to the barricade."
Officials say negotiations were attempted for several hours, and eventually, a tactical team was assembled to deploy a Glendale Police K-9 into the trailer.
"As the deployment was occurring the K-9 officer was struck by gunfire. A SWAT officer returned gunfire and struck the suspect," read a portion of the statement. Police officials later clarified to FOX 10 that the officer injured is a K-9 handler.
The suspect, identified as Anthony Hood-Schaffner, died at the scene. The K-9 handler has been released from a hospital, and it is expected to make a full recovery.
Body camera video released
On June 3, Glendale Police officials released video taken during the incident.
According to investigators, Hood-Schaffner was violating a court order by showing up at his girlfriend's place and harassing her.
When officers arrived, officials say Hood-Schaffner ran and pointed a gun at himself and the officers, but then ran away.
Hood-Schaffner, investigators say, was later found at a trailer, where the shooting happened.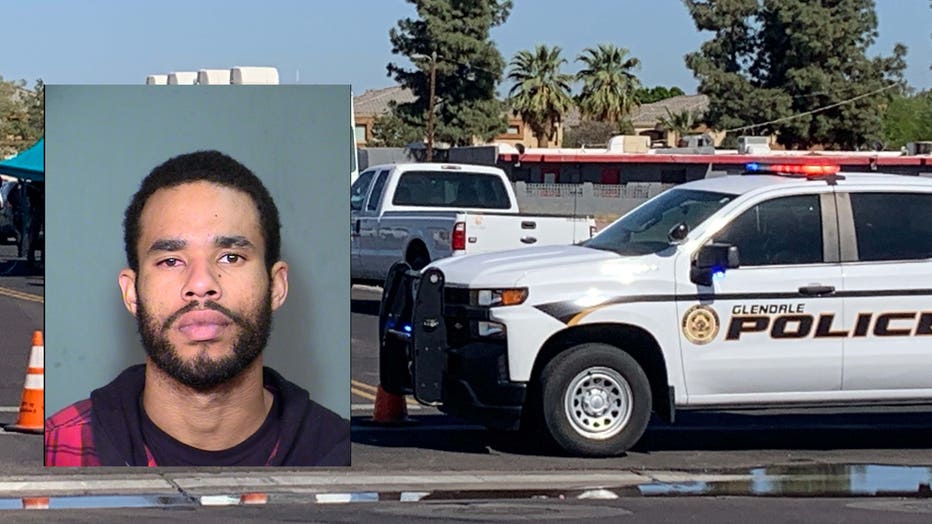 Other Top Arizona Stories
Tune in to FOX 10 Phoenix for the latest news
Get breaking news alerts in the FREE FOX 10 News app. Download for Apple iOS or Android.