Manhunt ends as suspect in north Phoenix officer-involved shooting is found
PHOENIX - A Phoenix police officer is in stable condition after being shot at a convenience store near Cave Creek and Beardsley Roads on April 14, and the search for the suspect has come to an end three days later.
Police say the accused shooter's vehicle was located soon after the incident, but the suspect remained on the run until he was reportedly found on April 17 about 25 miles from where the shooting happened.
Federal and local agencies were involved in the 24/7 search operation for Nicholas Cowan. The Phoenix Law Enforcement Association posted on Facebook saying Cowan was captured and the Department of Public Safety says the blue alert for Cowan is canceled.
A barricade situation at 66th Street and Osborn Road in Scottsdale ended in his capture and Phoenix Police Chief Jeri Williams provided more information Sunday night.
Cowan's former girlfriend, Nicole Montalbano, who allegedly hindered prosecution has been booked into jail two times in the last two days. In May 2020, both were arrested on drug charges.
Two other people who allegedly helped Cowan evade authorities were also arrested.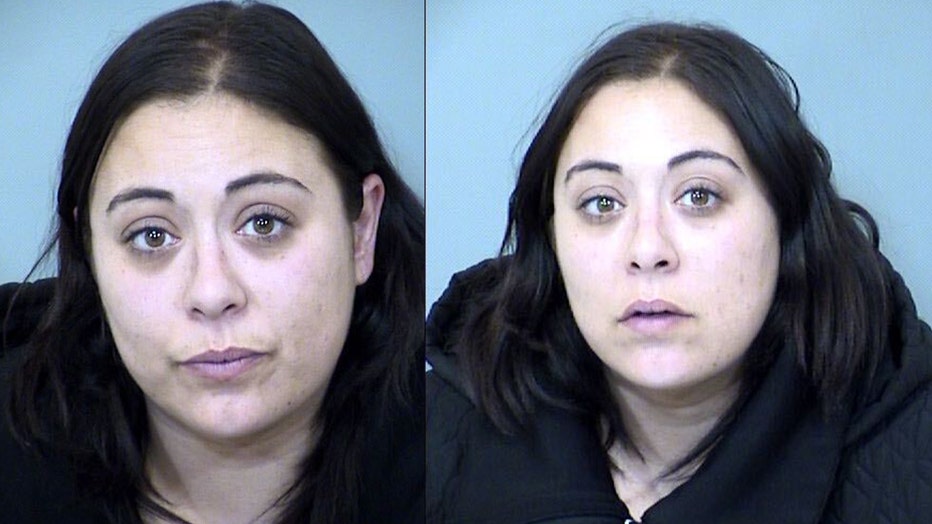 Shooting happened at convenience store
Officers say they responded to a domestic violence call near 27th Street and Beardsley Road. At a convenience store, they said a woman called them, saying she went to the gas station to meet with officers and talk to them about the situation because she was too scared to meet at her home.
"They were over there for a while, talking to a lady. I turn my back when [I hear] gunshots, maybe 10 of them, and see an officer drop," said witness Gary Macagni.
Witnesses saw one officer jump onto the other to provide cover, but the damage was already done.
"They took an ambulance out, down the street that way, with about four or five police cars following the ambulance," said Gene Onstein.
"In the four critical incidents that we had where Phoenix officers were shot and or injured, each one of the suspects had a previous criminal record," said Phoenix Police Chief Jeri Williams, on April 15. "They were prior felons, and they should not have had access to guns. We really need to wrap our arms around that." 
=
Area residents react to shooting
People living in the neighborhood day the area's security situation has deteriorated.
"It's getting real bad around here," said one man, identified only as Michael. "It used to be a great area, but it's sad to see this happen."
The gas station where the shooting happened was back open, as of April 15. While customers are still coming and going, the area is still in shock.
""This is the first time that I've been anywhere near something like this, and it does rattle me a little bit. It's kind of close to home," said Charles Zino, who lives in the area.
Officer injured identified as 24-year veteran
The officer shot, who was identified as a 40-year-old Denise Bruce-Jones, was hit at least once in the stomach. She was taken to Deer Valley Medical Center and was initially listed in critical condition.
The officer injured, according to police, is also married to a Phoenix police officer and is a mother.
"This is a family of public servants to our community, who have dedicated their lives to protecting and serving you," said Chief Williams.
According to a tweet released by police, the officer is now in stable condition after having surgery to remove a bullet and remains in intensive care.
Officials with the Phoenix Law Enforcement Association (PLEA) have issued a statement, which reads:
"What is becoming more commonplace, which hasn't been in the past years, is this ambush attacks on police, and they're becoming more prevalent, and you know, 15-20 years ago, you would consider it, but you wouldn't have to be so on guard for it," said Darrell Kriplean with PLEA.
On May 6, Phoenix Police officials announced that Bruce-Jones has been discharged from a rehabilitation center, and is now resting and recovering at home with her family.
Phoenix PD identifies suspect, releases suspect description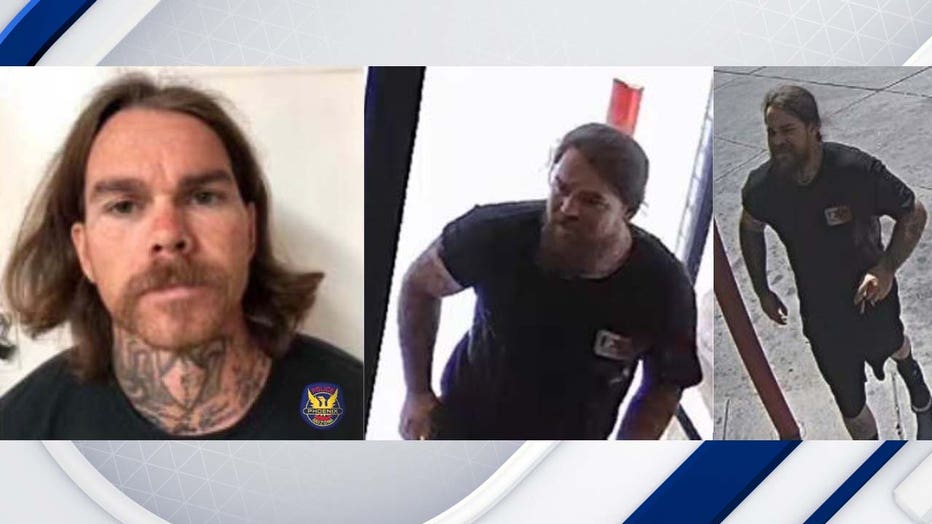 Phoenix Police released several photos of the suspect, Nicholas Cowan.
The suspect, identified as Nicholas Cowan, is described as a 35-year-old, 6-foot, 215-pound white male wearing a black hat, white T-shirt and black shorts. He has neck tattoos and may be bleeding. Officers say he was last seen near 32nd Street and Union Hills.
"I will say this: I am confident we will find this man," said Chief Williams, before he was ultimately captured.
In a public safety alert sent to smartphones in the Phoenix area on April 14, officials describe Cowan as armed and dangerous and ask people to call 911 if they see him. The blue alert has since been canceled.
"Do not approach," a portion of the alert read.
On April 15, Phoenix Police released more photos of Cowan, including photos that show his extensive body tattoos. Authorities say Cowan may have been injured during the shootout.
Read More: Blue Alert: What you should know about emergency warning issued by DPS during public safety emergencies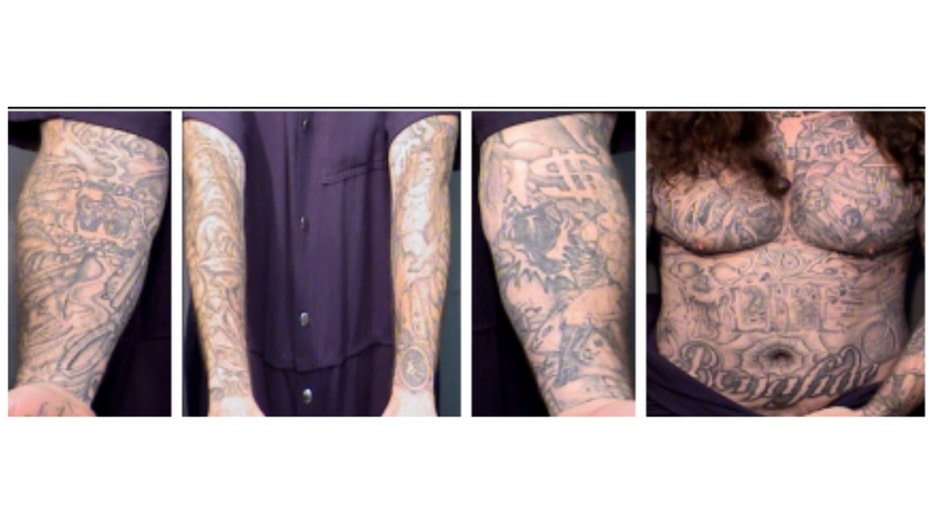 Photos of Nicholas Cowan's tattoos released by the Phoenix Police Dept.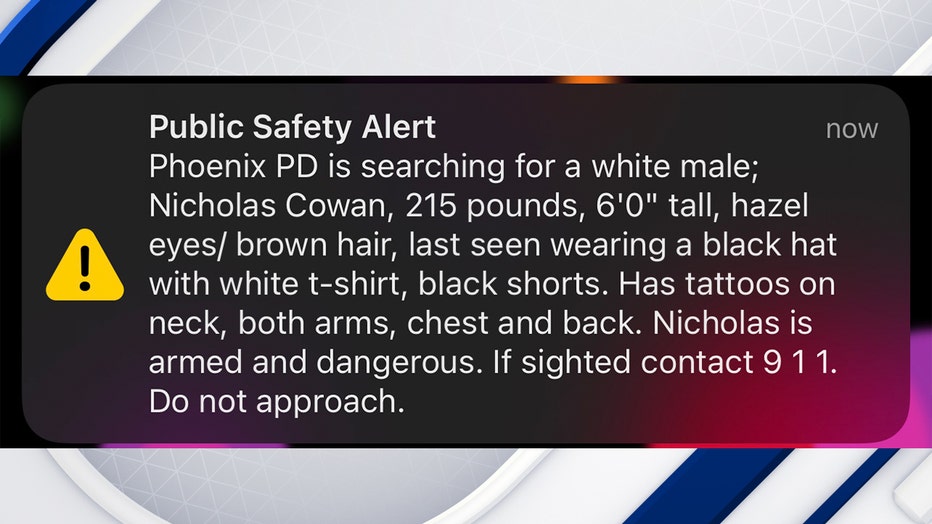 A Public Safety Alert that was sent to smartphones, with descriptions of a suspect involved in a shooting that left a police officer badly injured.
$35,000 reward offered for information
Silent Witness offered up to a $5,000 reward for information leading to an arrest. That, coupled with up to $5,000 from the ATF and up to $25,000 from the FBI, means the reward stood up to $35,000.
Suspect's criminal history revealed
We have learned about Cowan's criminal history, some of which are drug-related.
Cowan's criminal history reportedly dates back to the 2000s, with records from the Arizona Department of Corrections, Rehabilitation and Reentry showing that Cowan served prison time from 2006 to 2010, having been convicted of multiple charges that include aggravated DUI, aggravated assault, and misconduct related to weapons.
In 2010, Cowan was arrested and convicted for having drug paraphernalia in Maricopa County.
Cowan has recently served time in federal prison. According to records, he pleaded guilty to possession with intent to distribute heroin in 2018. Initially, he was one of 15 defendants indicted in 2017. Federal court documents reveal Cowan's attorney asked for his client to be given probation, and be placed in a drug treatment program. The attorney cited a mental health history of schizophrenia.
Cowan completed an 18-month prison sentence by May 2020, and was on a 36-month supervised release when he was arrested by the Yavapai County Sheriff's Office. Court records state he manufactured and distributed drugs, endangered a child with drug manufacturing equipment, and threatened a child services worker.
In May 2021, a judge ordered Cowan to be remanded to custody by the Bureau of Prisons, but it is unknown how long had been out of prison up until now.
We have also learned from the Yavapai County Attorney's Office that Cowan has two open cases. He had appeared in court on April 11, and a trial was set for October.
Phoenix Police Chief: I'm angry, I'm tired, and I'm frustrated 
During a news conference held in the hours following the shooting, Chief Williams expressed her frustration with the safety of police officers.
"I've had eight officers shot and 13 injured during the four critical incidents that we've had in the last four months," said Chief Williams. "From the subways of New York City, all the way to a gas station in Phoenix, Arizona, we are not immune to the violence against law enforcement and communities that are plaguing this nation."
The shooting incident came a day after a shooting in New York City that injured 10 people, and Chief Williams said there is a need to prioritize public safety.
"Remember this: Public safety isn't just our safety. It's also community safety," said Chief Williams.
Community shows support
The shooting on April 14 was the latest in a series of shootings involving police officers in 2022 in the Phoenix area, and in the hours since the shooting, members of the community showed their support for police.
"Everything is a lot more risky than it used to be," said Angela Harrolle, President and CEO of the 100 Club.
The 100 Club works to financially support first responders who are injured, and the families left behind when officers are killed while on duty.
Harrolle said the shootings can really take a toll on the officers, either physically or mentally.
"They go to work every single day trying to help other individuals," said Harrolle. "They are the ones that are running in when others are running out."
Meanwhile, people hung ribbons and signs at the scene of the shooting.
"My reaction is always the same: I get sad, I get frustrated, I get mad. It's just all senseless to me," said Anne Ender, President and Founder of Operation Blue Ribbon.
Ender said the message they want people to take away is violence against police is not the answer.
"Part of what we do is just try to be an advocate for the police, support them, and get more people to support them. It's hard not to have emotion about it," said Ender.
'I want to see the suspect brought to justice'
"I know we haven't released the identity of the officer involved yet, but I can tell you that I have known her for a long time. She's a close friend and she's a very caring person. It's very sad personally that this happened to her. I want to see the suspect brought to justice," said Sgt. Steve Reaume, Silent Witness Coordinator, before Cowan's arrest.
"Our detectives, our investigators and our apprehension details have been working 24/7 to find this guy," Reaume said.
Silent Witness says it had gotten tips and was asking the public to keep an eye out for the violent felony offender with a long rap sheet.
"This guy is such a danger to the community. We want to get him off the streets as soon as possible to keep the community safe. That's our number one priority," Reaume said.
With a $47,000 a year starting salary and the high-risk factor, Darrell Kriplean with PLEA says fewer people want to sign up, and in the end, it's the public that pays the price.
"The citizens have to wait longer for their calls. Right now, our median response time for a priority 1 call, which is an emergency call, is 7 minutes 20 seconds," Kriplean said.
More Arizona crime news:
Sign up for FOX 10 email alerts, newsletters
Tune in to FOX 10 Phoenix for the latest news:
Get breaking news alerts in the FOX 10 News app. It is FREE! Download for Apple iOS or Android.