PD: Woman killed, her friends hurt in Glendale domestic violence-related shooting
GLENDALE, Ariz. - Glendale Police say a suspect turned himself in a day after a triple shooting on June 4 that left a woman dead and her friends badly hurt.
Officers responded to an "unknown trouble" call around 2:30 p.m. near Northern and 51st Avenues at an apartment complex. That's where officers found three people who had been shot.
"All three adults were transported to local hospitals with serious and life-threatening injuries," Glendale Police Det. Laura Lechuga said. They are both women, ages 19 and 20.
One of the victims died as a result of their injuries, police said Monday. Twenty-year-old Jordin Miranda Castillo – who goes by her middle name, Miranda.
At the time of the shooting, police say Miranda, the two friends who were shot, another man and woman, and Miranda's 2-year-old child were inside the apartment.
Glendale Police say investigators think "social media drama" could have led to the attack.
On June 5, police announced the suspect, Rueben Rocha, 22, turned himself in and is accused of murder, burglary and aggravated assault.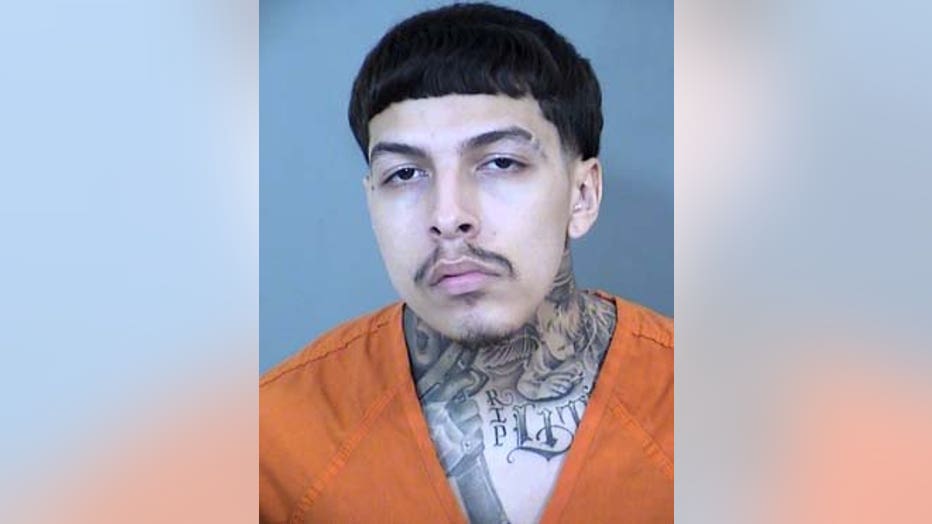 Police say Rocha violated a protective order, breaking into the deceased victim's third-floor home by getting onto her balcony and kicking in a glass door. He then started shooting from the balcony.
In released 911 audio, Miranda is heard saying "I have an order of protection … you're gonna get arrested … please leave."
Miranda and Ruben share a 2-year-old child together and police say there is a history of domestic violence. Miranda got a protective order against Rueben back in April.
Rocha was booked into jail and is being held on a $2 million cash-only bond.
Miranda's family seeks justice
Miranda's brother, aunt and cousin spoke at a press conference and said this was a result of domestic violence.
"Malia is never going to forget who you are I promise you. She will always remember the best of you, only the best of you. Watch over us, watch over your baby, and I promise we're going to bring justice for you mama, we're going to make sure that this monster pays for what he did to you," said Mercedes Castillo, her aunt.
Elijah Castillo, her brother, said, "Jordin, fly high. Please look after us. You will live through your baby girl. We will take care of her."
The family, of course, wants justice.
"I don't get to see my sister any more because of this. I didn't get to say goodbye, I don't get to say anything," her brother said.
GoFundMe accounts for Jordin Miranda Castillo & her friend Areli:
https://www.gofundme.com/f/justice4jordin
https://www.gofundme.com/f/areli-medical-expenses
Jordin Miranda Castillo. Photo from the Glendale Police Department
Vigil held for the victims
Miranda's family says she was a victim of domestic violence, and they're urging anyone who is in a similar situation to get help.
"She fought to the very last minute, she fought hard," said Elijah Castillo, her older brother.
Her mother pleads for anyone in a similar situation to leave their abuser.
"She didn't die for no reason. She died to give awareness for anyone who is going through domestic violence or in a relationship that you think you can't get out of. Get out, leave, call somebody, call us, call somebody, don't stay in it," Katina Castillo, her mother, said.
"I just want to say, baby sister, I love you and I'm so sorry I wasn't there to protect you," Elijah said.
Of course, losing a child is the hardest thing a parent can go through.
"This has probably been the hardest experience that a parent or anyone can feel," her mother said. "My daughter thought she was safe because she had a protection order, but it didn't save her. It didn't save her."
The family says the two friends who were shot protected Miranda's daughter during the shooting.
"We are sorry what happened to your daughter but we are forever appreciative for her, for trying to save Jordin," Mercedes Castillo, her aunt, said.
The Castillo family lit candles in Miranda's honor as they fight for justice.
"My sister was a beautiful, selfless person and a great mother. The fight is still on. It's not over. It's on for justice," Gabriel Castillo, her older brother, said.
Neighbor reacts to shooting
"I basically heard at least six gunshots go off. Just sitting in my house watching the D-backs game, just heard gunshots, ran out in my patio, just saw the man running downstairs, gun in hand," a neighbor said. "It was bang, bang, bang, bang, bang, bang."
He says he grabbed his cell phone.
"I called 911 immediately," he said. "This is just my community man. It's just sad to see that Glendale is turning into this."
Map of where the shooting happened: