Have you seen these two? French Bulldogs stolen from Ahwatukee home
PHOENIX - The search is on for two French Bulldogs who were stolen from an Ahwatukee Foothills home.
Surveillance video was sent over by the owner who says the dogs were taken on Thursday, Jan. 26 during a home burglary. You can see a man wearing a red hoodie snatch one dog and then come back for the other.
The incident has been reported to the police.
The owner hopes the video will help catch the dog thief. One of the dogs has a microchip, meaning vet offices and pet stores can scan them for identifying information.
"One is a three-year-old fawn (tan) female with a black mask and a white spot on her chest. Her name is Diamond. She is microchipped. The other is a four and half-month-old merle female. She has tan points on her paws and a white chest. Her name is Dior. She is Diamond's puppy," their owner said.
Contact Phoenix Police if you have any information at 602-495-5004. The dogs can be returned to a PetSmart or Banfield Pet Hospital, no questions asked.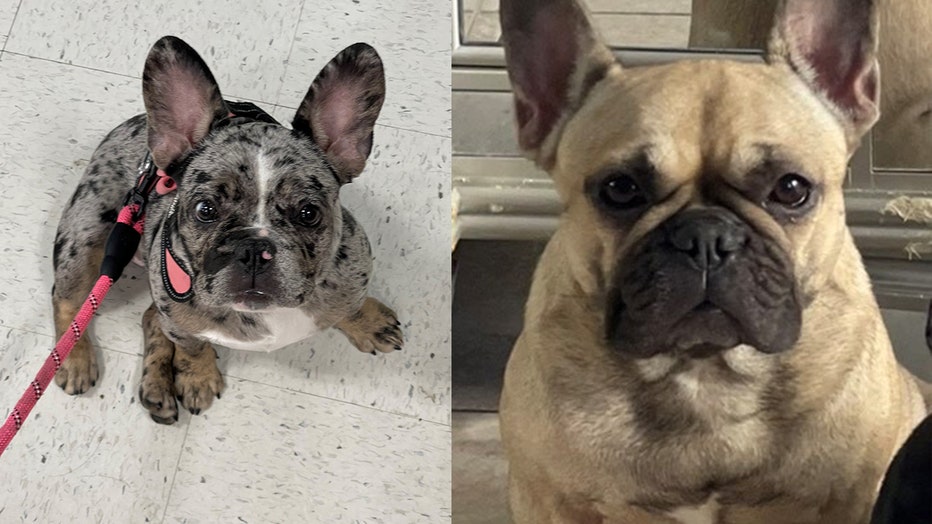 Dior and Diamond (photos courtesy of Sabrina)
French Bulldogs can cost thousands of dollars if you buy from a breeder and are a highly sought-after breed, often making them the target of thefts like these.
On October of last year, police arrested a man accused of stealing a woman's dog during a violent encounter in Glendale.
"The female victim was out walking her dog when she was approached by a male suspect who made comments about her dog and the cost of the breed," read a portion of the statement from Glendale Police. "The woman tried wrapping the leash around her arm to prevent the male suspect from taking the dog. The physical altercation became quite severe and during the attack, the woman lost grip of the leash and suspect managed to get away with the dog."
Police say according to the victim, the male suspect also had a woman inside the car with him when he took off with the French Bulldog.
The dog was later reunited with its family.
In another instance, a man who shot Lady Gaga's dog walker during the theft of two of the singer's French bulldogs was sentenced to 21 years in prison in connection with the Feb. 24, 2021 attack on Lady Gaga's longtime dog walker, Ryan Fischer.
Related reports: