'Honor, decency and courage': Former Arizona Congressman and State Senator Jim Kolbe dies at 80
PHOENIX - Former Arizona Congressman and State Senator Jim Kolbe has passed away at the age of 80 on Dec. 3.
"Arizona lost a true elder statesman and political powerhouse today. Congressman Jim Kolbe never wavered in his responsibility to our state and nation. We are deeply saddened by his passing," said Arizona Gov. Doug Ducey.
Kolbe served 11-terms as a congressman and in the state legislature for three, representing Tucson.
"He served as chair of the Subcommittee on Foreign Operations, Export Financing and Related Programs of the House Appropriations Committee," the governor's office press release read. "He served as a U.S. Senate Page for Barry Goldwater. He was a Navy veteran who served in Vietnam."
Kolbe was often at odds with other Republicans over his support for free trade and an immigrant guest worker program.
He announced reluctantly in 1996 that he was gay, after learning a national publication planned to out him for his vote against federal recognition of same-sex marriage. He also said he didn't want to be a poster child for the gay movement.
"Being gay was not — and is not today — my defining persona," Kolbe said in 1997 during his first speech to a national gathering of gay and lesbian Republicans.
Matt Gress, who was recently elected to the Arizona Legislature, called Kolbe a political pioneer.
"Today, because of Jim Kolbe, being a member of the LGBT community and serving in elected office has become irrelevant," he said in a statement.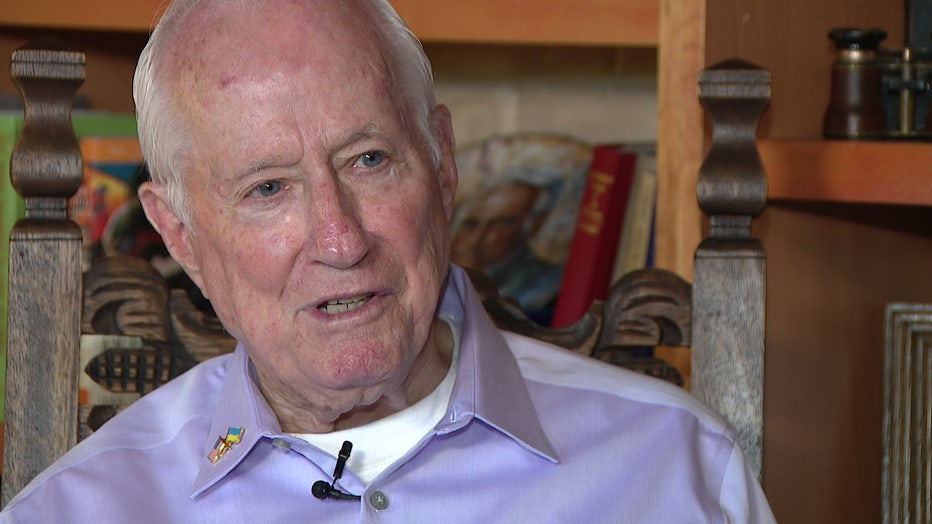 Kolbe started his political career at 15 as a page for the late U.S Sen. Barry Goldwater in Washington and later served on the board that oversees the page program. He attended Northwestern University and then Stanford, earning a master's degree in economics.
From 1965 to 1969, he served in the Navy. He was deployed to Vietnam, where he was awarded a congressional medal for valor.
After stints working in the Illinois governor's office and in real estate, he entered Arizona politics. Kolbe was elected in 1976 to the state Senate and served until 1982. He was sworn into the U.S. House of Representatives in 1985, the first Republican since Arizona statehood to represent a majority-Democratic district in the southern part of the state.
Kolbe was known in Congress for his advocacy for free trade, international development, immigration and Social Security reform. He also waged an unsuccessful campaign to eliminate the penny due to production costs.
He repeatedly co-sponsored a bill to scrap the military's "don't ask, don't tell" policy on homosexuality. He sat on the national advisory board of the Log Cabin Republicans, which represents the LGBT community.
His former colleague Greg Stanton said Kolbe served Arizona with honor, decency and courage.
"I was particularly proud to work closely with him these last few years to strengthen Arizona's economic ties with Mexico. My prayers are with his loved ones," Stanton said, in part.
Flags will be at half-staff on Sunday, Dec. 4 to honor Kolbe.
The Associated Press contributed to this report.