Husband and wife booked into jail for Mesa man's murder, police say
MESA, Ariz. - The Mesa Police Department says a married couple was arrested in connection to a murder after investigating a Dec. 28 shooting where they had very little evidence to work with.
At around 11 p.m. near 8th Avenue and Center Street, officers responded to the scene for reports of a "man down" in the road and found 31-year-old Jose Olvera Ramirez had died after being shot.
Police say there weren't any shell casings around his body or witnesses who might've seen what happened. That's when they worked to find surveillance footage and got some from a Circle K in the area.
"Video from Circle K, on the corner of 8th Ave and Country Club, showed Jose interacting with someone in a white passenger car just 10 minutes before officers were dispatched to the scene. The driver of the car was a man wearing a dark hat with the letters 'NY' on it. The car had identifiable damage to the bumper and was picked up by other surveillance cameras, which ultimately gave officers a license plate, and registered owner, Heath Daniel," police said. "Cellular phone records were obtained and showed Daniel's phone in the area of the murder at the time it occurred."
On Dec. 30, search warrants were served at places associated with Daniel. At his home, officers say they found a dark hat with "NY" on it, as well as an empty gun box for a .45 caliber pistol.
His car was found at a relative's home, police say. That's where Daniel and his wife allegedly asked them to hold onto the car, and a box of .45 caliber cartridges – "fired and unfired."
"Officers also learned, at another location, Daniel said he shot a man and even showed a .45 caliber handgun to a witness," police said.
Information came out that Daniel left the area in a different car, so the Department of Public Safety troopers helped Mesa Police, and found Daniel and his wife on I-10 headed toward Tucson.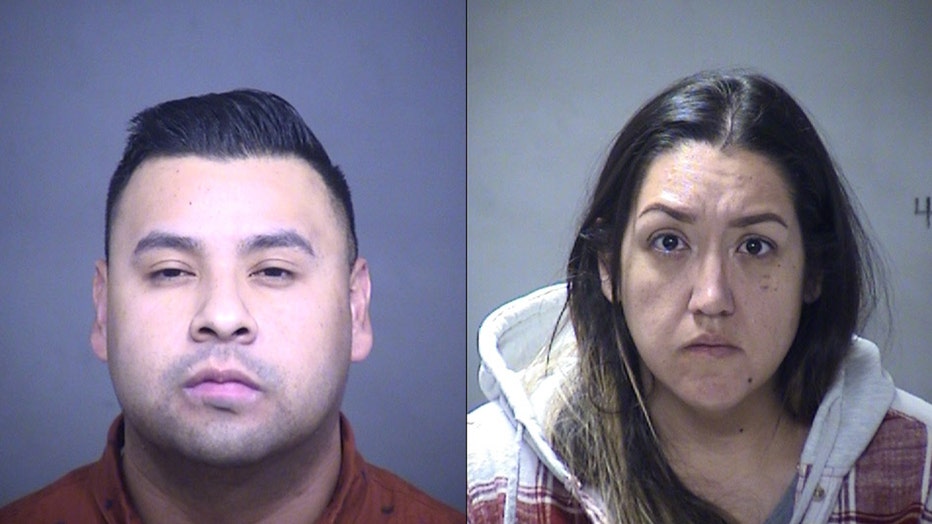 Heath Daniel and Vanessa Daniel
Daniel and his wife Vanessa Daniel were taken back to Mesa and booked into jail.
He's accused of first-degree murder and is being held on a $500,000 bond. His wife is accused of hindering prosecution and tampering with evidence.
"Within two days, a suspect was in custody because of the tireless hours put in by members of the Homicide Unit, the Special Operations Division, the Real Time Crime Center, and our police partners at the Department of Public Safety. Without their dedication to solving this case, the suspect may never have been caught," the department said.
The motive for the shooting hasn't been detailed.