Lake Mead to get more water from Lake Powell due to high snow pack
Huge amounts of water will soon rush into Lake Mead, which is a major source of water for 40 million people living in the desert southwest, including our state.
The feds made the announcement on April 20 based on the amount of snowfall this past winter.
This means more than eight billion gallons will be released from the Glen Canyon Dam in the coming months. That's enough to fill nearly five million Olympic size swimming pools, and that puts Lake Mead back on the map for summer fun.
Lake Mead – from drying up and dying out to a new lease on life. And it's great news for people who live off the lake, like Bruce Nelson.
"Yeah, this is a family business. My grandparents started this place in 1957. So this is very near and dear to us," he said.
Mother Nature came through this winter, dumping way above average snowfall. Now the snow pack is melting and heading downstream.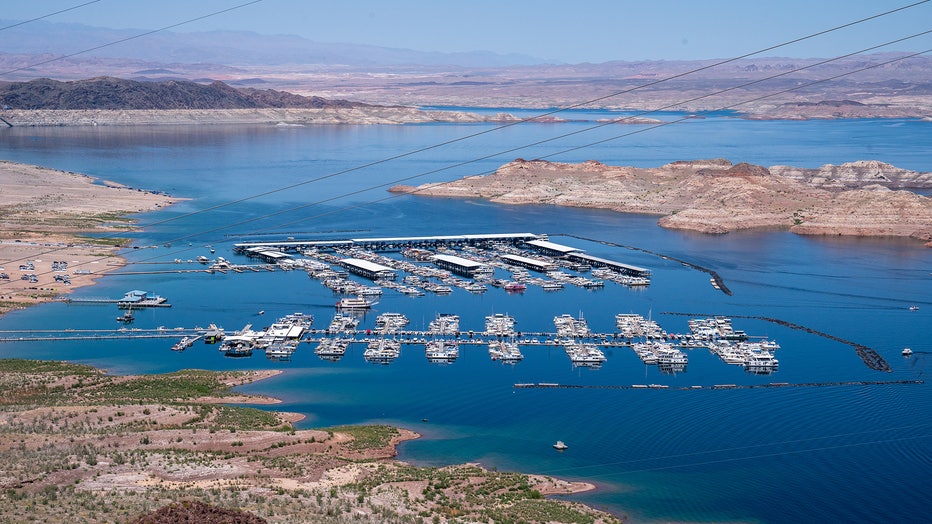 Boats are docked along the shores of the Colorado River forming Lake Mead April 15, 2023 in Boulder City, Nevada. Lake Mead is held back by the Hoover Dam that is used for flood control, hydroelectric power, agricultural irrigation and domestic water
"It is a good thing. I would never complain about a good year of snow pack. But it's not going to solve the problem," said Sarah Porter, director of the Kyl Center for Water Policy at Arizona State University.
This means Lake Mead will be 20 to 25 feet deeper than last summer, when low water levels revealed ancient volcanic rock, sunken boats, and several bodies. But Sarah says we could be in the same boat by next year.
"We would need years in a row of this to get us out of this territory.. this danger zone," she said.
But at least for this summer, the water should reach abandoned boat ramps and keep Lake Mead's marinas, literally and financially afloat. And Bruce Nelson will drink to that.
"The lake going up is always a good thing. The rising tide is good for all ships, and we will take it for sure."
 Lake Mead and Lake Powell are only at 26% capacity. And the feds are still planning on big cuts from the Colorado River that could have major implications for Arizona.