Local artist remembers iconic actor Burt Reynolds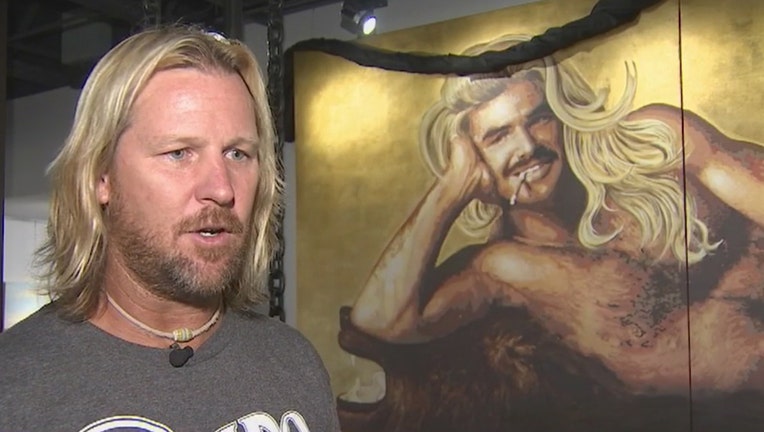 article
PHOENIX (KSAZ) -- As the world remembers the life and legacy of Burt Reynolds, who died on Thursday at the age of 82, a local artist is also remembering the actor.
The handsome film and television star known for his acclaimed performances in "Deliverance" and "Boogie Nights" and for an active off-screen life which included relationships with Loni Anderson, Sally Field and Dinah Shore. His death was confirmed Thursday by his agent Todd Eisner.
Randy Slack, who painted an iconic painting of Reynolds that now hangs in a Downtown Phoenix hotel, said he was devastated to hear the tragic news.
"He gave so much talent to the world, but he gave so much to me with this painting that he doesn't even know he's changed my life through his work, so it's hard," said Slack.
The painting was created back in 2015, and was inspired by Reynolds' unforgettable Cosmopolitan photo shoot in 1974. The painting, however, comes with a twist.
"It was mainly meant to look at people like everyone is the same. It doesn't matter what you choose," said Slack.
THe painting now gets daily attention, as it hangs behind the front desk at the Found:Re Hotel.
"This wa sa huge boom for an artist, for me, myself and Phoenix because this is such a conservative city," said Slack.
Slack hopes the world will always remember Reynolds.
"He was that man's man. He was that macho, hilarious, you've seen him on Johnny Carson, he was larger than life. He was just a good guy," said Slack. "I'd love to believe that I gave him a nod and brought him to the future generation like Boogie Nights did."