Lori Vallow murder trial day 18: New details revealed surrounding Tammy Daybell's death
BOISE, Idaho - Testimony about the death of Chad Daybell's ex-wife kicked off Day 18 of the Lori Vallow murder trial.
Tammy Daybell's sister, Samantha Gwilliam, continued to testify about Chad and how she discovered his sudden marriage to Lori.
More 911 calls were also released surrounding Tammy's death.
Tammy was married to Chad Daybell for nearly 30 years after meeting at BYU when Daybell was a grave digger. Investigators say Daybell and Lori Vallow conspired in the murder of Tammy in October 2019, and then they married weeks later.
Lori Vallow is accused of killing her two children J.J. Vallow and Tylee Ryan and conspiring to kill Chad's previous wife.
Two 911 calls
"I pulled up into our driveway, and I'm getting stuff out of the backseat of my car, and suddenly he was there and he had a paintball gun and looked like he was gonna shoot at me," said Tammy Daybell in a 911 call.
She called police on the night on Oct. 9, 2019. She thought someone tried to shoot her with a paintball gun, but investigators believe Lori's late brother Alex Cox was the gunman who intended to shoot and kill Tammy.
The alleged failed attempt happened outside the Daybell home in eastern Idaho. At the time, prosecutors say Lori and Chad were in the midst of an affair.
Ten days later, there was another call to 911. 
"Hello I'm Chad the husband, she's clearly dead."
"Oh no…(crying)…yeah she's not even…she's frozen."
According to Tammy's sister, Samantha Gwilliam, Chad told her Tammy died in her sleep after having a coughing fit that night.
But Samantha claimed she had seen her sister just two weeks earlier, saying she looked great.
"As we do with any family I always do visual checks on your loved ones, when you see them, 'How are you doing?' you look at them and see.. Tammy looked very healthy, was doing very well," Gwilliam said.
Tammy's health, her death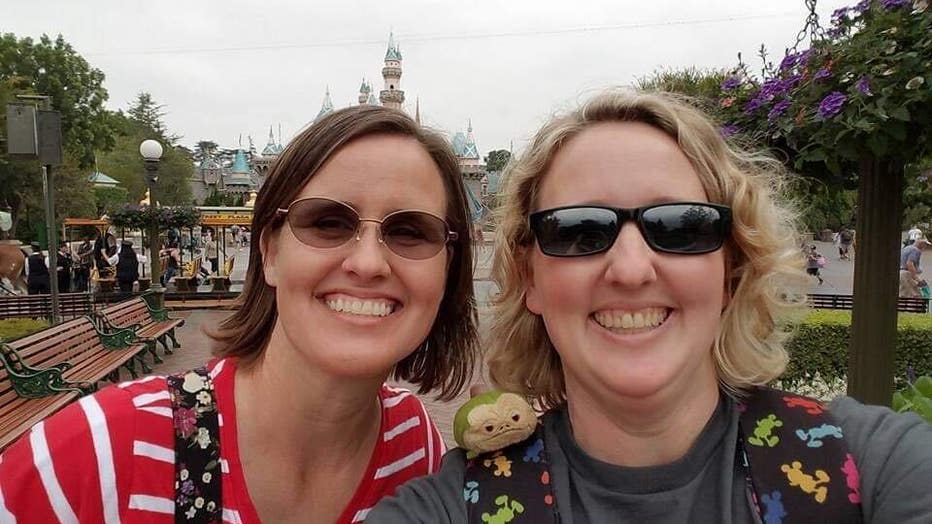 Tammy Daybell and Samantha Gwilliam (Tammy Douglas Daybell Foundation)
Two witnesses who knew Tammy testified Friday that they took a high-intensity exercise class with the 49-year-old twice a week.
The Fremont County coroner also took the stand. Brenda Dye told the prosecution that Tammy's death did not seem suspicious, and Chad did not want an autopsy.
He had his wife buried in a cemetery in Utah four hours away just three days later.
Samantha said she knew something was wrong.
"I asked him on a phone call of why we were doing things so quickly, and he told me that he thought that was what Tammy would have wanted was to not to have all the fuss," Gwilliam said.
Tammy's body was exhumed in December 2019. 
By then, Chad and Lori were married and authorities were searching for Lori's kids, JJ and Tylee. Their remains were found several months later on the Daybell property.
The Utah medical examiner has since determined that Tammy died of asphyixiation.
Earlier testimony
Samantha Gwilliam told the jury Thursday how she found out about her sister's death. She says Chad called her, saying Tammy had been coughing all night and was dead the next morning. But Tammy's official cause of death was asphyxiation.
"Did Tammy ever indicate to you that she had suspicion that Chad was having an affair?"
"No, she never said anything about it. If she did have any inkling, I think he probably brushed it away," Samantha answered.
For all previous and extensive coverage on this case, visit https://fox10phoenix.com/vallow + watch the in-depth special here.