Murder, Money and the End of Days: The Lori Vallow story
PHOENIX - "She's lost her mind," Charles Vallow said. "I don't know how else to say it."
Her name is Lori Vallow.
"She talks about people having dark spirits that she can see, and she knows who has dark spirits," her brother Adam Cox said.
She's known as the "doomsday mom."
When the world wondered if her two missing children were safe, she and her husband, Chad Daybell, said nothing. But, investigators unearthed the truth in the shallow graves of her children, Tylee Ryan and JJ Vallow.
Four years later, the accused Arizona mother will finally stand trial in Idaho.
Lori was once known as an all-American mother and a devout Mormon. How did this persona transform into a murder suspect?
She's facing two counts of first-degree murder in the deaths of her kids, followed by two more counts of conspiracy to commit the murders of her children. Prosecutors will also argue that she conspired with her husband, Daybell, in the murder of his first wife Tammy Daybell.
He's waiting for his own trial since a judge decided to split up the couple's cases.
Lori is also charged with grand theft after being accused of stealing her children's social security benefits after they died.
The trail of death starts in Arizona where Lori's fourth husband, Charles, raised red flags, claiming his wife's religious beliefs had evolved into something dangerous.
Lori Vallow (left) and Charles Vallow (right)
Doomsday in the Desert
Lori and her brother Alex Cox told Chandler Police detectives a narrative of a fight that turned deadly.
Detective: "OK. So, you pull him to the ground. You got back up."
Alex: "I got back up, he hit me in the back of the head. I don't know if it was the bat. I assumed it was because he had it."
A struggle involving a baseball bat ended with gunshots just hours before Alex was interviewed by detectives.
Alex called dispatch, saying, "I got in a fight with my brother-in-law, and I shot him in self-defense."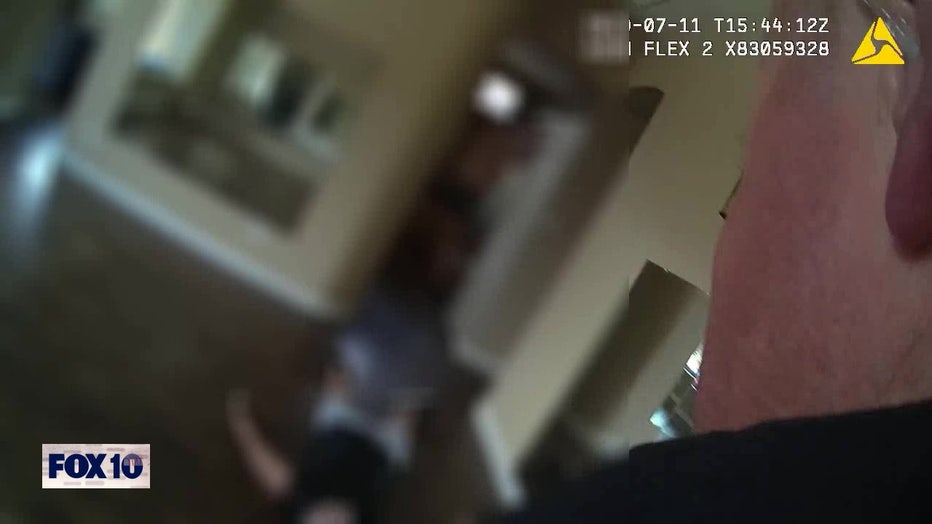 Charles on the floor after being shot by Alex, Lori's brother
On July 11, 2019, just after 7:30 that morning, Charles arrived at the rental home where his estranged wife Lori was living with their adopted son JJ and Lori's daughter Tylee.
Seven-year-old JJ lived with autism and 16-year-old Tylee was his big sister and protector. Charles came to take JJ to his school for special needs.
For some reason, his brother-in-law Alex had stayed the night. Tylee later told police that an argument between her mom and Charles broke out, so she grabbed a bat and pointed at him.
"I remember when he took the bat from me, and I saw his face for a split second," Tylee told police. "Honestly it didn't look like him. He looked like pure rage. Like he was just seeing red."
Lori says Tylee went outside to check on JJ who was in Charles' rental car.
Detective to Alex: "You go back to your room, get the gun, come back to the living room? Now Tylee and Lori are gone?"
Alex: "Yep. It's just me and Charles in the living room … I say, 'Charles, put that bat down.' He goes, 'What are you gonna do about it?'"
A detective asked Lori if she heard the shot. She says "Mhm."
Detective: "Did you actually see the shot, or did you just hear it?"
Lori: "I had gone around to the kitchen to get away from him, so back around, so I didn't."
As the 62-year-old laid on the floor, bleeding, his wife Lori took off.
MORE: Never-before-seen videos show aftermath of 2019 fatal shooting of Lori Vallow's former husband
Lori: "Then I saw that he was on the ground and was freaking out, and so I was just freaking out and just went into mom mode. I'm like, I've 'gotta go get JJ to school, gotta get to the kids.'"
She drove off in Charles' rental car. Lori, Tylee and JJ stopped at Burger King before taking JJ to school and finally returned to the crime scene an hour later.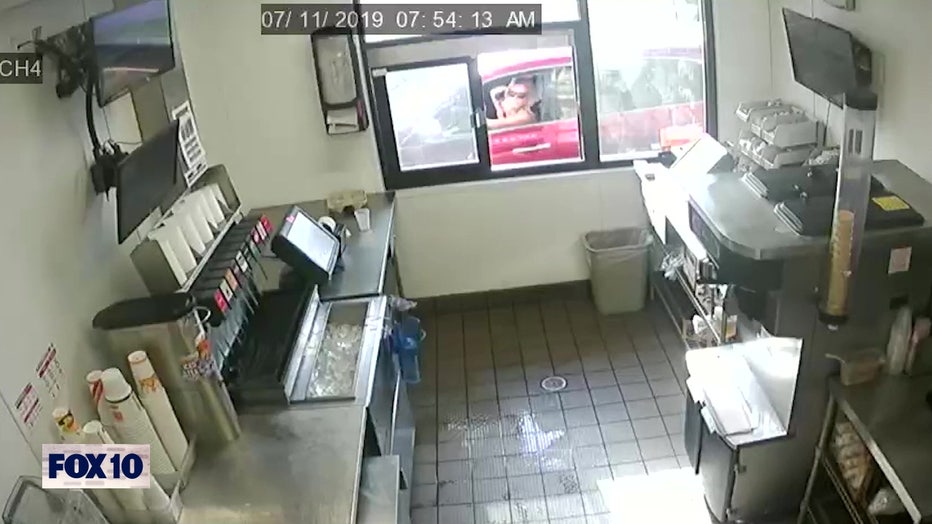 Lori seen on security footage at an Arizona Burger King not long after her husband was shot dead.
Charles' ex-wife Cheryl Wheeler was with him for 13 years and is the mother of his two sons. Within days after the shooting, Lori's text messages to the boys didn't reveal much – in fact, they couldn't even get their stepmom on the phone.
"The fact that Lori wasn't communicating with my boys, she never picked up the phone. All of it was done through texting that there was something else going on," Wheeler said.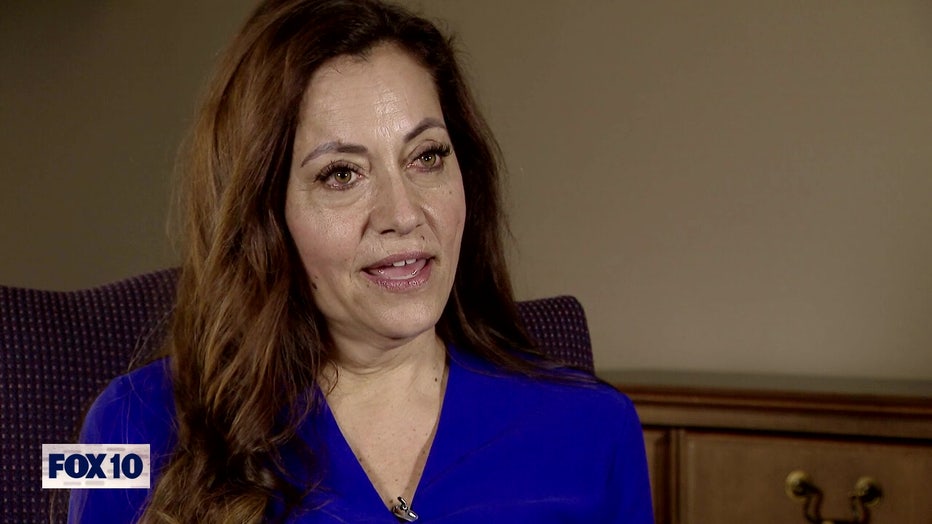 Charles' ex-wife Cheryl Wheeler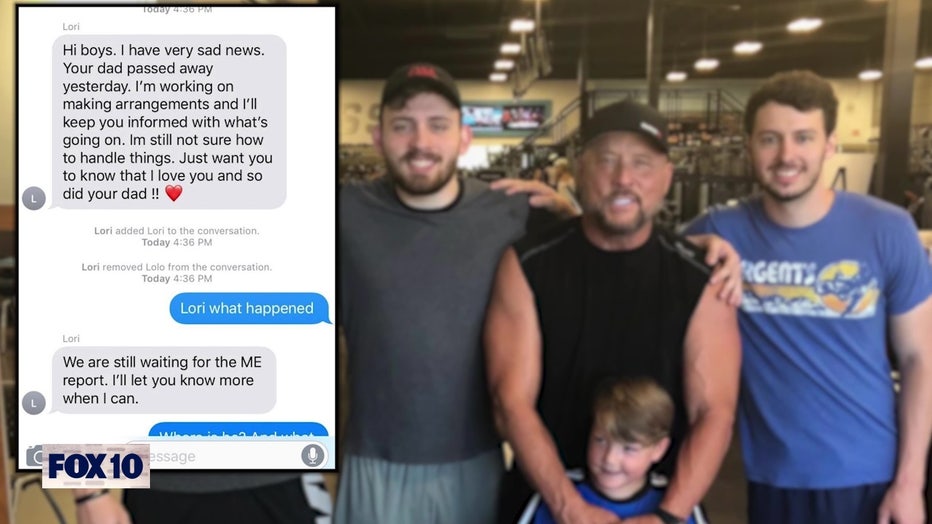 Text message between Lori and Charles' sons telling them about their father's death.
'I'm worried about her'
When Charles was alive months earlier, he called 911 in Arizona about his wife's behavior.
Charles: "She says, 'You're not Charles. I don't know who you are, what you did to Charles, but I can murder you with my powers.'"
But, who would believe him?
Officer: "If she's as irrational as you say, I think you should get your son out of school and prevent that from happening."
Charles: "She needs help. She needs some serious help. I want her to get help. I'm worried about her."
In the following weeks, Charles filed for divorce saying Lori claimed to be a translated being, an exalted goddess preparing for the second coming of Christ.
He wanted sole custody of JJ.
"I think that Charles, having it on record, having police reports, having body cam footage helped a lot to see how desperate he was for help," Wheeler said.
About a month after Charles died, Lori's other brother Adam Cox spoke to Chandler Police in Arizona, over the phone on Aug. 9, 2019.
"I felt bad for Charles, and so I said, 'Charles, I'll do what I can to help, but Lori won't talk to me because she thinks I think she's crazy,'" Adam said.
Lori spent much of her time praying at the Mormon temple, but Adam learned she had taken interest in a certain genre of books.
"About a year or two ago, Lori started reading some books, near-death experience books, and started saying some weird things," Adam said. "She talks to Jesus in the temple, and she's married to Moroni and she's not married to Charles anymore and that she has a higher priesthood than the rest of us and just some things that were alarming to me."
Text messages obtained from Chandler's case file reveal Charles was someone else in Lori's eyes – a dark spirit named Ned or Nick Schneider.
Investigators say she shared these beliefs with Chad Daybell, a fictional author in Idaho who thought of himself as a visionary after having a near-death experience.
According to the police report, Chad and Lori met at a conference for doomsday preppers in 2018. They believed they were married in a past life, now meant to be together despite having their own spouses.
Two days after Charles was killed, on July 13, 2019, police say Chad texted Lori a loving note.
Chad: "I am heading to bed so that I can come snuggle tightly against you. I adore you! You are truly my best friend on earth and throughout eternity."
Detectives learned that Lori and Chad led a small group of like-minded people at the time, including a woman named Zulema Pastenes. She was someone Lori went to for spiritual guidance – they also referred to Charles as a new dark spirit named "Hiplos." 
Before the shooting, on June 2, text messages between Lori and Zulema talk about "sending fire" to Charles.
Lori: "Yes it does. Let's put some fire energy towards Hiplos now. He is driving now and today is the day. (You) and I can do it spiritually. Let's go to him and hover over the truck till we do it. R u ready ??"
Zulema: "I'm ready!"
Lori: "Let's go now"
Zulema: "That is powerful! I'm still sending fire"
Lori: "Yes it is. I am blinding him with light"
Police say for Lori and Chad to "fulfill their religious prophecy," Charles needed to die when he did, and it was time to put a claim on a million dollar life insurance policy.
Lori calls the insurance company on July 15, 2019.
Agent: "And what was the cause of his passing?"
Lori: "Umm, well, he was shot."
Agent: "Was it a homicide?"
Lori: "No, it was an accident."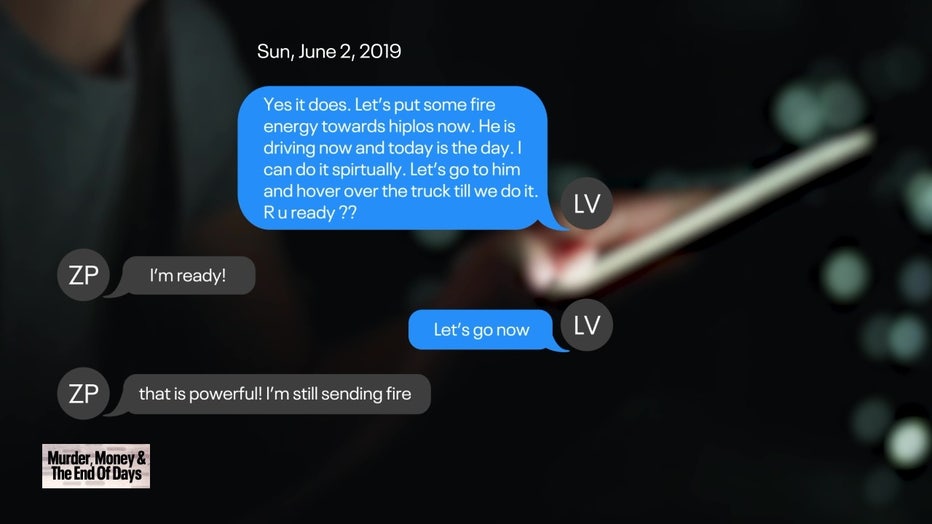 Text messages between Lori and Zulema Pastenes about Charles.
The autopsy report would determine this was actually a homicide. Charles was shot twice – in the chest and stomach. The second bullet appeared to hit him when he was on his back, per the medical examiner.
"They shot him. They killed him. And I don't know if it was for money or if they thought he was that evil spirit named Ned, and Lori can't deny any of that," Adam said.
Months before Charles' death, he made a change to his life insurance policy, naming his sister Kay Woodcock as the beneficiary. With no payout, Lori, her kids, and uncle Alex said goodbye to Arizona.
By June 2021, a Maricopa County grand jury indicted Lori Vallow on one count of conspiracy to commit first-degree murder in the death of Charles Vallow.
The Misfire
The bullet hole on Brandon Boudreaux's Tesla
On the morning of Oct. 2, 2019, a 911 call was made in Gilbert, Arizona.
"Um, someone just shot my window," Brandon Boudreaux said on the 911 call. "As I was trying to pull into my driveway, they just drove off. I saw them drive off."
Police respond to a quiet suburb to find Brandon's Tesla with a shattered driver side window hit by a bullet.
Officer: "Do you have any enemies? Anybody that you …"
Brandon: "I just went through a divorce."
A divorce from Melani Boudreaux, the mother of his four kids, and also Lori's niece.
By 2021, Gilbert Police determined there was probable cause to believe Lori, her then-boyfriend Chad, and her late brother Alex orchestrated Brandon's murder – despite failing.
FOX 10 obtained photos of the recovered suspect vehicle – a Jeep Wrangler with Texas plates, registered to Charles Vallow, who was already dead.
Police say Lori, Chad and Alex had the windows tinted, removed the backseat and the back wheel so Alex could shoot from the back of the Jeep. 
Brandon had just moved to the home, claiming his ex-wife Melani was one of a few people who knew the address.
Melani Boudreaux was interviewed by police the next day.
Detective: "Yesterday we responded to a call for service because somebody tried to shoot Brandon … Do you have any idea about this or have anybody who would have any desire to do something like this?"
Melani: "I don't know. I just feel sick."
When Melani was asked about where Lori her kids might be, she said, "Um, no. They've kind of mentioned that they just needed a fresh start and not sure what's going on in the family."
Yet Melani would soon move to Rexburg, right next door to her aunt Lori.
Police later identified Lori and Chad's spiritual beliefs as a motive for murder.
Gilbert Police's report says the couple felt Brandon was possessed by a "dark soul" and the idea spread within their inner circle.
In October 2018, Melanie Gibb met Lori at the Church of Jesus Christ Latter Day Saints in Gilbert. They became best friends, recording podcasts about their faith.
It was Melanie who introduced Lori to Chad at a conference called "Preparing a People."
It took less than a year for Lori to follow the author who wrote about fictional apocalyptic events.
In texts from Sept. 21, 2019 at 9:12 a.m, Lori said to Zulema, "FYI. If anybody asks about me or where I moved. You can just say that I moved in with my brother in Queen Creek. Especially those who seek my destruction. How are you today?"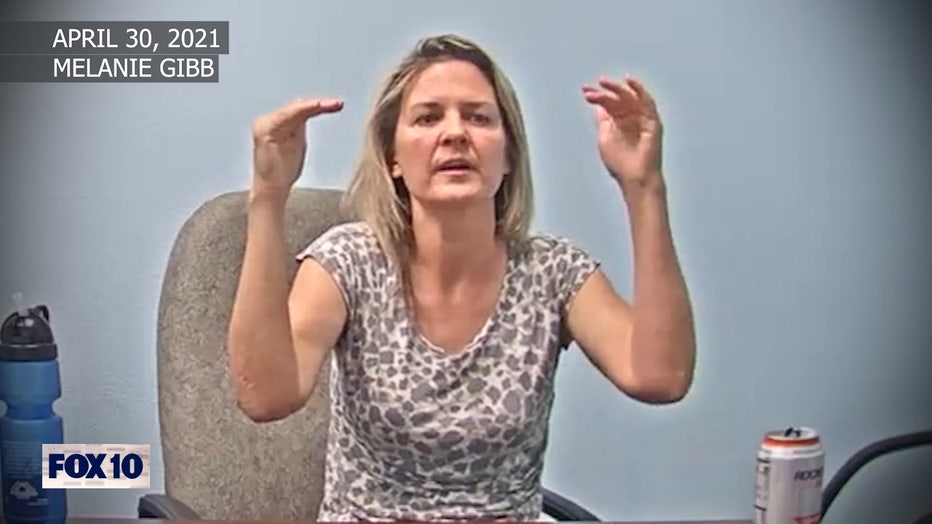 Cold Silence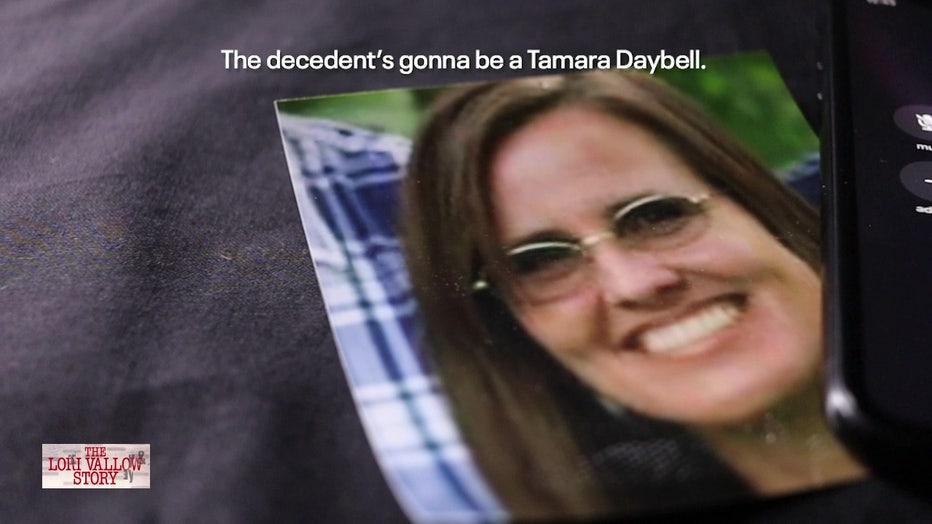 Tammy Daybell, Chad Daybell's late wife
Tammy Daybell was 49, a mother of five, a librarian with a kind heart, and Chad's college sweetheart.
Tammy died in her sleep on Oct. 19, 2019, in Salem, Idaho. She was believed to be healthy.
Gilbert Police Det. Ryan Pillar called Fremont County dispatch in Idaho to learn more on Oct. 29, 2019.
Dispatch: "And family said they don't want an autopsy."
Det. Pillar: "So the coroner just signed off then and there? And then the funeral home took Ms. Daybell?"
Dispatch: "Yes, that's pretty much how it works."
Det. Pillar: "We just have some cases down here that got our attention with Ms. Daybell."
MORE: Coroner: Tammy Daybell's initial cause of death was a cardiac event
He wanted to know who tried to kill Brandon Boudreaux earlier that month, and he knew about the alleged affair between Chad and Lori.
On April 29, 2021, Zulema Pastenes was interviewed by Chandler Police.
"They were saying Tammy was supposed to die on her trip to Utah," Zulema told detectives, adding that her good friends Chad and Lori believed in a grim vision. "And when she didn't pass away, then what they were saying was she actually did pass away but what happened was that she was taken over by an evil spirit and that she had become a zombie."
Justifying death using religious beliefs was Chad and Lori's modus operandi, according to investigators.
Chad cashed in on Tammy's $400,000 life insurance policy and married Lori less than three weeks later in Hawaii. But, where were JJ and Tylee?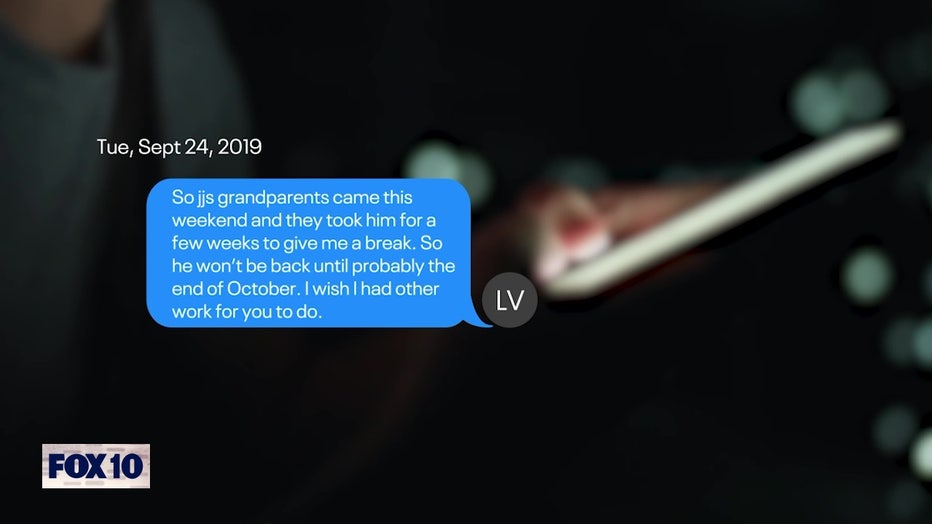 Text from Lori to her son JJ's babysitter
"So JJ's grandparents came this weekend, and they took him for a few weeks to give me a break. So he won't be back until probably the end of October. I wish I had other work for you to do. You are such a darling girl. I understand if you need to get another job. :)"
That was Lori's text to JJ's babysitter on Sept. 24, 2019. It was simply not true, and JJ's grandparents had not seen him for a while.
Seven-year-old JJ and 16-year-old Tylee had barely moved to Rexburg, Idaho from Arizona. The last verified sighting of Tylee, she was with JJ, Lori and her uncle Alex at Yellowstone National Park on Sept. 8, 2019.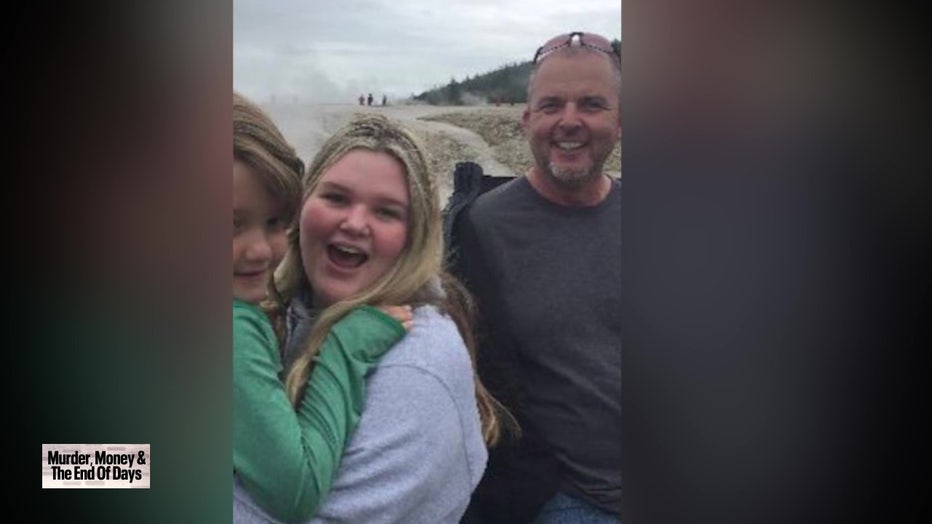 JJ, Tylee & Alex Cox seen in a photo at Yellowstone National Park.
One of the last people to see JJ was Lori's best friend, Melanie Gibb, who visited two weeks later. She and her boyfriend planned to record a podcast with Lori on September 22.
She interviewed with Rexburg Police while at Chandler Police Department headquarters on April 30, 2021.
Detective: "She says something to the effect of 'I'll be there shortly. JJ woke up, and I'm trying to get him back to sleep.'"
Melanie: "And that was at night?"
Detective: "It was about 8:30 at night."
Melanie: "My guess is that it must have been at Alex's house trying to get him to sleep."
In an email from Chandler Police Det. Nate Duncan to the FBI, he said he was looking through Lori's iCloud records "in regards to the children, it appears Lori has two photographs on her phone of significance."
Pictures of rifle ammunition from a store in Idaho and possibly the last photo of JJ taken on September 22 seen wearing red pajamas.
Picture of rifle ammunition from a store in Idaho
By late November, Lori's story on her son's whereabouts changed again when Rexburg Police arrived for a welfare check.

MORE: FOX 10 Investigates: The Lori Vallow – Chad Daybell Case (Vlogcast)
On Rexburg Police body cam footage recorded on Nov. 26, 2019, Lori says JJ was back in Arizona.
Lori: "He's with one of my friends in Arizona."
Detective: "It was just kind of weird."
Lori: "It is very weird. I've had to move around a lot."
She said JJ was with Melanie – which wasn't true.
Lori and Chad bolted out of Rexburg, nowhere to be found. Alex moved in with Zulema back in Gilbert after they got married.
When authorities exhumed Tammy's body on December 11, 2019, Zulema confronted Alex.
"I'm like, 'Did you have anything to do with this? If they exhume this body, are they gonna find anything? Did you have anything to do with this?' And he said no," Zulema said to Rexburg Police while at the Chandler Police Department in Arizona on April 29, 2021.
Investigators believe Alex tried to shoot Tammy ten days before she died, but failed. He told his wife he might be getting framed.
"I'm like, 'The fall guy for what? What is it? Tell me. What is it that they're trying to pin on you? What did they do?' And he wouldn't say anything else," she recalled.
Alex died of natural causes the next day, the medical examiner concluded.
"I don't know if it was one day or two days before he passed, he said to me, 'Zulema, if anything happens to me, I want you to know there's money in a bag in the closet, and it's for you.' He said, 'It's not much, but it's for you.'"
Just weeks before the COVID-19 pandemic began, police arrested Lori in Kauai on charges of child abandonment, and she was brought back to Idaho.
MORE: Body camera video shows Lori Vallow detained by Kauai Police in January
The search for JJ and Tylee continued – until it ended in Chad's backyard on the summer day of June 9, 2020.
Lori: "Are you OK?"
Chad: "They're searching ... the property."
Lori: "What can I do for you?"
Chad: "I love you so much."
Lori: "OK, should I try to call you later?"
Chad: "I don't know. You can try, yeah."
As Lori spoke to Chad from jail, investigators discovered two sets of human remains, later identified as JJ and Tylee. Court documents reveal on September 9 and 23 of 2019, Alex's cell phone pinged at the spots where the children would eventually be found.
MORE: Human remains found on Chad Daybell's property confirmed to belong to JJ Vallow, Tylee Ryan
Police say Lori believed they had become zombies.
What was left of Tylee's remains were charred bones and tissue. JJ's body was wrapped in tight plastic and duct tape.
"His hands were folded chest high. Folded like this chest high. He had duct tape continuously wrapped from elbow all the way around his arms," Det. Ray Hermosillo with Rexburg Police described.
It took nearly a year for Chad and Lori to be indicted on murder charges in connection to the deaths of JJ, Tylee and Tammy on May 25, 2021.
"The thousands of hours that have been invested into seeking the truth for these innocent victims must be recognized," said Rob Wood, prosecutor for the state of Idaho.
Still, the wheels of justice turn slowly.
Grandparents seeking justice
Kay and Larry Woodcock sounded the alarm to authorities in fall 2019 when they couldn't get a hold of Lori and had not seen their grandson JJ.
MORE: Full interview: JJ Vallow's grandparents talk about Lori Vallow being fit to stand trial
MORE: Idaho 'cult mom' Lori Vallow denied 'strategy session' with husband Chad Daybell ahead of murder trial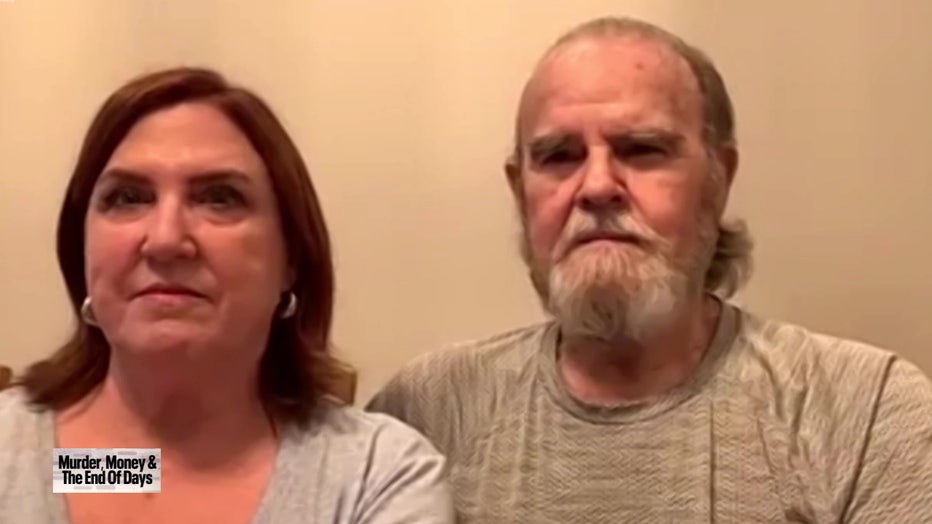 On April 3, the real fight for justice begins.
Justin: "Kay and Larry, thank you so much for joining me once again like so many times before. It has been three years since we witnessed Lori Vallow extradited from Hawaii to Idaho initially on charges of child abandonment. Just tell me how much patience you have learned from this long wait."
Kay: "More than I've ever used in my entire life. That's the patience I've exercised, and I know Larry's the same. It's been a long arduous process and on the eve of the trial, and it's surreal, and I'm hoping, well I guess it'll be real very quickly."
Justin: "Speaking of that, what was your reaction to the judge deciding to separate Chad and Lori to have two separate trials? Was it the right choice?"
Larry: "I think it makes no difference. I think the evidence is there. I've said that from the get-go. I truly believe it's not gonna be that big of an issue. Personally, I would have liked to see both of them in court together, be what it may, it will happen."
Justin: "We know there will be graphic evidence shown and discussed throughout this trial. How do you two mentally prepare yourself for that?"
Kay: "I don't know, how do you? How do you? I mean, we'll know about it a little beforehand. They're not gonna put us in the courtroom to learn with everyone else what happened, but we'll get a little heads up, so maybe we have a little time to digest it before the rest of the world hears it."
Justin: "Vallow's defense has filed a notice of alibi saying that when her children died in her brother's apartment, she was with two friends and Chad Daybell in her own apartment. Are you surprised that she's basically implicating her brother Alex in responsibility to all this?"
Kay: "Alex has been their patsy since when they were planning it. We knew when Charles was murdered Alex was it and that Lori was using him and so the rest of it went on down to when Brandon was shot at … and when Tammy died, and when someone tried to shoot Tammy ten days before she died. That was Alex."
Justin: "Through every hearing we've seen Lori appear, she has the hair and the makeup done, and she smiles from time to time. Does this feel like a slap in the face every time you see her express herself this way?"
Larry: "No, no. And I'm gonna tell you the reason why I have to use right now. I got to sit six feet behind her in that courthouse and I can tell you right now those leg bracelets that she had on, and those handcuffs and that hair that looked like it was combed with a combine is where it's starting to wear on her. And as far as I'm concerned, she is starting to get her dues."
Justin: "What is your final message to her as the trial gets underway?"
Kay: "We'll see you in court and that'll be the last breath of free air she'll ever get is the last day in that courtroom. We have so much faith that she is gonna be sentenced to the maximum …"
Larry: "Her flesh and blood, her daughter, was murdered in the most gruesome fashion. It's heinous. It's beyond heinous and JJ, my God. The most innocent child out there."