Mesa brothers arrested after roommate was shot to death in apartment
MESA, Ariz. - Two brothers have been arrested after their roommate was shot and killed at a Mesa apartment complex on Thursday.
Officers had been called to an apartment near Mesa Drive and Southern Avenue after someone reported that there was a man in the bathroom with a gun.
"When officers arrived, three people came out of the apartment through their bedroom windows," police said. "One person told officers there was a man inside with a gun."
Jesus Baez-Franco, 36, claimed that he was in the bathroom when he heard someone rack a gun slide. 
He told police he shot his own gun through the closed bathroom door in response.
Meanwhile, Jesus's brother Oscar said he woke up to the sound of a gunshot and saw his brother say "They are coming for us!"
"Oscar fired his own handgun into the floor of the hallway," police said.
During the investigation, a man was found shot to death inside the apartment. His name was not released, but the two brothers involved said he lived with them.
Methamphetamine was allegedly found in Jesus's room.
Jesus Baez-Franco and Oscar Baez-Franco were both taken into custody. Jesus is being accused of 2nd degree murder, drug possession and reckless discharge of a weapon.
Oscar was accused of reckless discharge of a weapon.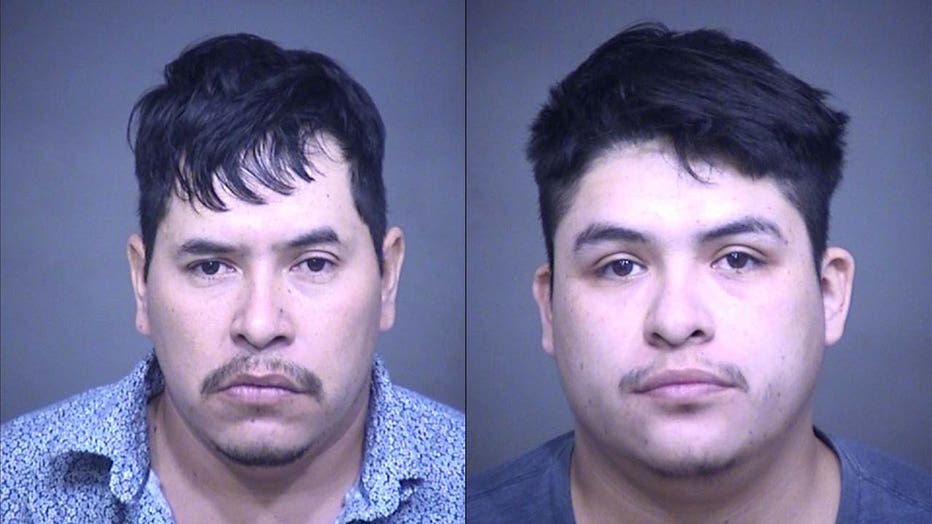 Jesus Baez-Franco and Oscar Baez-Franco
More Arizona headlines