Mesa man shoots at parents' house 3 times after being kicked out, PD says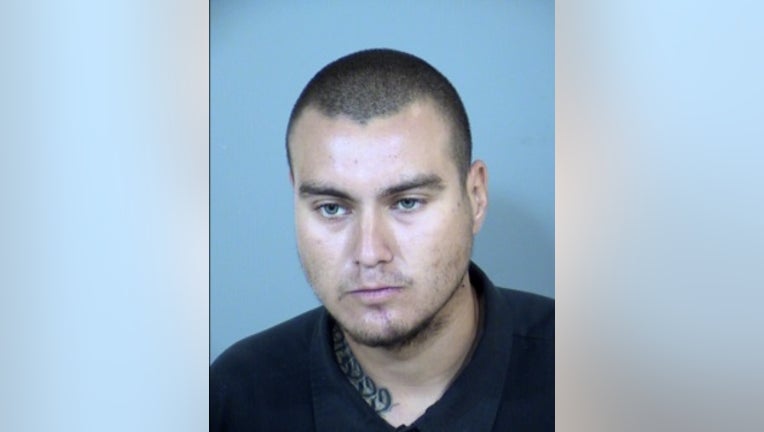 MESA, Ariz. - A 22-year-old man was arrested after Mesa Police says he shot into his parents' home three different times after being kicked out.
Events began to unfold on Oct. 20 when police say Ruben Flores III was kicked out of his parents' house after a domestic violence incident. He reportedly damaged property and said he was going to kill his dad.
"The next day, just before 9:00 p.m., at least thirteen bullets penetrated the front of the family home," police said. Flores III wasn't identified as the shooter at the time, but the shooting was captured on a neighbor's surveillance camera.
On Oct. 22, police say Flores III was stopped by officers while getting into an Uber around 2 a.m. near his parents' house and officers took photos of him to document his condition and clothing. In that same area, police say they found a shotgun hidden in bushes that belonged to his dad.
The Flores home was hit, again, 10 times by bullets around 5 p.m. on Oct, 23. A surveillance camera reportedly caught Flores III again, and he was seen going in and out of the home's backyard.
"When police reviewed the footage, they noticed the suspect was wearing the same clothing as Flores III was wearing the day prior when police contacted him by the Uber," police said.
On Oct. 24, the home was shot three more times.
"In addition, words were scrawled into the paint of Flores III's father's truck, and the tires were flattened. Officers also discovered that the suspect left a shoe imprint on the side of the truck," police said.
Officers who talked to Uber learned Flores III took rides before and after the shooting happened.
On Oct. 25, Flores III was arrested around 2 a.m.
"When officers took Flores III into custody, he was wearing the same clothing that was captured on surveillance video of the suspect in the second shooting. He also wore shoes that matched the sole imprints on the side of his father's truck and had a handgun in his possession," police explained.
Flores III was booked into jail on suspicion of the following charges:
3 counts of discharging a firearm at a structure

One count of theft of a firearm

One active MCSO warrant
Related Stories:
Tune in to FOX 10 Phoenix for the latest news: