Mesa, Phoenix police investigate 'horrific' shootings: 4 dead, 1 hurt, suspect caught
MESA, Ariz. - A suspect has been arrested after a string of shootings in Mesa and Phoenix that left four people dead and one person injured.
Iren Byers, 20, was originally taken into custody near Main Street and Extension Road for trespassing on May 28. He allegedly confessed to all the crimes, and he told police where they could find the clothes he wore and the handgun he used for the shootings.
Detectives linked his handgun to another murder that happened near 24th Street and Oak in Phoenix on Friday – before the Mesa shootings. A 41-year-old man, identified as Nicholas Arnstad, had been found dead next to a canal in the area.
Byers also reportedly confessed to killing him during the police interview.
In total, the 20-year-old is now being accused of four counts of first-degree murder and one count of attempted first-degree murder.
Police say security video from the shooting scenes all linked Byers to the homicides. He is believed to be the only suspect in this case.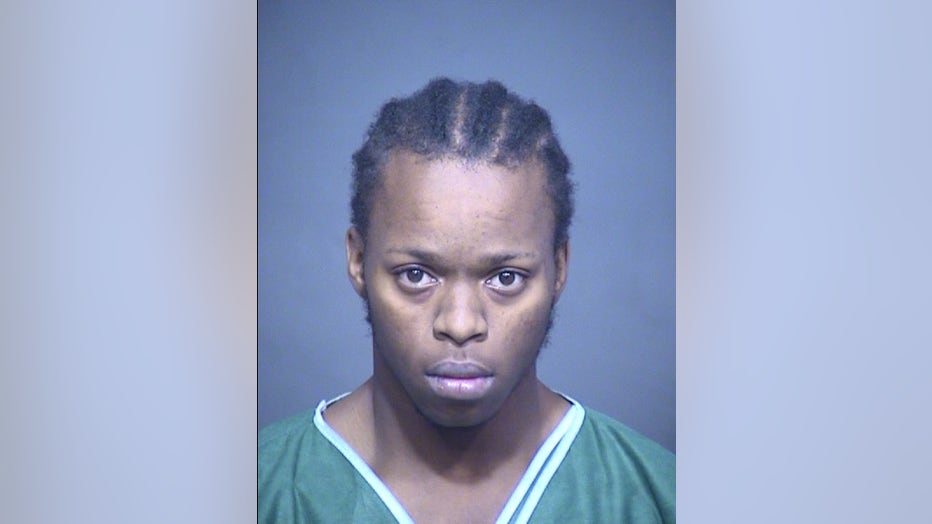 On Saturday afternoon, Mesa police gave a timeline of when and where the victims were found.
Timeline of shootings
On May 26 around 10:30 p.m., police found the body of a 41-year-old man near Alma School Road and Main Street. He is Julian Cox.
At around midnight near Country Club Drive and Broadway Road, a 41-year-old man's body was found near a Greyhound station. He's identified as Stephen Young.
While police were still investigating the body being found, they heard gunshots in the area. By 12:15 a.m. later that morning, officers found 36-year-old Angela Fonseca who had been shot near Main Street and Stewart – she's stable at the hospital with serious injuries.
As police searched the area, another body was found around 2 a.m. near 2nd Avenue and Extension, just blocks away. That victim is named John Swain, 40.
Possible motives
In court paperwork obtained on May 28, some of the details that stood out were the apparent motives for each of Byers' alleged killings.
For the first victim in Phoenix, authorities say Byers shot the man in the head because he was smoking fentanyl, and he didn't like that because his brother abused it too.
In the second shooting, Byers reportedly told police that the victim was talking about "blues," a term used to refer to fentanyl, and so he shot him in the head.
In the third shooting, police say Byers wanted to smoke weed, but the victim said he wanted fentanyl instead, so he shot him in the head.
In the fourth shooting, the paperwork says Byers shot a woman in the face because "she made him mad," then shot her again because "she wasn't dead yet." 
In the last shooting, Byers reportedly told investigators that he shot the victim in the head because he "was homeless and not from around here." The victim reportedly fell down a hill and Byers followed him and kept shooting.
Police say Byers didn't request any medical aid for the victims because he thought they didn't deserve it.
Investigators say he didn't show any remorse for the crimes he's accused of.
"All of the fired casings located from each case were seized and inspected for NIBIN evaluation and entry. Preliminarily, at least one casing from each scene matched being fired from the same  handgun," paperwork read. NIBIN stands for the National Integrated Ballistic Information Network.
Police say Byers told investigators the clothes he was wearing during the crimes were in his grandmother's room. A red T-shirt, black pants and a black fanny pack were found following a search warrant.
Inside the fanny pack was the 9mm Taurus handgun police say was used in the killings and matched the casings from the scenes.
Remembering the victims
Stephen Young
"He was good, and he was trying," said Elena, the sister of 41-year-old Stephen Young. "He finally listened. He finally did what he needed to do and this happens."
She says he was finally getting on the right track as he was chronically homeless and battling mental illness, which he began taking medication for.
Sadly, all hope for Young ended.
"I can't understand at all. I know my brother, too. I guarantee you he was just being friendly with the guy. I guarantee they met in the Circle K and got talking and Stephen thought he had a friend to walk with," she said.
Elena says her brother did not use fentanyl, as Byers told police.
"It's heartbreaking because even now, 'Could I have done more? I should have done more.' But, I know logically I did everything that I could," she said.
Meanwhile, Elena's birthday will never be the same, as it's now the day she lost her brother.
"And then when it did happen, I said, 'Next year, this time, the only thing that I'm going to be thinking about is, it's been a year since he was killed,'" Elena said.
On May 26, Elena said she got a voicemail from Young.
He said, in part, "I'm doing good. I'm homeless, but I came to see the doctor today, so I'm using my phone, so that's a good thing."
It was the last time Elena would ever hear her brother's voice.
"OK, I'll talk to you later. You have a good day," he was heard saying.
Elena said she felt she heard a sense of calm in her brother's voice.
"That was the last one, but like I said, you can hear that he's OK," she said.
Elena says she knows her brother was staying sober.
"Even if he did say something about fentanyl, he just shoots him in the head?"
John Swain
40-year-old John Swain was the last victim of the shooting spree.
Loved ones say he's not just another homeless person but meant something to a lot of people.
'All hands on deck'
"I can't even tell you any time in my police career, over twenty years, that I've heard of anything like this," said Brandi Gorge with Mesa Police.
Police were, and are, working overtime to figure out what happened.
"It was all hands on deck. We asked for everybody who was not on a call or who could break from their call, to come help us saturate the area. We were looking for any more victims, we were looking for a suspect, we were looking for any evidence to tell us what was going on in our city at that time," she said.
A question remains: Why?
"We are looking at similarities between all of our victims. They were all outside. None of them were in a residence, so we are looking at homelessness as maybe a possible motive," George said previously, but investigators are leaning toward it not being a motive, and more of a coincidence.
'Horrific act'
Mesa's Mayor released a statement on the shootings, calling it a tragedy.
"I am deeply disturbed by the violence in Mesa last night. Our Mesa community grieves for the victims and mourns with their loved ones. This is a tragedy felt throughout the City. Mesa residents deserve a safe and peaceful city. Unfortunately, incidents like this are all too common in large and small cities throughout the country. Despite last night's horrific act by one person, Mesa is one of the safest large cities in America and that is due in large part to our excellent police department. We applaud the Mesa Police Department for its swift response, investigation and quick apprehension of a suspect."
Map of the shooting locations + more incidents around the Valley: