Severe thunderstorms, hailstorms moving across Arizona this weekend: Live radar, updates
PHOENIX - The monsoon season may be over, but the storms aren't done yet. A Flood Watch is in effect across parts of Arizona as heavy rain, wind and thunderstorms are expected to move across the state.
The south-central and western regions of the state are forecast to be the most affected by the storm system. 
Much of the state, from Pima to Mohave County, was inundated with rain, hail, lighting and gusty winds Saturday. 
The National Weather Service says winds were as much as 69 miles per hour.
Much of the Valley received some measurable rainfall. Buckeye had some of the most rainfall, with the town getting more than three inches of rain.
As for Sunday, storms are still possible across the state, but these are expected to be more isolated. Hail and lightning are expected for the more severe storm cells.
The metro Phoenix area has a 30% to 70% chance for rain, but these odds will dissipate by sunset.
Power outages
Roughly 2,000 people across metro Phoenix were still without power early Sunday morning
More than a thousand residents in Tonopah lost electricity after a possible microburst ripped through the town, causing flash flooding and major damage to homes, power lines and trees.
Officials with SRP and APS, the two major utilities serving Maricopa and Pinal counties, said between them more than 13,000 customers lost electricity by 6:30 p.m. Saturday. The remaining customers without power are mostly APS. 
Power likely won't be restored until 6 p.m. Sunday, according to APS.
Get the latest outage updates here:
Flight delays
At Phoenix's Sky Harbor Airport, at least 20 flights were canceled and more than 400 were delayed due to the storms.
The Flood Watch is in effect for the following counties: 
La Paz, Yuma County: 8 a.m. on Oct. 15 until 5 a.m. on Oct. 16

Gila, Maricopa, Pinal County: 8 a.m. on Oct. 15 until 11 a.m. on Oct. 16

Mohave County: 12 p.m. on Oct 15 until 11 a.m. on Oct. 16
Get the latest watches, warnings and advisories here.
You can check the latest weather conditions by visiting the FOX 10 Phoenix weather page, or download the Free FOX 10 Weather app, which is available on Apple iOS and Android.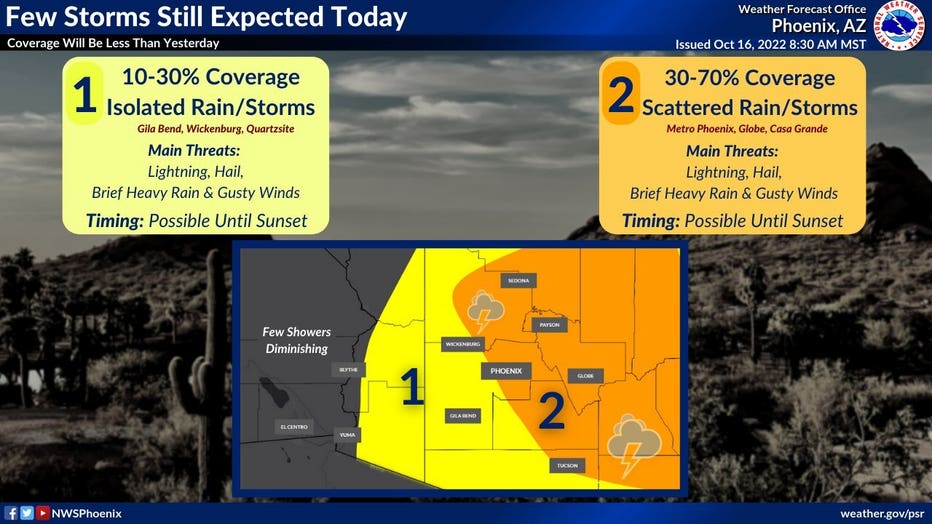 The Associated Press contributed to this report.
Latest forecast
Live radar
Viewer footage
Latest updates
Rain/flood safety tips
The American Red Cross' tips for heavy rain situations and flood safety:
Turn around don't drown! If you must drive and you encounter a flooded roadway, turn around and go another way.

If you are caught on a flooded road and waters are rising rapidly around you, get out of the car quickly and move to higher ground.

Tune in to your local radio, NOAA radio, or news channels for the latest updates.

If your neighborhood is prone to flooding, be prepared to evacuate quickly.

Follow evacuation orders and do not attempt to return until officials say it is safe.

If power lines are down, do not step in puddles or standing water.

If power is out, use a flashlight. Do not use any open flame as alternate lighting.
Preparing for a severe thunderstorm 
The American Red Cross' tips for preparing for a severe thunderstorm:
Put together an emergency kit.

Know your community's evacuation plan.

Create a household disaster plan and practice it.

Purchase a battery-powered or hand-crank radio

Discuss thunderstorm safety with members of your household. Be aware that a thunderstorm could produce flooding.

Pick a safe place in your home for household members to gather during a thunderstorm. This should be a place where there are no windows, skylights, or glass doors, which could be broken by strong winds or hail and cause damage or injury.