North High School varsity football coach suspended following allegations of 'inappropriate behavior'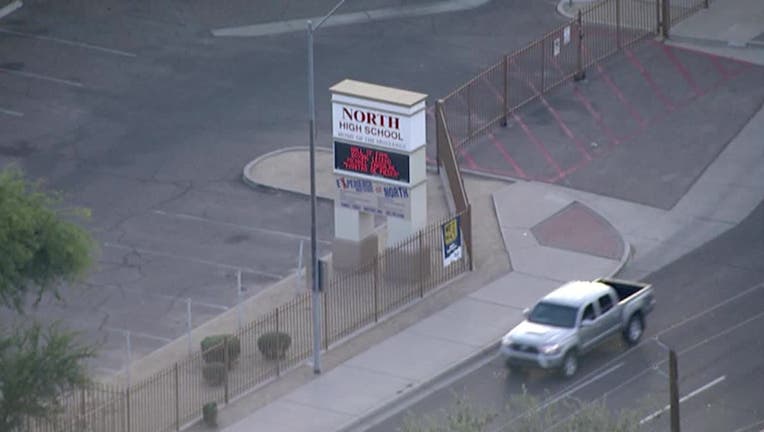 article
PHOENIX - Officials with the Phoenix Union High School District say an investigation is underway, following allegations of "inappropriate behavior" that happened inside the boy's locker room at North High School.
In a statement, school district officials say parents at North High School have been notified of the investigation, and that district officials have reached out to the parents of students potentially involved in the "inappropriate behavior".
In addition, school district officials say North High School's varsity football coach, Adan Mendoza, is on administrative leave pending an investigation. Besides his football coaching duties, Mendoza is a physical education and health teacher at North High.
District officials did not reveal any additional details surrounding the "inappropriate behavior", but did say it happened during the fall sports season.
"As a part of the investigation, we are working with local authorities to determine the extent and severity of the reported behaviors," read a portion of the statement.
A banquet for the school's football team, originally scheduled for Friday, was also cancelled. Now, many are wondering why Mendoza is on leave.
"It was his alma mater, and he had so much pride in his school, and he wanted the kids to be able to have that same amount of pride in their program at the school," said Michelle Mehok, who covers high school sports for AZPreps365.
Mehok said she got to know Mendoza when he became North High's varsity head football coach in 2018. She said Mendoza's story was that of a proud alum being promoted from an assistant, and she said players welcomed the move.
"When I interviewed them, they were saying, like, they already knew him and they had that relationship built with him, and that he had like a very strong impact on the team," said Mehok.
Mehok said she enjoyed working with Mendoza and covering his team, but the situation is serious.
"Whether Coach Mendoza is involved or not, it's clearly something of concern," said Mehok. "I don't know if that would justify -- that the allegation would make everything that's been said true, but, I mean, there's definitely something wrong."
FOX 10 has reached out to Mendoza for comment on the investigation, but Mendoza has yet to respond.