Phoenix home intruder shot by teenage boy | Crime Files
PHOENIX - A teenage boy shot a man trying to break into his home near 75th Avenue and Camelback Road Friday night, police said.
Officers were called to the neighborhood at around 10 p.m. on Sept. 8, according to police.
Here are the details on what happened: 
Who's the suspect?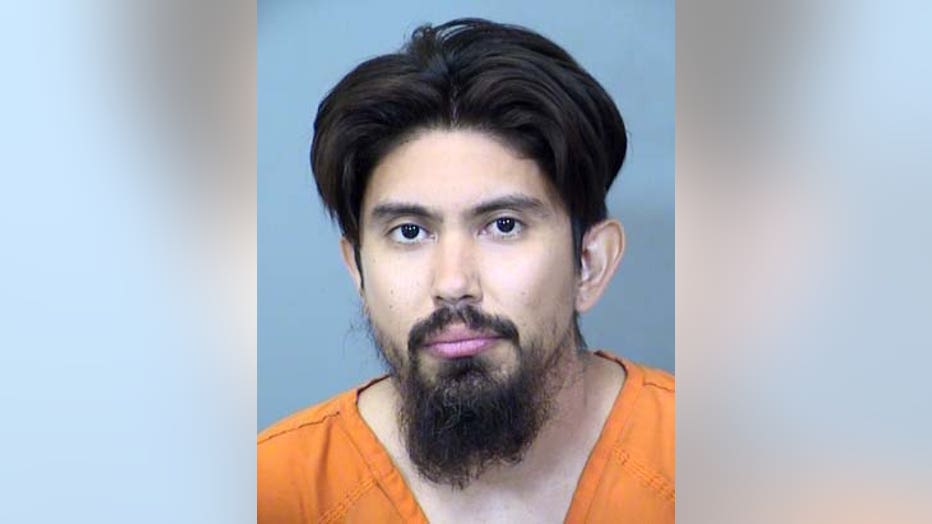 Court documents identified the suspect as Juan Saavedra.
Saavedra, according to court documents, turned 36 on Sept. 11, three days following his arrest. Court documents listed a number of prior arrests and convictions for Saavedra, but those entries were redacted from the court documents we received.
In court documents, Saavedra is listed as a transient.
What led to Saavedra's arrest?
Court documents state that Phoenix Police officers responded to a residential neighborhood near 75th Avenue and Camelback Road for a burglary in progress call at around 10:05 p.m.
When officers arrived at around 10:13 p.m., they contacted a man in front of a home, later identified as Saavedra.
"As officers approached this male, they observed him to be suffering from apparent gun shot wounds to his abdomen and right arm," read a portion of the court documents.
Eventually, officers made contact with an alleged victim, who told officers she had received a motion notification on her security system, and then saw Saavedra on her security camera walking around the front of her home.
"The victim stated she exited her residence and gave the defendant several commands to leave the area or he was at risk of being shot, in an attempt to scare him away from the residences front yard area," read a portion of the court documents. "The victim stated she then ran back inside of her residence, instructing one of her children to close and lock the door behind her. The victim stated as she entered her residence, she began calling police and went to retrieve a firearm in order to protect herself, her husband and five children located inside."
The alleged victim, according to police, later heard Saavedra bang on a carport door. After she told her children to move away from the area and hide as far away as possible, she heard the glass windowpane of the carport door shatter, and Saavedra's hand reaching inside.
"The victim stated as she stood with the firearm, she observed the defendants hand came through the now open and broken window, and reached for the doors doorknob in an attempt to open the door,' read a portion of the statement. "The victim stated at this point her 13-year-old son, seeing that the defendant was attempting to make entry and his mother was not firing the firearm, in fear for the safety of himself and family, took the firearm from his mother and fired the firearm towards the defendant, striking him."
Saavedra, according to investigators, was later taken to the hospital for treatment of his injuries, and was eventually released into police custody.
What led to the incident taking place?
In an interview that was done after Saavedra was read his Miranda rights, court documents state that detectives asked Saavedra on why he tried to get into the home. Saavedra replied that he had been smoking methamphetamine with a friend for about 48 hours prior to the incident, and that he was trying to locate his friend in various residential yards.
"The defendant stated upon approaching the victim's residence he heard her inform him to leave the area. The defendant stated he then approached the carport door of the residence, and believed it to be his son, despite knowing the residence did not belong to him," read a portion of the court documents.
When asked by police if he knew his actions could scare the people inside the home, court documents say Saavedra replied, "Yeah, I mean I was high obviously."
So, what happens to the suspect now?
According to court documents, Saavedra is accused of 2nd Degree Burglary, which is a felony.
Meanwhile, a judge has set a $50,000 cash-only bond for Saavedra, according to documents.
Neighbors react
Neighbors said they heard several gunshots. Some ducked down on the floor.
They say it's troubling to hear police say this suspect was seemingly attempting to break into their neighbor's home randomly.
"I'm happy that they had something to defend themselves," a neighbor said. "I would have, we would have done the same thing, so I feel good for them."
Where the incident happened