Man killed co-worker at Chandler Intel facility with baseball bat: court documents
CHANDLER, Ariz. - A suspect has been arrested after an assault at the Intel Ocotillo campus in Chandler left one person dead and another injured Saturday morning.
The suspect, 50-year-old Derrick Lemond Simmons, was taken into custody at the scene by police. He is being booked into jail and is accused of first-degree murder and aggravated assault.
Chandler Police said officers arrived at the scene near Dobson and Ocotillo Roads at about 6:15 a.m. and found one person "who was fatally injured from what appears to be blunt-force trauma."
That person who died, according to a statement released by Chandler Police officials, was identified as 49-year-old Dan Foster.
Another person, identified by police as 27-year-old Jaron Williams, was found suffering from non-life-threatening injuries and was taken to the hospital.
They said Simmons was located in front of the building carrying two duffel bags.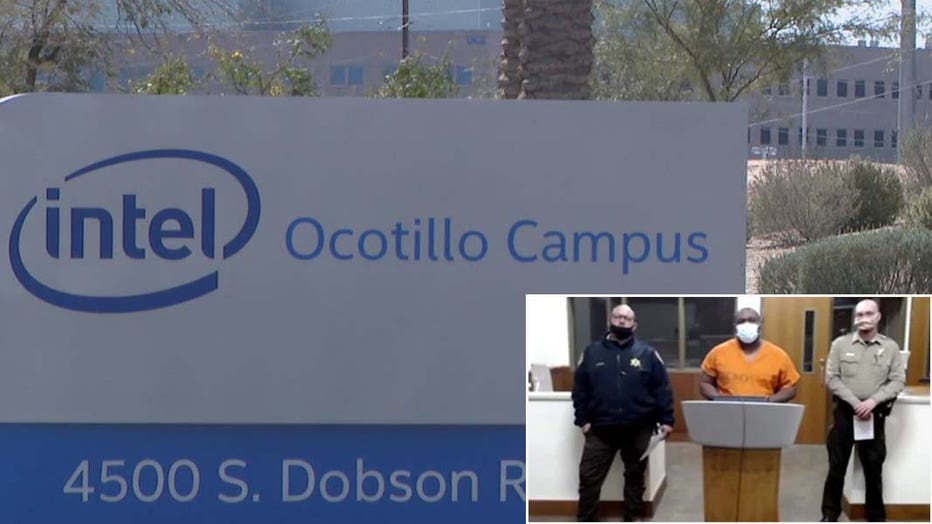 Court documents state that one of the victims was found dead in the Intel Ocotillo Campus cafeteria with blunt-force trauma from a baseball bat along with a hatchet and knife.
"It appears the subjects involved were co-workers at this location," police said.
According to court paperwork, witnesses told police that after the night shift employees left, Simmons approached a man at a table in the cafeteria and allegedly hit him multiple times on the head with a baseball bat for an unknown reason.
The other co-worker sitting at the same table was attacked when he stood up to confront Simmons, police said.
"After the tragic incident at our Ocotillo campus on Saturday, Intel Security are working with Chandler Police as they conduct their investigation," read a statement released by Linda Qian with Intel Arizona.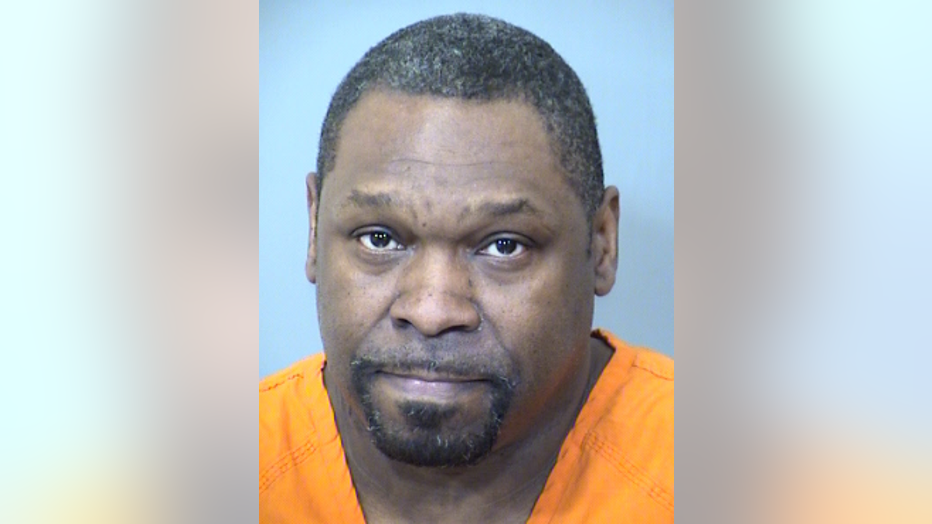 Simmons also was convicted in 2001 for aggravated assault with a deadly weapon, according to court paperwork, but details of that case weren't immediately available.
The identity of the victim was not released.
During his Simmons' court appearance, a judge set a cash bond of $500,000.
The Associated Press contributed to this report.
More Arizona headlines
Tune in to FOX 10 Phoenix for the latest news:
Derrick Lemond Simmons, middle, was arrested in connection to a deadly assault at a Chandler Intel campus.