Men arrested for 18-year-old woman's murder in south Phoenix
PHOENIX - Police have arrested two men after an 18-year-old woman was reportedly murdered in south Phoenix.
Officers conducted a welfare check near Central Avenue and Roeser Road and found a woman who had been shot at around 5 a.m. She died from her injuries, Phoenix Police Sgt. Vincent Cole said.
She was identified as Frida Valdez.
On Thursday, officers arrested 18-year-old Leon Valencia Verdugo and 22-year-old Jesus Barrera in connection to her death.
Verdugo faces a first-degree murder charge, and Barrera was booked into jail on a weapons misconduct charge.
Police said a suspect entered Valdez's home and shot her, but it is unclear what led up to the killing.
"I heard it around 5 in the morning, maybe. I heard just like two gunshots. It was like, one, two, real quick," a neighbor told FOX 10.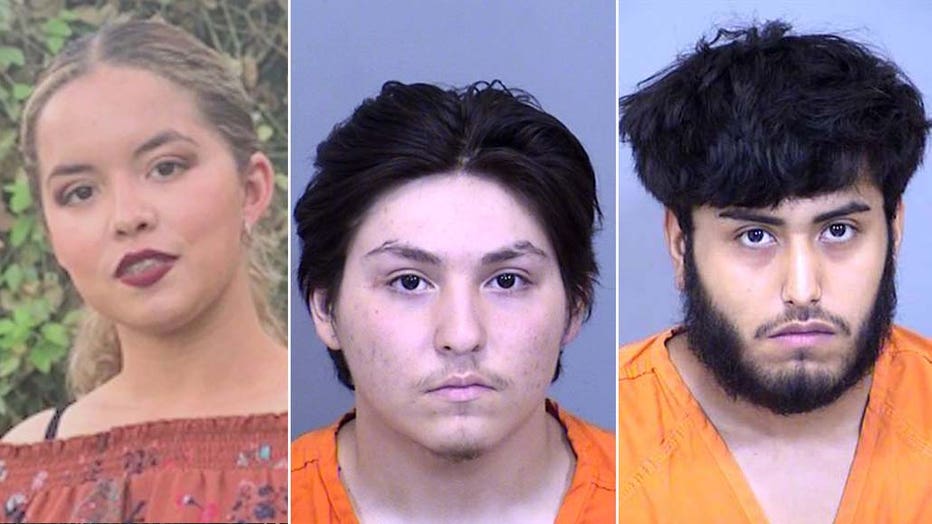 From left: Frida Valdez, Leon Verdugo, and Jesus Barrera
Loved ones speak out
Her heartbroken mother says Frida was beloved.
"Devastated," she said. "She was a good girl."
About 20 members of her family and friends gathered and waited in the heat at the mobile home park where Frida lived with her sister. Neighbors say they didn't see what happened but they heard it just before sunrise.
"The neighbors told me that she ran from her home and just fell on the floor there," her mother said.
Tune in to FOX 10 Phoenix for the latest news: