Statue of Arizona boy who inspired Make-A-Wish Foundation's creation found destroyed
PHOENIX - One of the Make-A-Wish Foundation's most prized items has been destroyed, and a man has been arrested in connection with the case.
The item at the center of the incident was the bronze statue of a child whose story inspired the creation of the non-profit. The statue was installed in 2018, and at around 10:00 p.m. on Jan. 3, security cameras captured the moment when a light-colored car pulled in front of the Make-A-Wish Foundation headquarters near Highland and State Route 51.
After the car pulled up, two people jumped out, harnessed the statue, pulled it from the base, and loaded it into the trunk before driving away.
On Jan. 10, police recovered pieces of the destroyed statue and arrested 32-year-old Troy Burke for theft and trafficking of stolen property. Authorities did not say if there was a motive.
Court documents reveal additional details
In the aftermath of Burke's arrest, we have obtained court documents related to the case.
According to the documents, Burke was arrested on Jan. 10 in a residential neighborhood south of 9th Avenue and Peoria in Phoenix. Investigators accuse Burke of transporting pieces of the statue to two separate scrapyards, which reportedly earned him a total of $180.
"During the interview, Troy Burke admitted to the theft of the statue," read a portion of the court documents.
When Burke was arrested, officers reportedly found a quantity of dangerous drugs on his person. In addition, pieces of evidence connected to the incident were found inside Burke's vehicle and home.
Court documents state a judge has released Burke on his own recognizance, meaning he was released without having to post bail. A preliminary hearing is scheduled for Jan. 30.
Mother of boy who led to Make-A-Wish Foundation's creation speaks out
In our initial report on the statue's theft, we spoke with Linda Pauling. The statue is that of her son, Christopher James Greicius, 
"You know, the first thing that came to my mind was 'My God, when I buried him the first time – it's almost like the second time he's gone,'" said Pauling.
In 1980, Greicius was battling leukemia. A family friend knew he wanted to become a police officer, so he spoke with the Arizona Department of Public Safety, who made his wish come true by giving Greicius a helicopter ride and uniform. Greicius was even sworn in, becoming the state's first and only Honorary DPS Officer.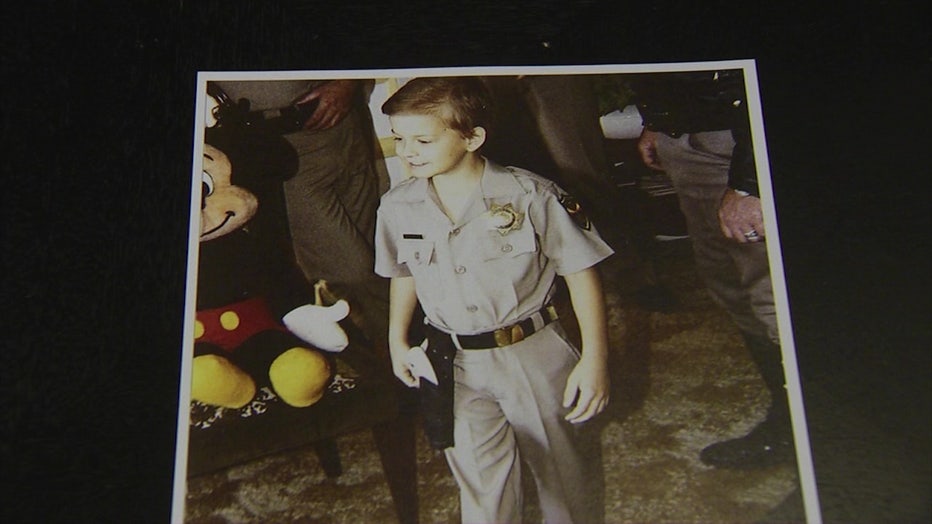 Chris Greicius, in a photo taken at the time he was made an honorary Arizona DPS officer.
Greicius passed away two days later, but his story inspired six people to form the Make-A-Wish Foundation, which has since grown to more than 52 chapters across the country, with 30 international affiliates.
"For me, it's every child that needs a wish. It's hope, strength and joy. Hope that they are going to get their wish, strength when they get it, and joy from memories years to come," said Pauling.
Pauling said every time she visited the Make-A-Wish Foundation headquarters, she would give the statue a kiss, and leave a red rose.
"He got me one once, so every time I bring him one," said Pauling.
On Jan. 5, Pauling brought a dozen roses to mask what is missing.
"It's terribly sad, and I feel awful for all the staff and all the people that statue represents," said Jamie Sandys with Make-A-Wish.
We spoke with Pauling on Jan. 11, after Burke's arrest.
"When I got the phone call, it was like 'yes, we did it,'" said Pauling. "It is still devastating to not have it here. To know it was in a chop shop. It was stolen."
Pauling had this to say about her hopes for the suspect.
"I sincerely hope these gentlemen pay. Go to jail and make them wear a Make-A-Wish t-shirt, so they can think about ti for the rest of their lives," said Pauling.
Detectives, meanwhile, are still trying to find the second suspect. Anyone with information is asked to contact the Phoenix Police Department or Silent Witness at 480-WITNESS.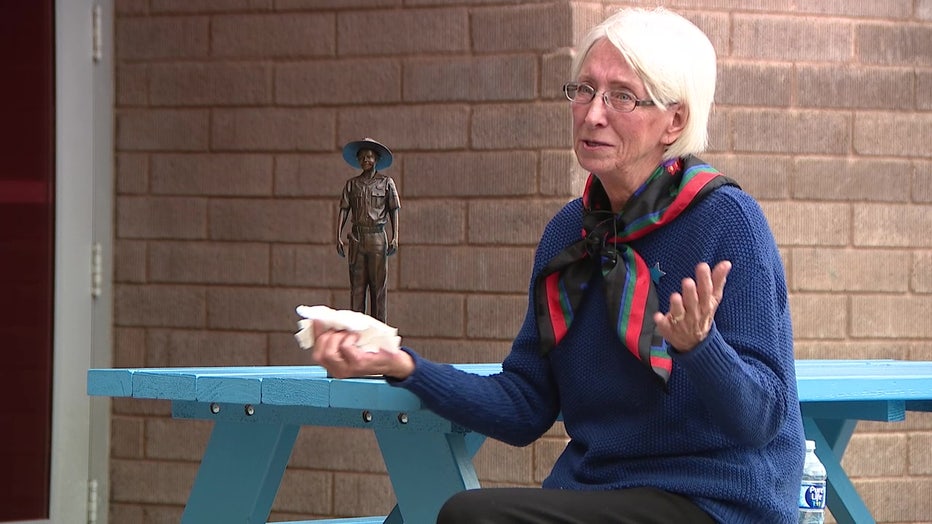 Linda Pauling, mother of Christopher James Greicius. Greicius' story went on to inspire the creation of Make-A-Wish Foundation.
Read More Arizona Crime Stories