Super Bowl LVII: Experience a 'Taste of the NFL' in north Phoenix
PHOENIX - Hungry?
Celebrity and local chefs will gather this weekend to serve up mouth-watering dishes on the eve of Super Bowl LVII in Glendale. Perhaps the best part – it's all for charity.
Chefs Andrew Zimmern, Carla Hall, Tim Love, Mark Bucher, and Lasheeda Perry will be joined by chefs from some of Arizona's top restaurants – including Beau MacMillan, Christopher Gross, Mark Tarbell, Maria Mazon, and Maurice Gordon – at the "Taste of the NFL" on Feb. 11. The event will take place at the Chateau Luxe, located at 1175 E. Lone Cactus Drive in Phoenix.
In addition to incredible Super Bowl food, "Taste of the NFL" also features:
Other celebrity appearances, including Miss America and Miss Arizona
Autograph signings by over 30 NFL players
A sports memorabilia silent auction
Over 60 Arizona high school students being mentored by chefs
"Taste of the NFL is an official NFL-sanctioned event. All proceeds benefit GENYOUth's End Student Hunger fund which will provide schools nationwide with the resources and equipment needed to help feed food insecure children – especially the 30 million children who depend on school meals for an important part of their daily nutrition," read a description of the event on the "Taste of the NFL" website.
The event runs from 4-8 p.m.
VIP tickets are sold out, but general admission tickets are still available and can be purchased at tasteofthenfl.com.
More Super Bowl headlines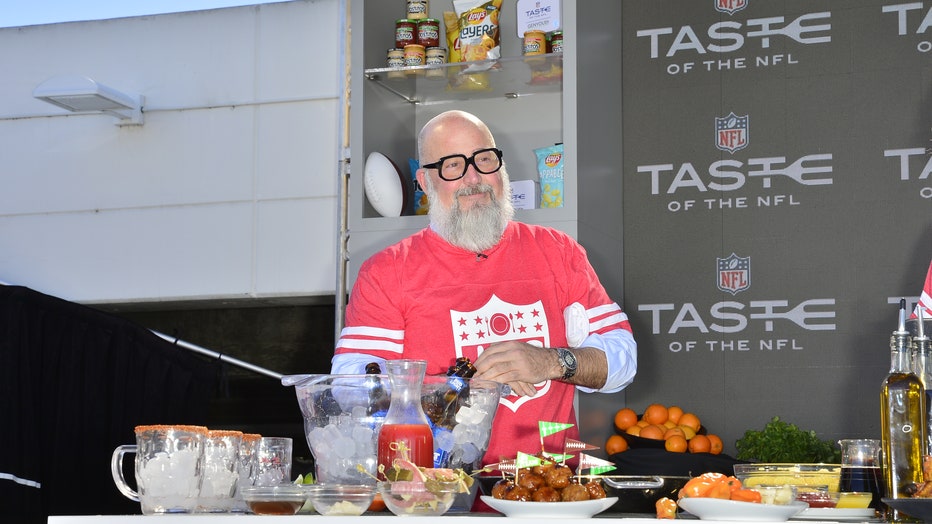 LOS ANGELES, CALIFORNIA - FEBRUARY 12: Andrew Zimmern at the Taste of the NFL event at The Petersen Automotive Museum on February 12, 2022 in Los Angeles, California. (Photo by Jerod Harris/Getty Images for GENYOUth)