Super Bowl LVII: Gila River Indian Community Governor says tribes are feeling represented
PHOENIX - Native Americans are feeling represented in this year's Super Bowl celebrations.
Arizona Cardinals legend Larry Fitzgerald, Cardinals' owner Michael Bidwill, Governor Katie Hobbs, and Phoenix Mayor Kate Gallego, were all at the welcoming event Monday.
Also there, a name you may not be familiar with though he's a governor in our state, Gila River Indian Community Governor Stephen Roe Lewis. He's been deeply impacted by the Super Bowl this year.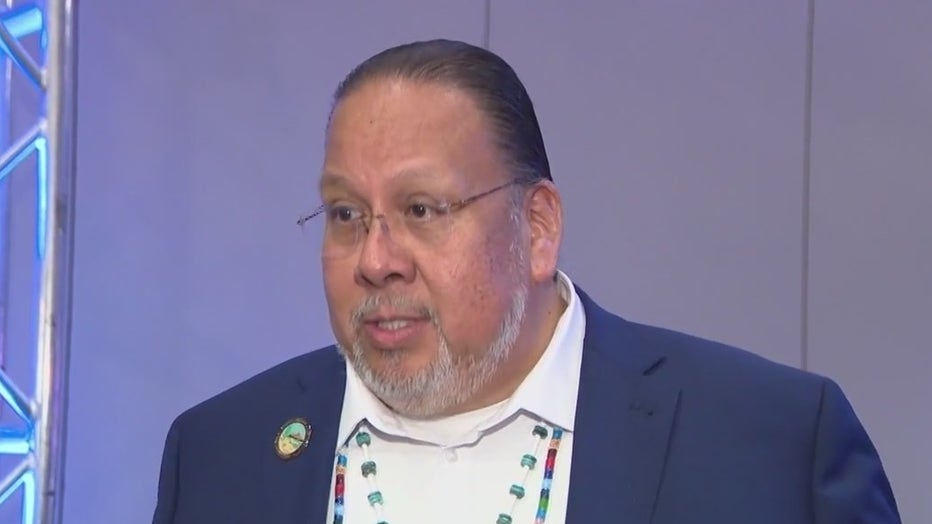 Gila River Indian Community Governor Stephen Roe Lewis
He's a member of the Arizona Super Bowl Host Committee, and he says he feels particularly welcomed this year as a member of one of the 22 tribes in Arizona
"I think were at an incredible moment, where I think it's unprecedented. You had the NFL give a land acknowledgment and allowed tribal leaders to be a part of this celebration," Lewis said.
He's been involved in previous Super Bowls, but says this year feels different – it feels like the tribes are truly included.
"I'm proud of the 21 other tribes. We've collectively have been working for so long to be heard, to be recognized, to be respectfully shown contributions of our history and to this great state of Arizona," he said.
Wile the NFL is selling tens of thousands of Super Bowl T-shirts, it's also throwing its stunning brand power behind local native companies like OXDX Clothing.
Artist Jared Yazzie has created several designs for the NFL Origins collection that go on sale Wednesday.
The stunning designs by Yazzie feature turquoise jewelry, but you will see Native American influence in other designs on the Super Bowl branding as well weaving a story paying respect to indigenous people of Arizona.
"Indigenous people are being seen, are being heard, and appreciated for our culture, our language, our tradition, our arts," Lewis said.
More information on the NFL Origins collection:
https://www.nfl.com/causes/nfl-origins/
https://nflcommunications.com/Pages/Origins-An-NFL-Collection-Returns-for-Second-Year-ahead-of-Super-Bowl-LVII-in-Arizona.aspx
More reports: