Trump, Pence to hold dueling rallies in Arizona for governor's race
PHOENIX - With less than two weeks until the Arizona Primary Election and early voting already underway, former President Donald Trump and former Vice President Mike Pence are throwing their support behind different gubernatorial candidates at dueling rallies.
Trump is backing Kari Lake and will be rallying for her at the Findlay Toyota Center in Prescott Valley on July 22. The rally was postponed due to the death of Ivana Trump.
MORE: Former President Trump postpones Saturday rally in Arizona following ex-wife's death
Pence, who endorsed Karrin Taylor Robson, will speak at a rally at TYR Tactical in Peoria before heading to Tucson for a rally at a U.S. Customs and Border Protection office.
In an interview with Phoenix radio station KTAR, Pence said he was impressed with Taylor Robson after they met while touring the U.S.-Mexico Border.
"I think Arizona is such a pivotal state in this country, and having strong, experienced conservative leadership to continue to incredible record of Gov. Doug Ducey, all can be done by nominating Karrin Taylor Robson," said Pence.
Besides having the endorsement of Pence, Taylor Robson also has the endorsement of Gov. Ducey, who cannot run again due to term limits.
Lake and Robson are the GOP frontrunners for the Arizona Primary Election.
Many ballots have already been returned
According to the Maricopa County Recorder's Office, over 275,000 ballots have already been returned and counted.
MORE: 2022 Midterm elections: Arizona officials step up security ahead of primary
The last day to request an early ballot is Friday.
Political analyst weighs in
Experts in Arizona politics say this primary election, voters are going to be deciding on much more than just their nominee.
"What's happening is a giant important political science experiment. In fact, Arizona is the experiment," said Stan Barnes.
Recent polls show Taylor Robson is trailing slightly behind Lake, who continues to promote the false claim that the 2020 election is stolen.
On August 2, when candidates are chosen, the answer will be there for all of us to see," said Barnes. "What is the Republican Party going to be? Is it going to be the populous Trump wave of turning the table over and change? Or is it going to the Chamber of Commerce, temperate, reasonable party that just wants to get along and keep things the way they are?"
The Arizona Primary Election takes place on Aug. 2.
MORE: 2022 Arizona Primary Elections: What you need to know
The Associated Press (AP) contributed to this report.
Tune in to FOX 10 Phoenix for the latest news: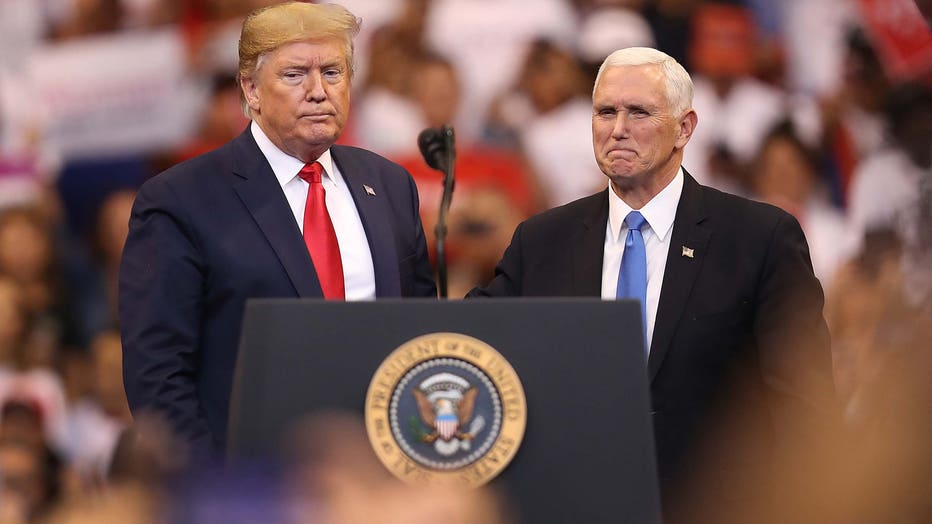 SUNRISE, FLORIDA - NOVEMBER 26: U.S. President Donald Trump and Vice President Mike Pence stand together during a homecoming campaign rally at the BB&T Center on November 26, 2019 in Sunrise, Florida. (Photo by Joe Raedle/Getty Images)