White House official reportedly mocked Sen. McCain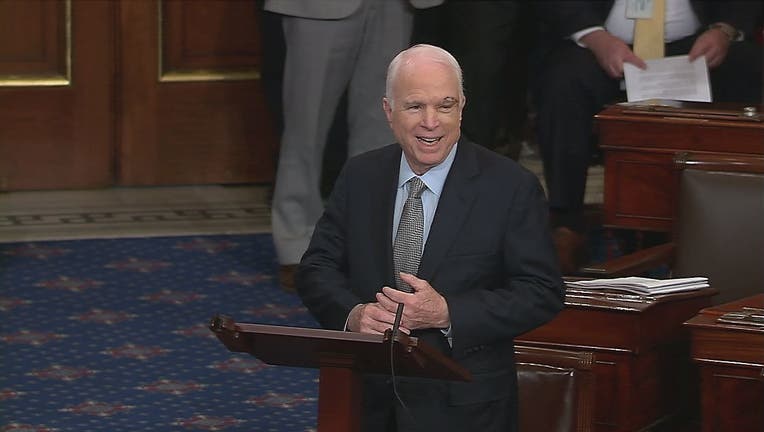 WASHINGTON, D.C. - A White House communications official mocked Sen. John McCain's brain cancer diagnosis in a meeting after the Arizona Republican announced his opposition to President Trump's pick to lead the CIA, sources told Fox News Thursday.
According to two White House sources, the staffer, Kelly Sadler, said of McCain, "It doesn't matter, he's dying anyway."
White House sources said the joke at first elicited some nervous snickers. Afterward, though, the sources said many spoke to each other about being surprised by the "tasteless" remark.
Meanwhile, Cindy McCain has responded to what Sadler said, via a tweet made on her verified Twitter account.
In the tweet, Cindy McCain reminded Sadler that Sen. McCain has a family, including seven children and five grandchildren. Cindy McCain's tweet was retweeted by Sen. McCain's daughter, Meghan.
On her verified Twitter page, Kelly Riddell Sadler identifies herself as a Special Assistant to the President.
Cindy McCain also lashed out at Charles V Payne on Twitter, after a guest on Payne's show on Fox Business Network reportedly made claims about Sen. McCain that were construed by some as offensive.
According to various media reports, the guest claimed that Sen. McCain cracked under pressure, while he was prisoner in Vietnam, using it as proof that torture works.
According to a PolitiFact report in 2008, fliers that claim Sen. McCain helped the enemy in Vietnam "provided scant evidence to back up the claim, and is "strongly contradicted by many other accounts" that have been reviewed by PolitiFact.
Payne issued an apology on his verified Twitter account Thursday afternoon, via two tweets and a video.