Spring Training 2023: Cactus League schedule for each team
PHOENIX - Spring training is finally here! Starting Feb. 24, you can watch 15 Major League Baseball teams in action all across the Valley.
Cactus League games run through March 18.
Opening Day for the MLB regular season is March 30. The Diamondbacks kick off the season at the Los Angeles Dodgers.
The D-backs' home opener is set for April 6 at Chase Field.
Spring Training 2023: Map of Cactus League stadium locations
Arizona Diamondbacks
Click here for the D-backs' spring training schedule
Chicago Cubs
Click here for the Chicago Cubs' spring training schedule
Chicago White Sox
Click here for the Chicago White Sox spring training schedule
Cincinnati Reds
Click here for the Cincinnati Reds' spring training schedule
Cleveland Guardians
Click here for the Cleveland Guardians' spring training schedule
Colorado Rockies
Click here for the Colorado Rockies' spring training schedule
Kansas City Royals
Click here for the Kansas City Royals' spring training schedule
Los Angeles Angels
Click here for the Los Angeles Angels' spring training schedule
Los Angeles Dodgers
Click here for the Los Angeles Dodgers' spring training schedule
Milwaukee Brewers
Click here for the Milwaukee Brewers' spring training schedule
Oakland A's
Click here for the Oakland A's spring training schedule
San Diego Padres
Click here for the San Diego Padres' spring training schedule
San Francisco Giants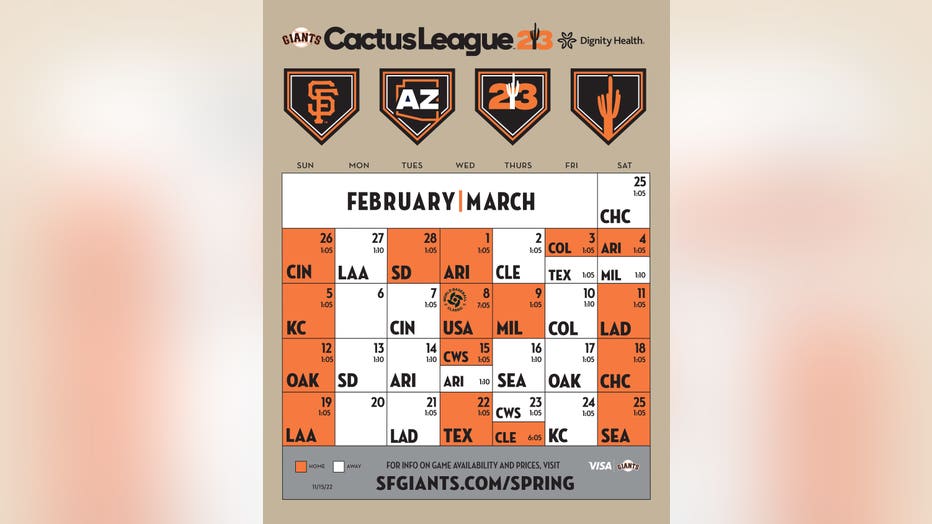 Spring training 2023 schedule for the San Francisco Giants. (MLB.com)
Click here for the San Francisco Giants' spring training schedule
Seattle Mariners
Click here for the Seattle Mariners' spring training schedule
Texas Rangers