2-year-old boy in stroller hit by red-light runner in Phoenix, suspect arrested: police
PHOENIX - Police say a suspect has been arrested after a 2-year-old boy was hit by a driver who ran a red light in Phoenix on Feb. 20.
According to Phoenix Police, the boy was being pushed in a stroller by his grandfather, in a crosswalk near 19th and Glendale Avenues just before 8:30 p.m. on Feb. 20 when a vehicle ran a red light and hit the child.
Firefighters responded to the scene and transported the boy to a hospital. The boy, Jayden, is in stable condition, but he did suffer a head injury, bleeding liver, and a broken pelvis.
The boy's grandfather was not hurt.
The vehicle did not stay at the scene after the crash. During their investigation, police obtained dash-cam footage of the crash and soon after, police said 21-year-old Davorah Jerrice Ross was arrested in connection to the hit-and-run crash.
According to court documents, after the crash, Ross called police early Monday morning to report that her vehicle had been stolen.
"After talking to officers she learned the baby was still alive and then admitted to being the driver involved," read a portion of the court documents.
Ross was taken to police headquarters and during an interview with detectives, she allegedly admitted to being the driver who hit the boy and said she left the scene after the crash because she was scared.
"The defendant [Ross] was able to describe the collision and the events that match what was seen on the dash cam video," court documents read.
After the crash, Ross said she hid her car in an apartment complex near 51st and Northern Avenues. The car has not been found.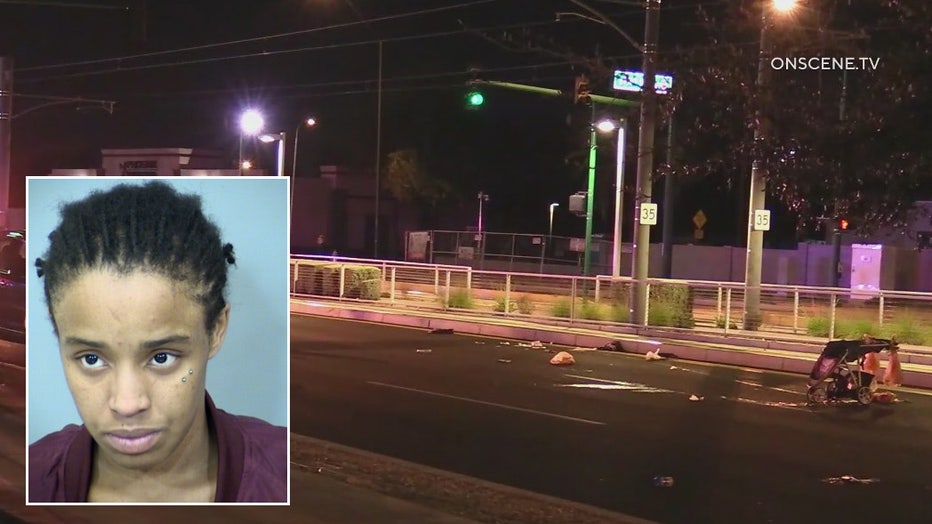 Police say Davorah Jerrice Ross was arrested after a 2-year-old boy in a stroller was hit by a vehicle in a Phoenix crosswalk.
2-year-old's great-grandmother speaks on Jayden's condition
Charlene Walton is the little Jayden's great-grandmother and says, "Hopefully everything is going to be OK, it looks like it's going to be.
The incident brings the great-great-grandmother to tears, thinking about the pain and long road of recovery that's ahead for Jayden.
She says Jayden, who's going to turn three in a few months, suffered a broken pelvis, head trauma, spine injuries and a bleeding liver. She's devastated that the playful toddler, won't be able to move like he used to.
"It's going to be so hard on him being in a cast. I don't know what they're going to do about the pelvic fracture. He can't be on his feet at all and that's going to be terrible for him because he's always on the go," Walton said.
She adds, "What was so hard, she flew that light with no lights. If Steve even had an inkling it was coming, he would've pushed him out of the way, but she changed lanes and hit the stroller and pushed him all the way down the street."
A GoFundMe for Jayden has been set up, and it can be found here https://www.gofundme.com/f/baby-jaydens-recovery.
Witness describes scene of hit-and-run crash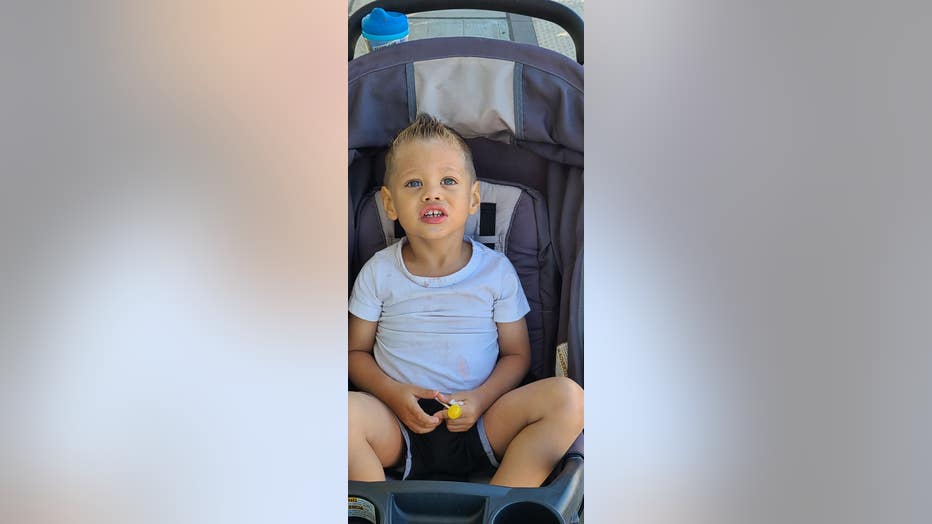 2-year-old Jayden was hit while in a stroller in a Phoenix crosswalk by a driver who ran a red light, police said. (Credit: Charlene Walton)
A woman named Maigen who was working at a nearby business at the time, says she walked down the street and saw the toddler on the ground.
"The fire department came, I didn't know what was going on at first. Then they started working on the little boy, the stroller, pieces everywhere. The uncle was upset and freaking out at the same time. They had the right of way, not the car," Maigen said.
Just seeing the aftermath of the crash brought the mother to tears.
"That's really hard to see. I have a 2-year-old as well. So, when my kids picked me up that night, I hugged them hard and was crying in the car," Maigen said. "He probably didn't know what he hit. The fact that he didn't pull over – it was a child. I really hope he gets caught and he's not sleeping at this point."
Good news for Jayden's family
A Phoenix-area car dealer saw what happened to Jayden and is now stepping up by providing the family with a big gift.
A car – The family is dealing with traveling back and forth to the hospital to take of the toddler.
"It is a very good day, so much better than the days we have been having. It is awesome," said Steve Walton, Jayden's grandfather.
The gift was all made possible by Dan and Lorraine Lovato, owners of Desert Valley Late Model Auto Parts in Phoenix.
"I saw the story on the news when I got up in the morning, drinking my coffee and broke into tears, my heart sunk when I saw little Jayden and knew they needed help," they said.
The Lovatos wanted to help them with the new hardships the family is facing, saying, "We went through our inventory to see what we could come up with."
"In my wife's heart, my heart, our employees' hearts, our customers, we feel more people should make a difference in the world. We have an opportunity to do this and so it was a no brainer," Dan said.
More Arizona crime news
Tune in to FOX 10 Phoenix for the latest news:
Get breaking news alerts in the FOX 10 News app. It is FREE! Download for Apple iOS or Android.