2022 Arizona election: Former President Barack Obama campaigns in Phoenix for Democrats
PHOENIX - Former President Barack Obama came to Phoenix to campaign for Democratic gubernatorial candidate Katie Hobbs and incumbent Senator Mark Kelly.
"I've never lost an election, and I don't intend to start now," said Hobbs.
He made a stop at Cesar Chavez High School, located at 3921 W. Baseline Road, on Wednesday, Nov. 2.
"Arizona elected and community leaders will also participate in the program. At the event, President Obama will rally voters, encouraging them to turn out and vote early for Democrats up and down the ballot," the Arizona Democratic Party said in a news release on Oct. 30.
Doors opened for the event at 5:30 p.m., and Former President Obama spoke following Sen. Kelly's speech, at around 7:45 p.m.
While Arizona's electoral votes did go to Joe Biden in the 2020 election, Former President Obama himself failed to win Arizona in 2008 or 2012. Now, Democratic Party supporters hope their best communicator can help push undecided voters into the blue column.
"I believe he will have an effect, but it's actually going to take the people to make that effect happen," said Lynnfred Smith.
"I'm not looking for miracles, but anything that we can do in a tight election to bring just a few more people onboard is worth the effort," said Jamie Horton of Gilbert.
Republicans among those who attended event
During his speech, Former President Obama touched on various subjects, from education, the economy, to the COVID-19 Pandemic. He also called on people to go out and vote.
"You got to go and vote," said the former president. "You got to pull them up. Make sure they are voting early or take them with you in person on Election Day."
The event also saw some Republican attendees, like Mesa Mayor John Giles.
"I hope and pray that someday I can cheer for Republican candidates again, but not this year, because the party that I know has been lost, and this has become an election to save our country and great state," said Giles.
There have been known cases of Republicans supporting Former President Obama. The GOP nominee for Arizona governor in this election, Kari Lake, supported Obama during his campaign. She ultimately switched sides, however.
Event attendees speak out
There were many young people at the event, including students at Cesar Chavez High School, who say they couldn't believe their school was selected for the event.
Some students were standing in line since 12:45 p.m. in order to be the lucky first few to get into the venue.
"It's just a monumental experience that I couldn't miss," said Lynae Berry Hill. "I was, like, how am I going to call out of work?"
"Whether it's a canvass or going to our house or Obama coming and talking to a bunch of adoring fans, he reminds people what we are fighting for," said another event attendee, identified onl as 'Jaimie.'
Another former president also toured Arizona
Obama was not the only former president to have made a campaign stop in Arizona.
On Oct. 9, Former President Donald Trump made a stop in Mesa to campaign for the "Trump ticket," which includes GOP Governor nominee Kari Lake, Senate hopeful Blake Masters, candidate for Secretary of State Mark Finchem and candidate for Arizona Attorney General, Abraham Hamadeh.
Election Day is Tuesday, Nov. 8.
2022 Arizona General Election voter guide: What you need to know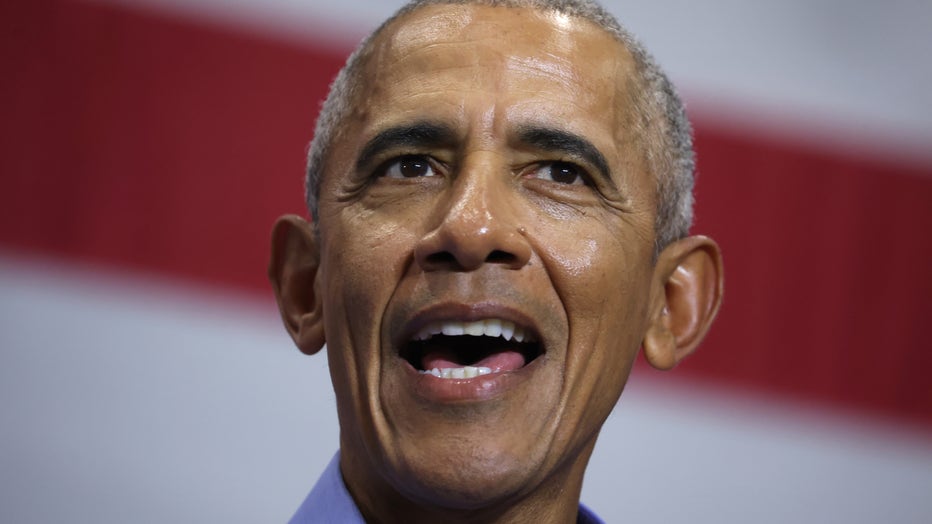 MILWAUKEE, WISCONSIN - OCTOBER 29: Former US President Barack Obama speaks at a rally to support Wisconsin Governor Tony Evers and Democratic candidate for U.S. Senate in Wisconsin Mandela Barnes on October 29, 2022 in Milwaukee, Wisconsin. Evers and (Getty Images)
Related reports: