A UFO or a weather balloon? Arizonans report seeing a bright object in the sky
PHOENIX - Residents across the Valley and even as far as north as Prescott have reported seeing a strange light in the sky Tuesday night.
Some witnesses reported seeing it appear as a static object, unmoving for at least 40 minutes.
According to the National Weather Service, officials believe that this object could be a high-altitude balloon from a private company, as it was seen much higher than where their balloons would normally go. Some of these balloons can reach altitudes of around 100,000 feet.
However, NASA says they're just doing some research.
"We are about an hours drive from New Mexico where we launch from, so it is very common when we get UFO sightings," said Debbie Fairbrother, scientific balloon program chief at NASA.
NASA officials say that the object is likely one of their scientific balloons that launched from Fort Sumner in New Mexico and landed in Arizona.
It was part of the NASA Spring 2021 Scientific Balloon campaign that took off during the early morning of June 8. The flight lasted 15 hours and reached an altitude of 117,300 feet, authorities say.
Their balloon touched down northeast of Chino Valley at 10 p.m. Tuesday night.
"A lot of times it's when the sun is down and it's illuminating the balloon, the balloon glows," said Fairbrother. "It's a teardrop shape, so it's really kind of neat to see it."
The next launch is planned tomorrow, so if any residents see another similarly-shaped object, there's the official explanation.
More information on NASA's campaign: https://www.nasa.gov/feature/nasa-s-scientific-balloons-return-to-flight-with-spring-2021-campaign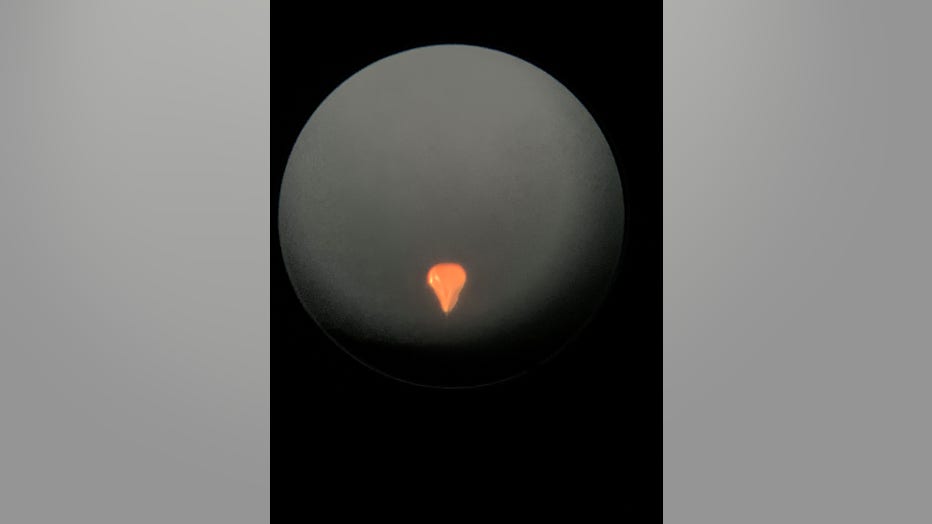 The object as seen through a telescope. (Photo: Yolanda Mendoza)
A view of the object just north of Anthem. (Photo: John Sears)
For the latest local news, download the FOX 10 News app.
Continued Coverage