Baby found safe after Buckeye home invasion by his mother sparks AMBER Alert
MARICOPA COUNTY, Ariz. - The 9-month-old baby at the center of a home invasion in Buckeye has been found safe hours after an AMBER Alert was issued around 3:45 p.m. on June 10.
The Buckeye Police Department says the baby, Raylon Tucker, and his mother, Jessica Jones Angulo, 19, went missing after she, along with three others, took him during "a violent early morning home invasion near Baseline and Miller."
Tucker, along with Angulo and Exzavior Jones, the child's uncle, were found in Phoenix after turning themselves in near 47th Avenue and Thomas. Officers say they were walking in the area when they were taken into custody.
Angulo and Jones were arrested. Jessica Howard Davila and Michelle Anaya were arrested in connection to the home invasion.
The department released more information about the home invasion, saying at around 12:30 a.m., Angulo and three others broke into a home, assaulted those inside, threatened them with a gun, then grabbed Tucker and drove off.
One of the victims, police say, is the father of the baby, and he and Angulo have an ongoing custody dispute.
"Biological mother (Jessica Jones Angulo) and maternal uncle (Exzavior Jones) of missing child with two accomplices kicked in the front door of the child's biological father's house on 06/10/22 after midnight. A physical fight ensued between numerous family members and the suspects when Exzavior intentionally fired a handgun. Jessica was able to grab the child from a 13-year-old trying to find a safe place away from the fight. Jessica, Exzavior, and their two accomplices fled the scene," the Arizona Department of Public Safety further explained.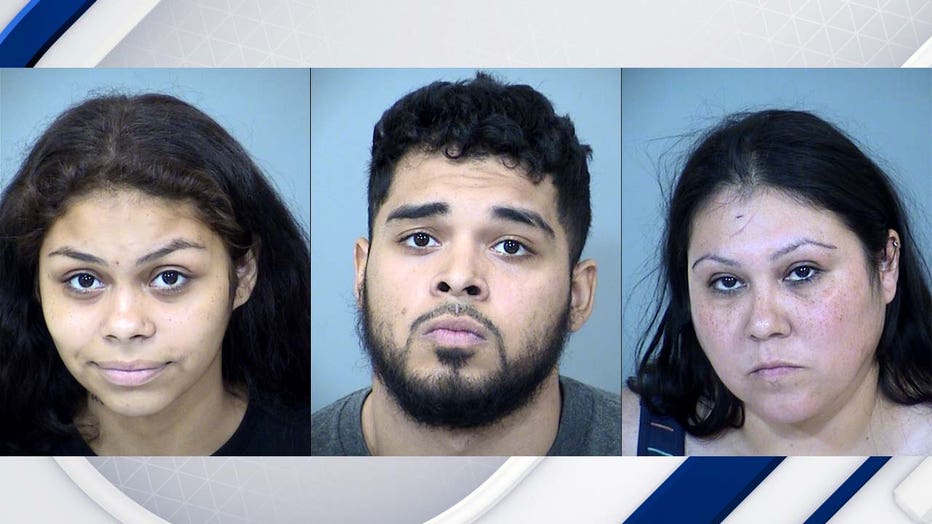 (From left to right) Jessica Jones, Exzavior Jones, Jessica Howard Davila 
Father explains moments leading up to the kidnapping
Rashad Tucker, the father of Raylon, explains what led up to the kidnapping.
He says, "When they were coming in, they were talking from outside and they kicked the door in. It didn't go all the way through, and I pushed it back. As they got into the house, they started fighting with all of us. The mom came in with the pistol, talking about, 'If you guys don't give us the baby, we are gonna kill all of y'all.'"
Once Raylon was found, family was able to breath a sigh of relief.
"I'm very happy he's alright and no one did nothing to him and basically I'm just very, very excited that I can have him and make sure he's OK because that's what he deserves and he didn't deserve none of this at all," his father said.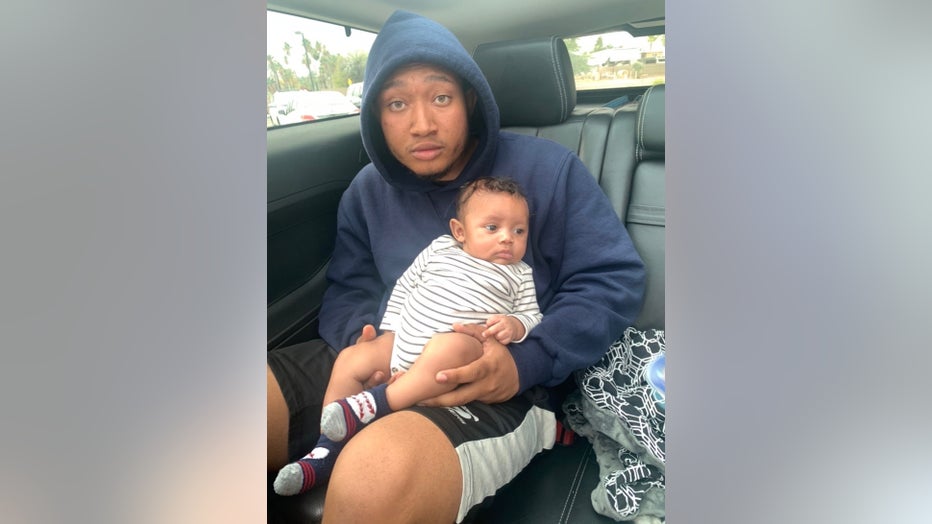 Rashad Tucker with his son Raylon Tucker, who was taken by the baby's mother during a "violent" home invasion, authorities say.