Are drought conditions improving in Arizona?
PHOENIX - Drought conditions in Arizona appear to be improving, according to a new map released by the U.S. Drought Monitor.
Currently, the map shows that most of the state has either no drought or is abnormally dry. Some areas in Mohave and Coconino counties, however, are still under severe drought.
One year ago, the entire state was labeled as being under drought, with the northwestern part of Arizona suffering from extreme drought.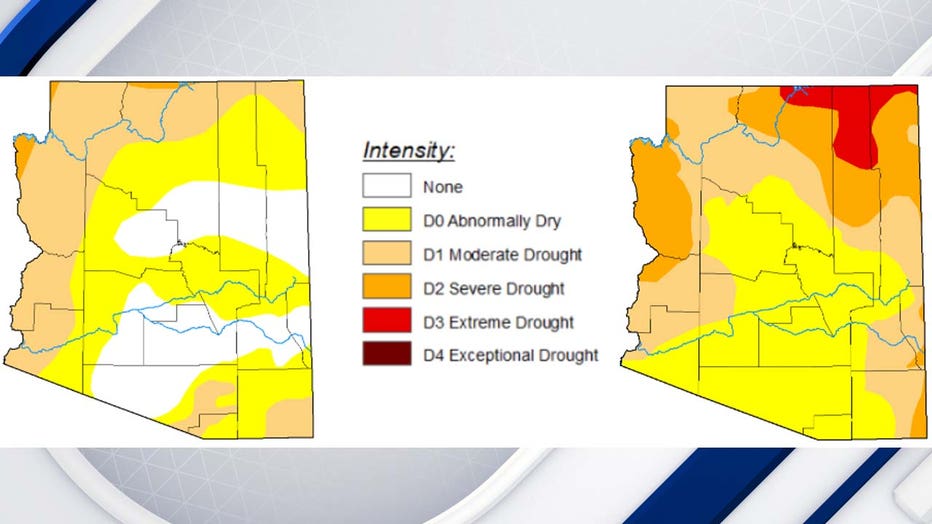 Drought map on Jan. 12 (left), drought map from one year ago (right)
State meteorologists say a wet monsoon and a rainy winter helped Arizona reverse its course a bit.
"We had such an amazing monsoon season that was exceptional - prior to that April and May, that was the driest April and May on record," said state climatologist Erinanne Saffell. 
Saffell said Arizona is using about the same amount of water that the state used in 1950 due to conservation efforts and restrictions on farm irrigation.
"We really look for that snow pack to help recharge our aquifers, so we're really excited to see we're at 150% snowwater equivalent in a lot of our basins," Saffell explained. "All of this has really helped our short term drought. It's helped mitigate and get rid of some of that exceptional and extreme drought."
However, the current map only describes short-term drought conditions. As for Arizona's long-term drought conditions, authorities say that the western part of the state is still entrenched with extreme or severe drought.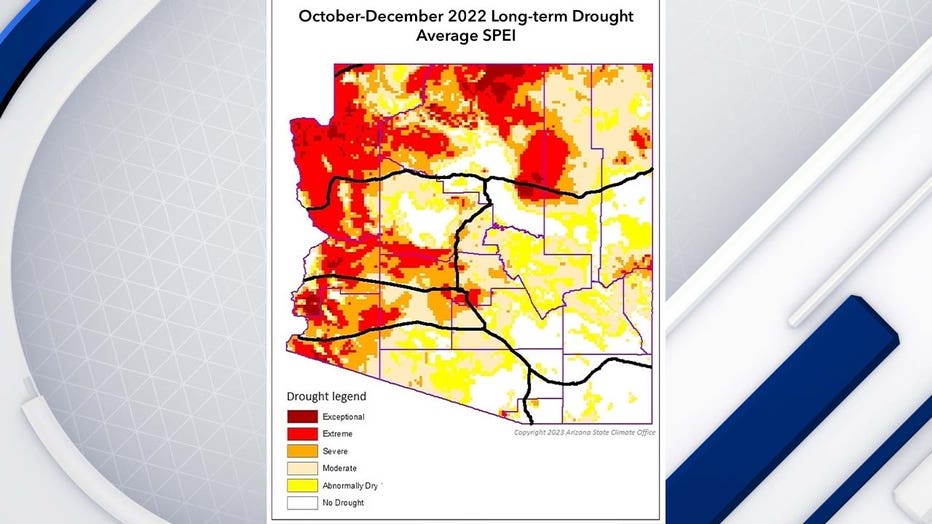 Long term drought status in Arizona
"The long-term drought status for each watershed is determined by comparing the precipitation and streamflow percentiles for the past 24, 36, 48 and 60 months to a 40-year historical record," according to the Arizona Dept. of Water Resources.
The data suggests that the state could continue to see wet weather in January but have an overall drier than normal spring.
Read more about Arizona's drought status: https://new.azwater.gov/drought/drought-status
Related headlines