Miles of San Carlos Reservoir being paved to prevent 'terrible losses through seepage'
Across Arizona, water districts continue to work with less as the mega-drought continues.
There are so many different strategies being discussed to secure our water future, and every drop counts. In the meantime, millions of dollars of work is already underway to keep the water we have for miles and miles.
For three years, the trucks have been digging, scalping and shaping the land next to the decades-old canal from the San Carlos Reservoir. For too long, the water district tight on water has lost too much to the dirt.
"We have terrible losses through seepage," says Shane Lindstrom with the San Carlos Irrigation and Drainage District.
Crews are nearing the end of a 12-mile trek to pave a canal that will prevent water loss.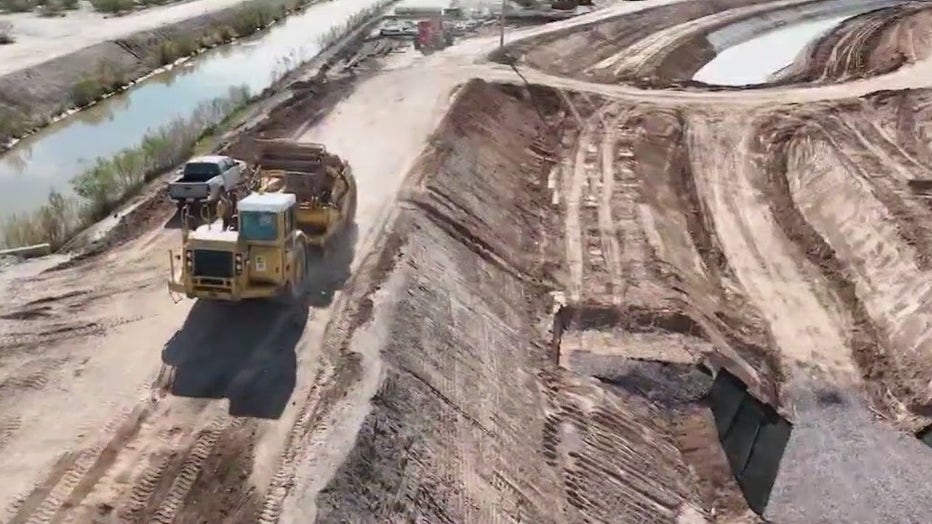 Miles of San Carlos Reservoir being paved to prevent water loss.
"Very few water control checks in it, the new one we have checks in it, so we can control the water. We actually have different pools, so we can speed water up and slow it down," Lindstrom said.
They estimate in a wet year, simply paving this portion of the canal could save 50,000 acre-feet of water.
How much is that really? About 16,250,000,000 gallons of water.
The cost is big as the stretch of 12 miles headed to the Gila River Indian Community and farmers in Casa Grande costs tens of millions of dollars.
"It's paid for with the Arizona Water Settlements Act of 2004, but their fund is now dry, and dozens more miles still need to be paved.
"There's lots of money out there but the hard part is the matching grant, so for example, this is 52 million. If I had to match half of it that means I would have to come up with $26 million. In a small little rural district, that's cost prohibitive right now," Lindstrom said.
However, he says with how much can be saved, every drop is worth every penny.
Water will fill the newly paved canal sometime late this summer, but it's not the end of the road as more of this canal is paved in the years ahead, saving more water.