Arizona AG: No evidence of widespread voter fraud found in 2020 election
PHOENIX - The Arizona Attorney General's Office on Feb. 22 released documents pertaining to the investigation of the 2020 election in Arizona – an investigation that lasted for 10,000 hours.
The Attorney General's Office Special Investigations Section, under former AG Mark Brnovich, had completed a report in September 2022 looking into alleged reports of voter fraud.
A Feb. 22 news release from AG Kris Maye's comments on the report, saying, "In each instance and in each matter, the aforementioned parties did not provide any evidence to support their allegations. The information that was provided was speculative in many instances and when investigated by our agents and support staff, was found to be inaccurate."
The nearly 640 allegations reported to the AG's office by the community were "largely unsupported by factual evidence or found to be mischaracterizations when researched by agents and support staff."
Some of those allegations included duplicate votes, "satellites controlled by the Italian military changing votes to favor President Biden," ballots made from bamboo, and that there were so many dead people "voting" that it would have changed election results in favor of the other party.
"The results of this exhaustive and extensive investigation show what we have suspected for over two years – the 2020 election in Arizona was conducted fairly and accurately by elections officials," Mayes said. "The ten thousand plus hours spent diligently investigating every conspiracy theory under the sun distracted this office from its core mission of protecting the people of Arizona from real crime and fraud."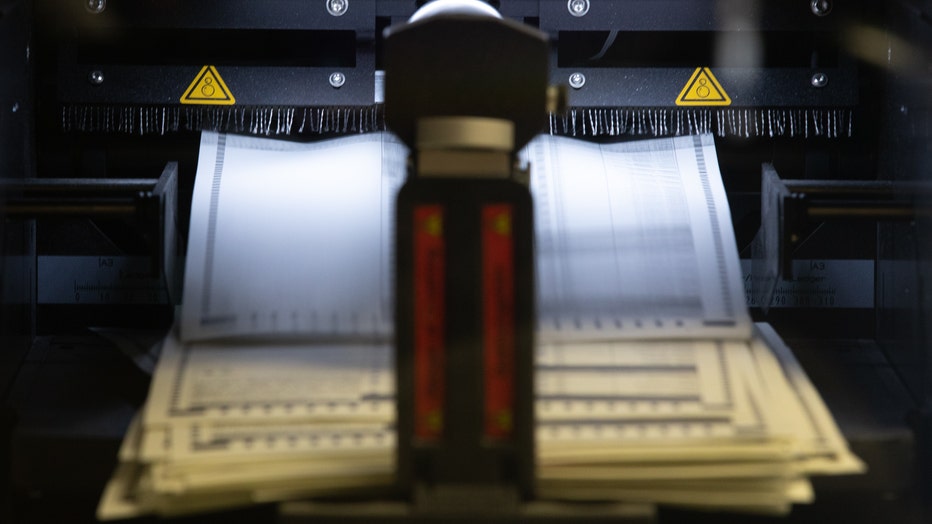 Votes are counted by staff at the Maricopa County Elections Department office on November 5, 2020 in Phoenix, Arizona. Ballots continue to be counted in many critical battleground states as the final results in the U.S. presidential election remain t
The news release notes there were a few cases that were sent for prosecution to review, but the numbers "align with historical trends."
"Voter fraud is rare, and instances should be handled according to applicable laws when they do occur," Mayes said.
Brnovich released a statement the same day, saying in full, "I am proud of the work our office did with the election integrity unit that was created by the Arizona legislature. While subjected to severe criticism from all sides of the political spectrum during the course of our investigations, we did our due diligence to run all complaints to ground. Where we were able to debunk rumors and conspiracies, we did so. Nevertheless, we also identified areas we believe the legislature and county officials should address to ensure confidence in future elections."
In an interview on "The Problem with Jon Stewart," Brnovich would not say the election wasn't stolen.
Mark: Donald Trump lost Arizona. And I've said that from the very beginning. There have been isolated incidents thus far that we've identified that we are prosecuting. We still have some active investigations going on, but people can draw their own conclusions.
Jon: There is no… No. People cannot draw their own conclusions. That's the point of the law. The law is that you have facts, and you have fiction. The fact is the election in Arizona was well-run, not fraudulent, and not stolen from Donald Trump, according to even your investigators.
Mark: I have never said …
Jon: Why is it so hard to just say 'yes' to that?
Mark: I guess because I've spent my entire most of my career as a prosecutor, and we still have some ongoing cases.
Findings were not released for months
Previous Attorney General Mark Brnovich, a Republican, never released a March 2022 summary of investigative findings, which ruled out most of the fraud claims spread by allies and supporters of former President Donald Trump. Yet a month later, he released an "interim report" that claimed his investigation "revealed serious vulnerabilities that must be addressed and raises questions about the 2020 election in Arizona."
He released his April report despite pushback from his investigators who said some of its claims were refuted by their probe. Brnovich was at the time in the midst of a Republican Party primary for U.S. Senate and facing fierce criticism from Trump, who claimed he wasn't doing enough to prosecute election fraud.
Brnovich, whose primary bid was unsuccessful, also did not release a September memo that systematically refuted a bevy of election conspiracies that have taken root on the right, including allegations of dead or duplicate voters, pre-marked ballots flown in from Asia, election servers connected to the internet and even manipulation by satellites controlled by the Italian military.
"In each instance and in each matter, the aforementioned parties did not provide any evidence to support their allegations," the September memo read. "The information that was provided was speculative in many instances and when investigated by our agents and support staff, was found to be inaccurate."
Brnovich's "interim report" claimed that election officials worked too quickly in verifying voter signatures and pointed to a drop in the number of ballots with rejected signatures between 2016 and 2018 and again in 2020. He also claimed that Maricopa County was slow in responding to requests for information.
He made those claims even after investigators who reviewed a draft pushed back, publishing his report largely unchanged following their feedback.
The investigative staff concluded that the county recorder's office "followed its policy/procedures as they relate to signature verification; we did not uncover any criminality or fraud having been committed in this area during the 2020 general election," investigators wrote. They also said they found the county "was cooperative and responsive to our requests."
Brnovich's investigators did conclude that Maricopa County officials did not uniformly follow state election procedures when filling out forms to document the pickup and transport of mail ballots. But they said the errors were procedural and that "investigators did not find anything that would (have) compromised the integrity of the ballots or the final ballot count."
Investigators interviewed two Republican state lawmakers who publicly claimed they knew of fraud in the election, but wrote that neither Rep. Mark Finchem nor Sen. Sonny Borrelli repeated their claims to investigators — when they could have been subject to criminal charges for false reporting to law enforcement. The investigators said a third lawmaker, Republican state Sen. Wendy Rogers, declined to speak with them.
'This is a serious allegation'
Chandler attorney Tom Ryan is appalled by his actions, saying, "This is one of the most serious breaches of ethical conduct I have ever seen in my nearly 40 years of practice."
The State Bar of Arizona says there are several complaints filed against Brnovich – as of Feb. 28 there are 18.
"He has two oaths of office. One is an officer of the court as a lawyer and the other, he swore to uphold our constitution and faithfully execute the laws of the state of Arizona. He failed to do both of those, he violated both of those," Ryan said.
It was only a matter of time until the report was going to come out, he says.
"He was termed out of office and eventually somebody was going to come across the fact that they spent 10,000 hours investigating this and found nothing to support the claim that there had been any sort of election fraud or election misconduct. I don't care what anybody says," he said.
Democratic Governor Katie Hobbs filed a complaint – the second complaint she's thrown at Brnovich. The first was in 2020 when Hobbs alleged the attorney had mishandled election related lawsuits and failed to represent the secretary of states office, in which Hobbs ran at the time.
Brnovich later entered into diversion agreements with the state bar, allowing him to avoid discipline.
"This is a serious allegation. It's the most important issue of the day, is what happened in the last election process. People are out there receiving death threats, people are out there losing their jobs because of false allegations. He may not like the politics of something, but his job is not to focus on the politics. His job was to focus upon the faithful execution of his duties," Ryan said.
The Associated Press contributed to this report.
Statements from Arizona election leaders
Maricopa County Recorder Stephen Richer
"Protecting election integrity is a priority for Arizonans. It's a priority for me and my office," said Maricopa County Recorder Stephen Richer. "That's why we complied with – and welcomed – all responsible investigations related to the 2020 General Election."
"Our team at the Maricopa County Recorder's Office did everything possible to work with former Attorney General Brnovich's office and provide them with the records, information and resources needed to complete their investigation. In fact, despite what the interim report stated, it's clear the former Attorney General's staff and investigators agree that our office was 'cooperative and responsive to [their] requests'. I'm pleased to see the notes and documents released today distinctly show the ways in which our office cooperated with and supported the Attorney General's office in the development of last year's interim report."
Maricopa County Board of Supervisors Chairman, Clint Hickman
As Maricopa County Board Chairman now and during the 2020 election, I try to be very prudent with my messaging because I know that it reflects back on all of my colleagues. I also know that sometimes it would be nice to emotionally lash out when it comes to news like this. On this topic though, I have to thread a needle. There are a lot of pent-up frustrations in play here.
I would like our Maricopa County residents to know that I am absolutely disgusted by the revelations that former Attorney General Mark Brnovich failed to do his job as a public servant representing the highest law enforcement elected position in the state.  He and his leadership team concealed a report that proved the November 2020 election was conducted fairly, lawfully, and accurately.  Not only did he ignore his own investigators in issuing a different, "interim report", he falsely suggested wrongdoing by Maricopa County, never correcting the record and blatantly never sharing the team's final report with the public. This was a gross misuse of his elected office and an appalling waste of taxpayer dollars, as well as a waste of the time and effort of professional investigators.
Let me be clear: we should learn from the mistakes that happen in every human-run election. Our County Board has never run from that responsibility, and we damn sure have never ducked an opportunity to apologize if something has gone wrong.  Currently, Justice Ruth McGregor and her team are fulfilling an obligation to seek answers to problems in the 2022 investigation, independently from our Board.
For almost three years, this County has answered questions about the 2020 election. For three years we have provided proof from independent investigators that it was run as well as you could run an election under current laws. For three years, my colleagues have been called traitors, cheaters, and liars…and those are just the names I can print.  It has been absolute hell on all of us, but I would do it again in a second and I believe that every member of this Board would do it again because all of us stayed within the law.  We didn't try to venture outside of it so we could be called "HERO" to the same people who have ridiculed us at every step.
Unfortunately, the ridicule and threats have not only been directed at my Board and our Recorder, but also at our own election workers. They have made good people scared to work in elections, and they've even scared people away from voting the way that Arizonans have voted for decades.
I applaud the current Attorney General, Kris Mayes, for doing what the former Attorney General would not do. I implore everyone who cares about our elections to read what the investigators really found, not a political candidate's cherry-picked story line.
This report should have been released months before last August's Primary Election, but it is nonetheless proof of what my colleagues and I have been saying all along.  I am grateful to the people who have supported us.
Arizona Secretary of State Adrian Fontes
"The public looks to its elected officials to pursue the interests of all Arizonans with integrity. I am deeply disappointed by the wasteful and pointless actions by a top law enforcement official who diverted thousands of hours of staff time to pursue unfounded allegations of election fraud. Furthermore, I am astounded that the result of this costly investigation, which thoroughly debunked these claims, was kept from the taxpayers who paid the bill. Election workers throughout the state and the nation are facing threats coming from these unfounded allegations of fraud and they deserve an apology — especially coming from an official who swore to protect them. Whether or not I was right all along, vindication is not sweet when it comes at such a cost."
Maricopa County Board of Supervisor Bill Gates
"It is shocking and inexcusable that the former AG of AZ suppressed the truth his investigators uncovered about the 2020 election only to later release an 'interim report' that raised doubts about the Nov. 2020 Maricopa County election that he knew were false."
More reports: