Armed robbery suspect shot, killed by Phoenix officers after pursuit ends in crash
PHOENIX - An armed robbery suspect was shot and killed by Phoenix police officers after a chase that ended in a crash on Tuesday night.
Officers were on patrol near 3rd Street and Southern Avenue sometime before 10:50 p.m. when they tried to pull over a car that appeared to have been involved in an armed robbery earlier that day.
The suspect vehicle did not stop and reportedly led police on a chase before it crashed into a metal fence outside of a home near 18th Street and Southern.
A man and woman inside the car were told to show their hands, and that's when officers opened fire.
"The man displayed a firearm and is when the officer involved shooting occurs," police said in a statement.
The female passenger was detained, and 34-year-old Enrique Alcarez was pronounced dead at the scene. Police say they confirmed finding a gun inside the car.
"During the scene investigation it was also determined one of Enrique's gunshot wounds was self-inflicted," police said.
The investigation is still ongoing. No other injuries were reported.
Help is available. If you or a loved one is feeling distressed, call or text 988. The 988 Suicide and Crisis Lifeline provides free and confidential emotional support 24 hours a day, 7 days a week to civilians and veterans. Support in Spanish is also available. You can also chat with crisis counselors via online chat.
CLICK HERE for the warning signs and risk factors of suicide.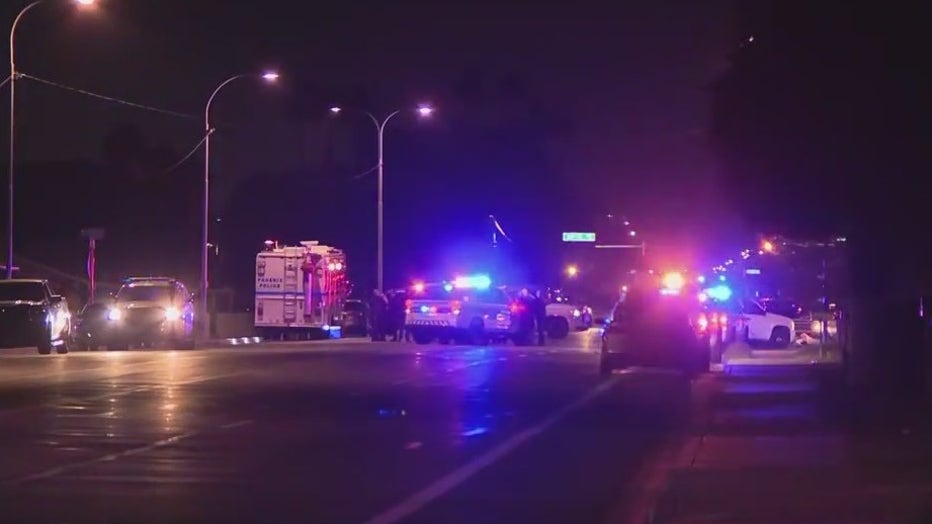 The scene of a deadly police shooting in south Phoenix.
More Arizona headlines