2 arrested after body found inside burning dumpster in Phoenix, police say
PHOENIX - Two men have been arrested following a gruesome discovery that was made in an area in downtown Phoenix known as "The Zone," where hundreds of people without homes live.
According to officials, a body was found inside a dumpster that was set on fire near 11th Avenue and Madison Street just before 8 a.m. The victim has only been identified as a male.
"The victim was not able to be identified due to the burn injuries covering his body," police said on March 21.
2 men arrested, accused of murder
According to court documents, surveillance video showed two men pushing a shopping cart to the dumpster, where they lifted the cart and dumped its contents into the dumpster. A third man was then seen on video lighting the contents of the dumpster on fire.
Police say two of the men seen on the surveillance video, 18-year-old Isaiah Baskin, and 22-year-old Larry Scott, were spotted by officers near the crime scene later in the day. Both men were detained.
During an interview with police, Baskin alleged that he participated in the crime and said he saw Scott and his other friend assault the victim, put him in trash bags, and load him into the shopping cart.
"[Baskin] aided his friends by pushing the cart and assisting in lifting the cart to dump the victim inside of the trash dumpster," court documents read.
Baskin said he could hear the victim moaning in the dumpster, indicating that he was still alive, police said.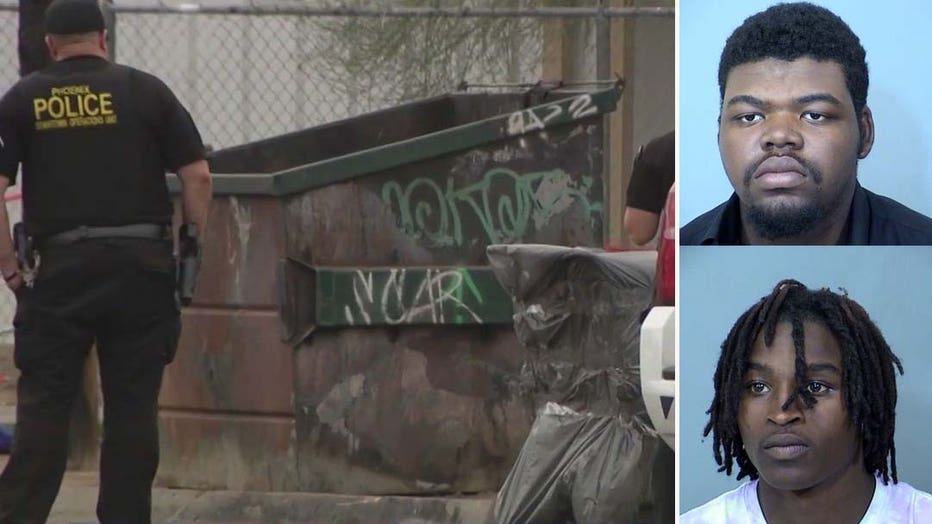 Isaiah Baskin (top) and Larry Scott (bottom) were arrested after a body was found burned in a dumpster near downtown Phoenix.
Baskin then allegedly pulled out a lighter, which he said the third man used to light the dumpster on fire. The three suspects also allegedly added wood to the fire.
"[Baskin] and his friends watched the fire blaze for approximately 15 to 20 minutes," court documents read. "During this time [Baskin] admitted to hearing banging noises coming from inside of the metal dumpster which he believed to be caused by the victim inside."
Baskin and Scott were arrested. A lighter, fentanyl, and methamphetamine were found in Baskin's possession. Scott was found to be in possession of two lighters.
Both men were booked into jail and are accused of multiple charges, including first-degree murder.
Scott is not up for bail because he is on felony release. Baskin is being held on a $1,000,000 cash bond.
The third suspect has not been identified.
Manager with local business speaks out
As the investigation continues, we spoke with a person who works for a business in the area.
"This stuff is starting to be insane. It's happening more and more," said David Hibbard with Audio Visions.
Hibbard said he came to work on Tuesday morning to police officers taping off the intersection next to his workplace. We also learned that police took security footage from Hibbard's workplace.
"They took our hard drive. We have cameras watching this place like crazy, so we got two camera systems, and they took [them] to clearly see what's going on," said Hibbard. "What I think I saw was two guys with something in a shopping basket went up to that trash can right there, and they tossed him in. We didn't see him light him on fire, but I didn't watch all the video."
This is not the first time something like this has happened in The Zone: in November, a dead fetus was found burned in the middle of the street.
"This is ridiculous. All these business owners, we can't operate a business if you have to go through this," said Hibbard.
"We need to do more for people living on the street. There are safety issues and health issues. It's a human crisis at the moment," said Joel Coplin.
Map of the area where the incident happened