PD: 3 students named as assault victims after Central High School lockdown, suspect is still at large
PHOENIX - A lockdown at Central High School in Phoenix was lifted after a fight and "possible popping sounds" were reported on Sept. 9 on campus, police said.
A day later, police say three juveniles have been detained and identified as victims. As for a suspect, police say they haven't been found.
Police say officers responded to the scene just after 12 p.m. and began clearing students from classrooms. Officers went room-by-room, sweeping the school as a precaution.
Cell phone video show students running for their lives after hearing what some thought was gunshots on campus. Rumors also abound. 
"A bunch of people running outside, running to the nearest place, and they said there's a lockdown and an 18-year-old [with a gun], and that makes me scared because I don't know who that person is," said one student.
Roads leading into the high school were closed, and Central Avenue was shut down on both sides of the school. Xavier, Brophy and the Phoenix Coding Academy were also put on lockdown as a precaution. In addition, Police warned parents to stay away from the area, instead, telling them to reunite with their kids at Indian Steele Park.
"After speaking with three students detained at Central High School, detectives were able to verify all three were victims of an assault. The suspect is currently outstanding," Bower said in a news release on Sept. 10.
It's not clear how they were hurt.
Police are asking anyone with any information to call Silent Witness at 480-WITNESS.
RELATED: Phoenix parents hold meeting after Central High School shooting scare
SROs removed from school district in 2020
The incident became a reminder of sorts that students, parents, teachers and police are constantly on edge over the threat of school shooting, and it also renewed attention on the issue of school resource officers.
In 2020, officials with the Phoenix Union High School District announced that they will not re-sign an annual agreement the district had with the City of Phoenix for School Resource Officers.
"As the district responsibly yet courageously addresses two pandemics, racism and COVID-19, [Superintendent] Dr. [Chad] Gestson said that this is the right time for PXU to revisit and even rethink school safety," read a portion of a statement announcing the decision.
In the aftermath of the decision, SROs were replaced by Regional School Safety Officers. These officers were not housed on campus, and at the time, the move saved the district $1.2 million. That money was later reallocated towards community-driver initiatives on school safety.
In 2022, the district created a new safety division, with dedicated staff across all campuses. In addition, officials said they have added more social workers and training for mental health, as well as making sure that all doors lock internally, among other security measures. 
Latest updates
4:30 p.m.
School district officials, along with Phoenix Police officials, held a news conference to discuss what happened.
3:39 p.m.
Phoenix Police have given an all-clear at Central High School in Phoenix. Some traffic restrictions remain in place.
3:32 p.m.
3:06 p.m.
Phoenix Police say students are still being released from Central High School. Valley Metro service has reopened in the area.
2:42 p.m.
Phoenix Police officials say all buildings and classrooms have been cleared, and students are being escorted to another site for reunion with their parents.
2:26 p.m.
Police say no evidence of a gun or shots fired on the Central High School campus has been found. Students continue to be released from the school where they will be reunited with their parents at Indian Steele Park.
2:20 p.m.
Police say they are not actively looking for a suspect. Students at Central High School will be let out classroom by classroom and escorted to Steel Indian School Park where parents can pick them up. Other schools are still on lockdown. 
A large police presence is at Central High School.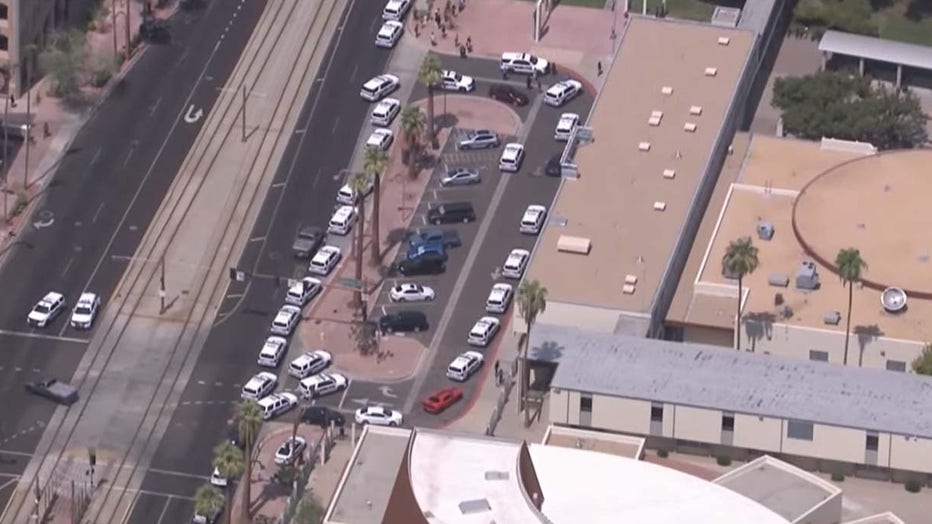 A large police presence is at Central High School.