Historic rainfall on Flagstaff-area burn scar spurs flooding, monsoon destruction
FLAGSTAFF, Ariz. - Officials in northern Arizona are reporting that historic levels of rainfall on the burn scar of a large wildfire two years ago have created a significant danger for Flagstaff residents, with surging waters pouring Tuesday afternoon into neighborhoods and rushing down streets past houses protected by piles of sandbags.
Just a week ago, crews worked to finish an emergency flood protection project in an effort to prevent more damage to homes in the Flagstaff area as the monsoon season rages on.
Hourly precipitation of more than 3 inches (7.6 cm) Tuesday along the southern part of the scar was described by the Coconino County Flood Control District as a "200 to 500 year rainfall event." Lesser, but still significant levels of rain were recorded in other areas of the water-repellent scar, which was fully soaked Tuesday afternoon.
More rain is expected in the Northern Arizona city as flash flood watches are in effect nearly every day during the active monsoon season.
Sandbags line most homes in areas known for flooding, and many times, it helps to keep the homes safe and intact during and once the storm passes.
Neighbors say some sandbags were placed around homes at least three weeks ago.
Flagstaff resident Roy Keith says Tuesday, "It's pretty scary coming down, especially if there's big things floating down the road."
No one has been reported hurt, and the damage to public infrastructure remains unknown from the rivers of muddy water dragging down large rocks and wildfire debris like trunks, pine needles and scorched trees.
Area schools Tuesday afternoon asked parents to wait an extra half hour or more for safety reasons to pick their children up after classes.
Killip Elementary School, which is directly in a flood path caused by the Museum Fire Burn Scar, canceled classes on Aug. 18. Students can go to the safe learning center site located at Coconino High School for supervision and meals.
Officials say over half the school was damaged by floodwaters.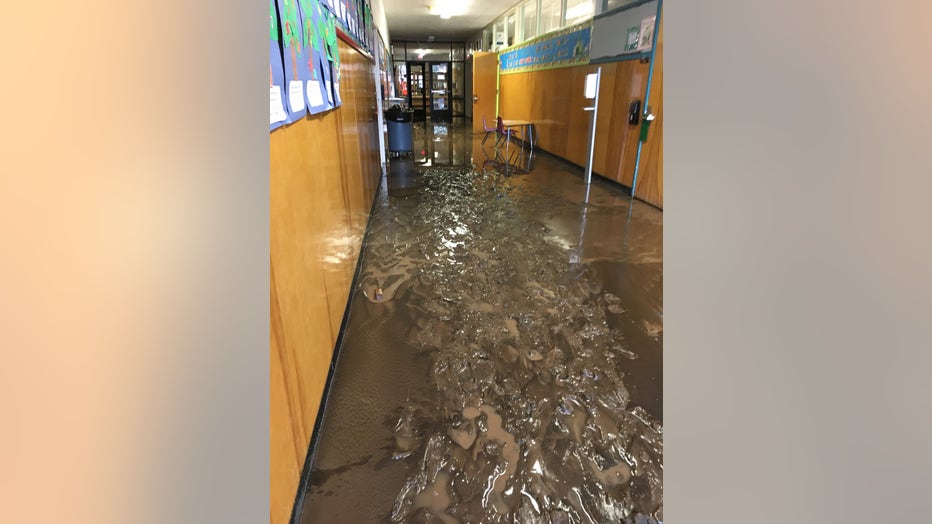 Killip Elementary School (Flagstaff Unified School District)
"I think we may see some significant damage, and maybe even flooding to houses, but we will not know until we are done cleaning up," said Flagstaff city spokeswoman Jessica Drum.
She said heavy flooding last month caused about $5 million in damage to local public infrastructure like storm drains and roads.
Heavy rainfall has been pretty regular in the area since mid-July, when Flagstaff residents saw the first flooding after the start of Arizona's annual monsoon season.
"The area remains at real risk for repetitive, heavy flooding," Drum said.
Floodwaters trap family inside of home
As the water rushed into residential areas causing mayhem, one family says they were trapped inside of their home.
A brave neighbor came to the rescue, helping the family and their newborn baby get out of the home with seconds to spare.
The family thought it was just heavy rain and then suddenly their house started flooding with no way out. "It just came down the street and started flooding everything," Liana Montanos said.
Within seconds, her home flooded. Her two kids, a one-week-old baby and a three-year-old, boyfriend and dogs were trapped inside.
"The water was waist-high by those seconds. It got super high. We couldn't get out of the door, we had to crawl out the window with two little kids, so it was super hard," she said.
Neighbor Andrew Jones was at the right place at the right time. He jumped into action to help the family get out of the home and to safety.
"… I came over here because they have a newborn so I wanted to check and I knocked on the window and they were panicking because the water was halfway up and helped them get out," Jones recalled.
"It was terrifying. I was crying, trying not to freak out," Montanos said.
The Associated Press contributed to this report.
Related Stories:
Tune in to FOX 10 Phoenix for the latest news: