House Bill 2416: What you should know about Arizona's proposed bill to ban TikTok on some devices
PHOENIX - A state lawmaker in Arizona has announced that he will introduce an amendment to State House bill that, if passed, will have the effect of banning TikTok on some devices within the state.
"When I was sworn into office, I took an oath to defend my constituents and all Arizonans from enemies both foreign and domestic," said State Rep. Matt Gress, a Republican who represents the state's 4th legislative district, which covers portions of North Phoenix and North Scottsdale. "This legislation fulfills this promise as the security risks associated with the use of TikTok...can't be ignored"
Here's what you should know about House Bill 2416.
What is the original purpose of the HB 2416?
The bill, as originally proposed, dealt with a technical correction related to an existing state law regarding transfers of money from a reserve to a youth and amateur sports facilities account.
Sounds like it has nothing to do with TikTok or social media!
HB 2416, in its original form, contains no references to TikTok, or social media in general.
The proposal made by State Rep. Gress came in the form of what is called a "strike everything" amendment.
What is a "strike everything" amendment?
According to the Arizona State Legislature, a "strike everything" amendment, officially known as a "strike everything after the enacting clause" amendment," is a proposal where the entire text of an existing bill is deleted, and a new text is substituted, essentially making the bill completely different, with possibly an entirely different subject.
"These amendments are sometimes used to allow legislators to circumvent the deadlines on introduction of new legislation, deal with an issue that arises after the deadline or revive a bill that has previously been defeated," read the State Legislature's website.
According to rules set by the State House, measures can be introduced during the first 29 days of a regular session, and during the first 10 days of a special section. Bills can only be introduced after that with the permission the Rules Committee.
So, what does the new bill propose?
Texts within the amendment itself does not specifically mention TikTok by name, but it does target, under "covered application," a "social networking service and any current or future successor application or service developed or provided by a private Chinese internet technology company founded on March 13, 2012 or any entity owned or operated by a private Chinese internet technology company founded on March 13, 2012.
TikTok was launched outside of Mainland China in May of 2017. According to TikTok's parent company, Bytedance, the company was launched in March 2012. The amendment is also referred to as "No TikTok on Arizona Government Devices Act" by State Rep. Gress.
If passed and signed into law, HB 2416 would require the state to, among other things:
Remove any covered application from state information technology, defined as "all state-issued and owned cell phones, laptops, tablets and desktop computers and any other state-issued and owned electronic devices that are capable of internet connectivity."
Ban state employees and state contractors from conducting state business on any personal electronic device that has a covered application
Require state agency, state contractors and public institution of higher education to implement network-based restrictions to prevent the use of prohibited technologies on agency networks by any electronic devices.
Restrict personal electronic device that has a covered application from connecting to agency technology infrastructures or state data.
The bill will also require the state to "restrict any personal electronic device that has a covered application from connecting to agency technology infrastructures or state data," and will also require the state to update, on an annual basis, the list of applications that may pose a cybersecurity threat to public safety.
There are, however, exemptions in the bill.
"We have specific exclusions in case of law enforcement investigations or emergencies, but what I would suggest to our government agencies that use TikTok is to find other social media platforms," said State Rep. Gress.
Does the ban affect personal devices?
There is nothing in the bill that will require a person not otherwise connected to the government to remove TikTok.
However, as mentioned above, electronic devices with TikTok will be banned from connecting to the state's technology infrastructures or state data if the bill is passed and signed into law.
Are there state agencies that could be affected by the ban?
A cursory web search shows that Arizona State University, Northern Arizona University and University of Arizona, all public universities in Arizona, have an account on TikTok.
In terms of state agencies, Arizona Game and Fish has a presence on TikTok.
Of the three state university accounts, ASU and UArizona's accounts are marked as verified accounts.
Why is a TikTok ban being proposed?
In his statement, State Rep. Gress called TikTok "an application owned and operated by the Chinese Communist Party with the capabilities of gathering crucial details about personal, private internet activity."
"The Chinese spy balloon that we saw recently confirmed that China is not our friend, is not our ally, and to allow them to have specific devices on our phones that could potentially spy on the Arizona state government is not acceptable," said State Rep. Gress.
Both the FBI and the Federal Communications Commission have warned that TikTok user data could be shared by ByteDance with China's authoritarian government. U.S. officials also worry that the Chinese government might use TikTok to push pro-China narratives or misinformation.
There are also concerns that the company is sending masses of user data to China, in breach of stringent European privacy rules.
Separate from political concerns, there are also concerns about TikTok's content and whether it harms teenagers' mental health, which has been a similar concern for other popular apps such as Instagram and Snapchat.
What are TikTok officials saying about Arizona's proposed ban?
We reached out to TikTok for comment, and officials with the company released a statement in response, which reads:
"State lawmakers are pressing ahead with bans of TikTok based on nothing more than the hypothetical concerns they've heard on the news. We can understand why state lawmakers wouldn't want state employees to have entertainment apps on their work devices for personal use, but singling out TikTok on all state devices and networks does nothing to improve security. All it does is prevent state universities, health agencies, economic development agencies, and others needing to share information publicly from reaching their constituents on a platform loved by millions of Americans."
Are there bans on TikTok elsewhere in the U.S.?
According to Reuters, former U.S. President Donald Trump tried to block new users from downloading TikTok and ban other transactions by the company. The move was described as having the effect of blocking the app's use in the U.S., but the Trump administration reportedly lost a series of court battles over the rule.
In December 2022, it was reported that there is a bipartisan proposal in Congress to stop TikTok from conducting business transactions anywhere in the country.
Read More: FCC chairman: TikTok ban is not if but when
By January 2023, the AP reported that TikTok is banned on government devices by Wisconsin, North Carolina, and at least 22 other states, including, Ohio, New Jersey, Mississippi, Louisiana and South Dakota.
The U.S. armed forces also have prohibited the app on military devices.
So, everyone will eventually not be able to use TikTok, right?
The reality is less clear on what would happen if a national TikTok ban is imposed.
Hypothetically speaking, if the U.S. federal government decided to ban TikTok from being available on Apple and Google app stores, people would still technically be able to get access to it, just not as easily. 
Neither the FCC nor the Pentagon could easily enforce a ban because technically, as many advocates of social media platforms like to point out, TikTok is a platform to practice free speech, i.e., First Amendment rights. 
Also, banning something that's accessible through the internet can prove to be an impossibility considering the internet is a lot harder to regulate.
In addition, it has been noted that banning a popular social media platform could spur widespread outrage, including outrage amongst voters.
Read More: Will TikTok be banned in the US? Here's why and why not
The Associated Press (AP) contributed to this report.
Read More Explainer Stories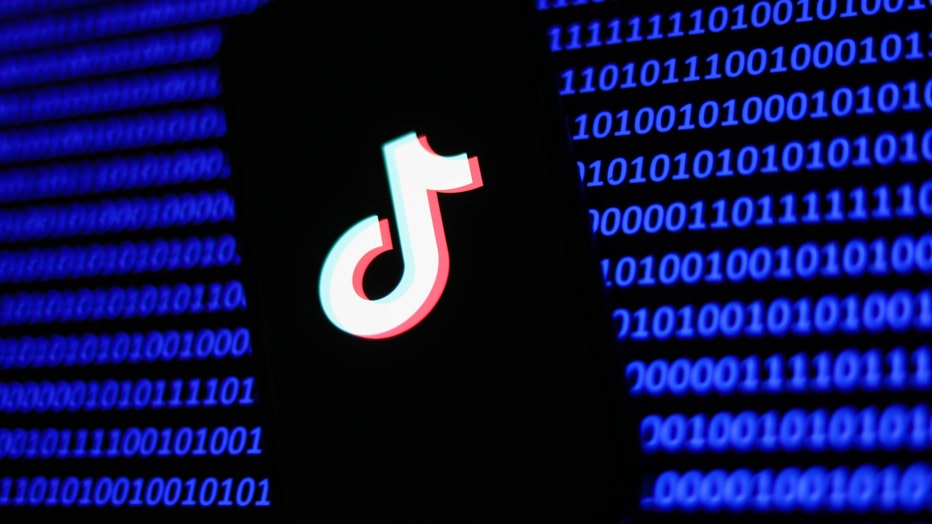 TikTok logo displayed on a phone screen and a binary code displayed on a screen are seen in this illustration photo (Photo by Jakub Porzycki/NurPhoto via Getty Images)