Police, family give conflicting accounts of what happened in deadly Phoenix shooting that left boy badly hurt
PHOENIX - Police and the family of a man who was found dead inside a north Phoenix home following a shooting incident are giving conflicting accounts on what led to the deadly incident, which also left a 6-year-old boy with serious injuries.
Police: Man dead from self-inflicted gunshot wound
According to initial reports from Phoenix Police officials, officers responded to reports of a family fight around 9:30 a.m. near 24th Street and Cactus Road on March 27.
"Officers arrived and located a young juvenile boy and an adult male who had both apparently been shot.  They were both taken to local hospitals," said Sgt. Andy Williams.
The man died at the hospital, and on March 28, officials identified him as 53-year-old Amir Vetry.
The boy, according to police, was Vetry's son, and on March 28, investigators said the shooting happened after the mother of the boy trying to pick him up from Vetry. According to detectives, Vetry and the boy's mother were divorced.
"During the attempted exchange of the child, a physical fight ensued between the mother and Vetry outside of the home. The mother was able to get away and run to multiple witnesses on the street. At this time a number of shots rang out inside the home," read a portion of the statement.
When officers arrived, investigators said they found the boy inside the home with gunshot wounds.
"After they took the child to safety, they located Vetry with what is believed to be a self-inflicted gunshot wound. A gun was found next to his body," read a portion of the statement.
The boy, according to police, is expected to be OK.
Family disputes police account of what happened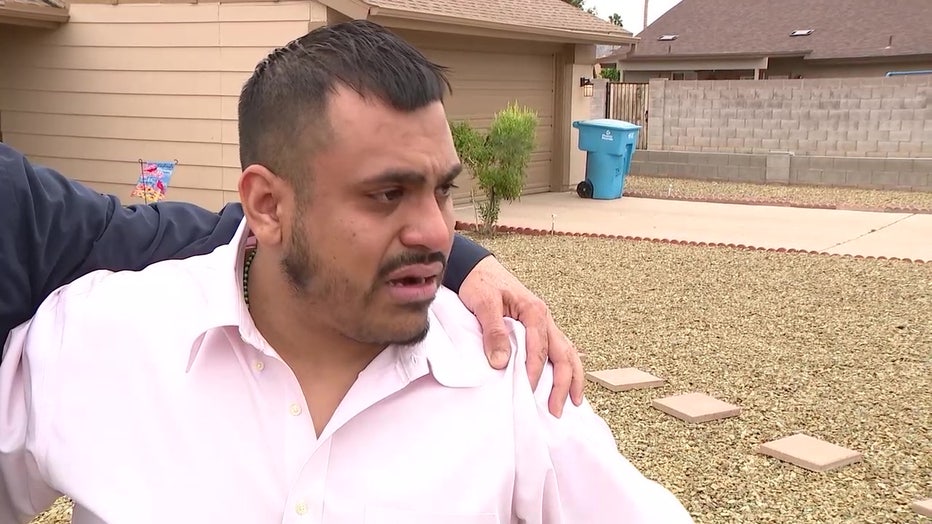 Amir Vetry, son of the man who died in the shooting
As police continue to investigate the case, members of Vetry's family gave their version of what happened.
Vetry's family members are accusing the boy's mother of involvement in the shooting, but Phoenix Police officials say there is no concrete evidence of that, and she is not a suspect at this time.
"We need justice right now. Right now, my brother, he's in the hospital," said one of Vetry's sons, also named Amir Vetry. "My father was murdered. This is an injustice. This is an injustice."
Phoenix Police reportedly took the 6-year-old's mother in for questioning, but did not keep her.
"My stepmom, they had her in custody for seven hours, and because of a lack of evidence, they let her go," said Amir.
Amir said he does not believe Phoenix Police's account. After the shots were fired, he said he received messages from his father.
"She shot your little brother. She shot me. The neighbor has a front key. I don't know how much time I have," Amir said, reading out the message he received from the suspect.
According to police, there are no other information suggesting that anyone else was inside the home during the shooting, besides the suspect and the victim.
If you or a loved one is feeling distressed, call the National Suicide Prevention Lifeline. The crisis center provides free and confidential emotional support 24 hours a day, 7 days a week to civilians and veterans. Call the National Suicide Prevention Lifeline at 1-800-273-8255. Or text HOME to 741-741 (Crisis Text Line).
CLICK HERE for the warning signs and risk factors of suicide. Call 1-800-273-TALK for free and confidential emotional support.
More Arizona headlines
Tune in to FOX 10 Phoenix for the latest news: