Monsoon 2023: Storm sparked South Mountain brush fire; thousands without power | Aug. 31
PHOENIX - The monsoon season made its presence felt on Aug. 31, as a powerful storm brought blowing dust, lightning, and rain to various parts of the Phoenix area.
The storm prompted officials with the National Weather Service to issue a number of weather advisories and warnings. One photo captured a wall of dust near Sky Harbor Airport.
Dust storm rolls through Sky Harbor Airport.
It made for unsafe driving conditions, and several crashes were reported during that time.
"I was just coming off of the 87 and it was so bad out there, the visibility was terrible," said one driver. "I got on the 10 and there was flooding everywhere. It was terrible.'
The rain was widespread across Arizona, with parts of northern Arizona affected by hail. Residents in areas including Eloy also reported seeing stormy weather.
More storms are expected Friday.
Power outages
Both SRP and APS have reported widespread power outages within their service areas.
Thousands of residents - as far west as Goodyear and as far east as Gilbert - remain without power Friday morning.
According to APS, more than 2,400 customers are affected. Some outages are expected to be fixed by 8:40 a.m., while others may not be fixed until the afternoon.
SRP outage map: https://myaccount.srpnet.com/power/myaccount/outages
APS outage map: https://outagemap.aps.com/outageviewer/
Busy night for firefighters
Lightning from the storm sparked multiple brush fires near the radio and television signal transmitters on South Mountain, which were captured by our cameras in the area. Phoenix Fire officials said crews responded to the scene to extinguish the fire, which was less than a half-acre in size.
The Scottsdale Fire Department also shared video of a palm tree fire that was caused by a lightning strike.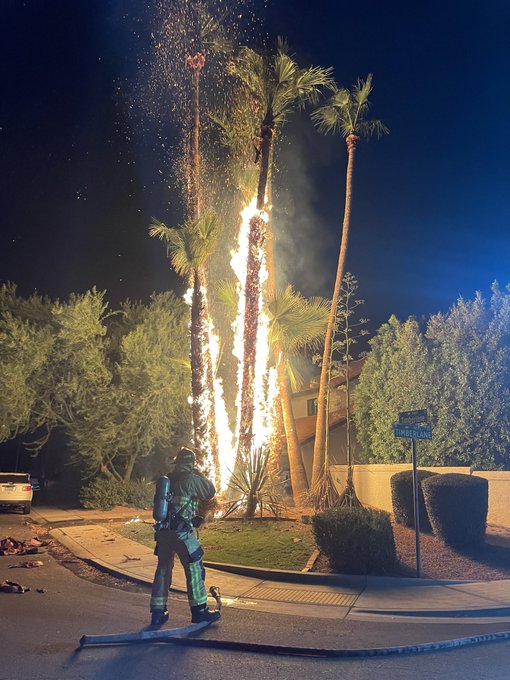 Firefighters also helped rescue a man from a wash in Phoenix after his SUV got stuck in floodwaters near 67th Avenue and New River Road. The man's dog is reportedly missing.
Heavy flooding was also reported in Anthem.
Sky Harbor ground stop
The FAA issued a ground stop at Sky Harbor Airport during the storm from 8 p.m. to 10 p.m.
The airport says that 24 arrivals were diverted and 18 aircraft were on hold during that time.
Sky Harbor is reminding passengers to always check ahead on their flight status before heading to the airport.
Check here: https://www.skyharbor.com/flights/delayed-canceled-and-diverted-flights/
ASU game delayed
The storm has also delayed a football game at Arizona State University, with ASU Police officials asking fans to leave the stadium, and seek shelter. The game kicked off at 7 p.m. and didn't end until about 1 a.m.
Football fans were seen quickly exiting out of the stadium to get out of the rain, with many disappointed because they didn't have the patience to stick around.
After a two-hour delay, the game resumed just before 11:30 p.m. ASU had been leading 21-7 before the game was postponed. Southern Utah had a big comeback in the second half, but the Sun Devils held on 24-21.
Latest Updates
You can check the latest weather conditions by visiting the FOX 10 Phoenix weather page, or download the Free FOX 10 Weather app, which is available on Apple iOS and Android.
Satellite and radar image
Preparing for a severe thunderstorm 
The American Red Cross' tips for preparing for a severe thunderstorm:
Put together an emergency kit.
Know your community's evacuation plan.
Create a household disaster plan and practice it.
Purchase a battery-powered or hand-crank radio
Discuss thunderstorm safety with members of your household. Be aware that a thunderstorm could produce flooding.
Pick a safe place in your home for household members to gather during a thunderstorm. This should be a place where there are no windows, skylights, or glass doors, which could be broken by strong winds or hail and cause damage or injury.
Be prepared and stay safe during the monsoon
"Most Valley residents know how quickly and furiously storms can move in and out, bringing strong winds, dust, rain, and flash flooding. These storms can cause interruptions in services, such as water, power, and gas," stated Captain Ashley Losch of the Glendale Fire Department.
GFD reminds residents of ways they can be prepared and stay safe:
Have flashlights with extra batteries on hand.
Have food that can be prepared without the need for cooking or refrigeration.
Have at least one gallon of clean water for each person in the household.
Have backup power for anyone requiring power for a medical device.
Have backup power for cell phones that do not require charging.
Have a first aid kit ready and accessible.
Never drive into areas with flowing water; it takes less than 10 inches to wash a car away.
Avoid flooded areas, such as washes.
If waters are rising, seek higher ground.
Do not approach downed power lines, the ground can be energized for up to 200 feet.
Keep pets indoors during storms.