More than 9,000 victimized in Phoenix telemarketing scam
PHOENIX (AP) - Phoenix police have arrested more than a dozen people for bilking thousands of elderly victims out of $40 million in an elaborate telemarketing scheme.
Authorities announced at a news conference Wednesday that 13 suspects face multiple charges, including money laundering and theft from a vulnerable adult.
"We've identified over 9,000 victims," said Phoenix Police Chief Jeri Williams. "We estimate that over $40 million was stolen from these vulnerable adults, and all were over the age of 65."
According to police, telemarketers promised victims huge returns for investments.
"The money comes from Google and Amazon, based on money they make on websites that they actually process for senior citizens, so you don't have to do any of the work," said a person on one of the calls. "You don't ever have to visit any of these websites."
According to investigators, suspects would promise a zero-risk investment.
"There's no work you have to do. There's no possibility of loss," said a person on one of the calls. "I've been doing this for 12 years without a complaint. Our company has been around for 17 so it really is risk-free."
"Once they got just a few dollars or a couple hundred dollars for the investment, they'd go back to that same victim," said Sgt. Maggie Cox with Phoenix Police.
Police say investigators traced the operation, which dates back to 2014, to Phoenix. The Federal Trade Commission helped get the operation shut down in 2016 and obtained $7 million to return to victims. Police say it took three years to build the criminal case.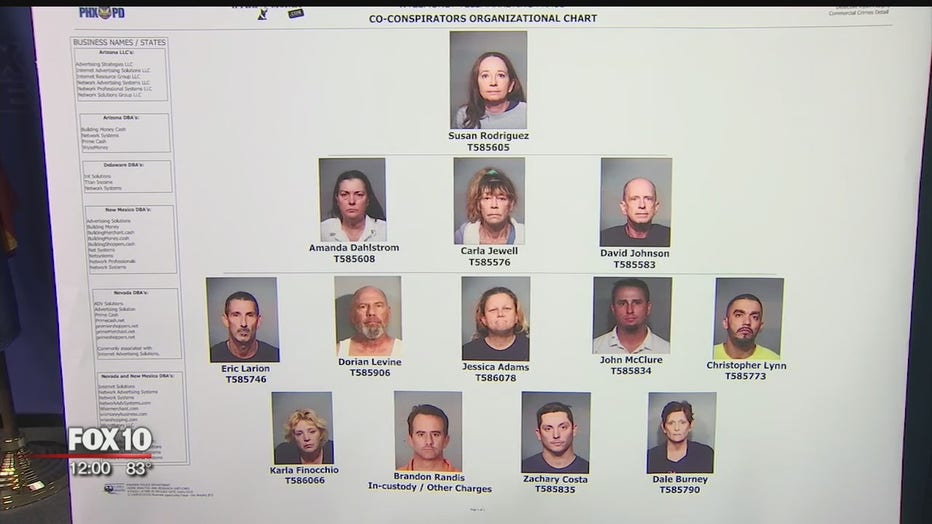 According to Phoenix Police, the legitimate companies mentioned in the calls had nothing to do with the fraud. There could be more victims, and more arrests could be made.