Name a roach after your ex, weird weather: This week's top offbeat headlines
From a man driving for miles in Glendale without tires to a bizarre weather phenomenon in Utah, there was no shortage of intriguing stories this week.
1. You can name a cockroach after your ex and watch it be fed to an animal at Texas zoo: The San Antonio Zoo's popular Valentine's Day fundraiser is back for its fourth year, turning heartache into a positive for wildlife.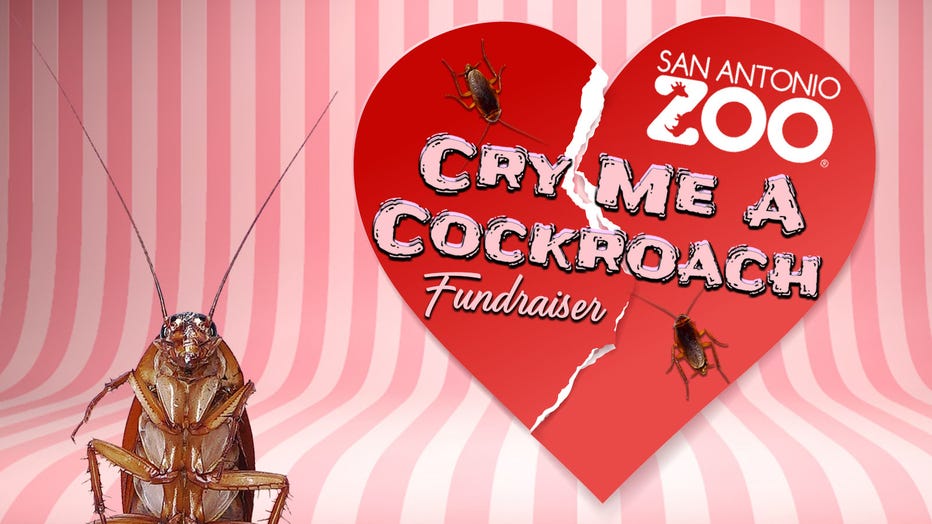 The San Antonio Zoo's annual "Cry Me a Cockroach" campaign allows people to symbolically name a cockroach, rodent, or veggie after their ex and watch it be fed to an animal. (Credit: Provided) 
2. Man drove without tires for miles before causing Glendale crash: police: A man drove four miles without any tires before crashing into a car in Glendale, police said.
3. Puppy that lost his ears in an attack gets new crocheted 'ears' as he awaits adoption: A 2-year-old dog, that lost both his ears in an attack, has a fancy new set of lovingly handmade ears as he awaits for a new family to take him home.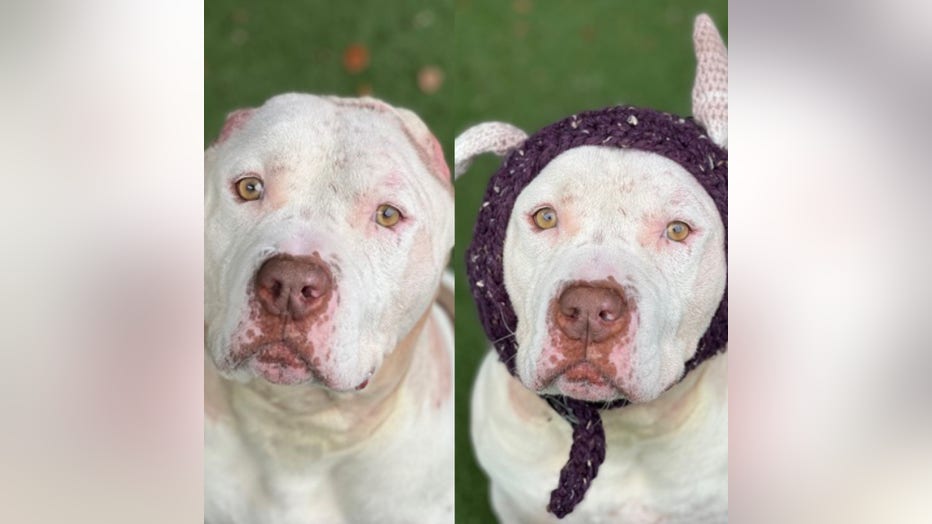 A veterinarian technician knitted Willy Wonka a new set of years, after the Bulldog-Terrier Pit Bull mix lost both ears in a dog attack. (Sacramento SPCA)
4. Oops! California couple ends up in a 'ruff' spot after dog crate mishap: The couple, identified as Stephanie and Jerry Ferrari, were testing out dog crates when the doors slammed behind Stephanie, after she went into one of the crates. She then realized they were all trapped inside.
5.Shaq keeps his UGA championship promise to eat frogs: They were fried and seasoned, but Shaq was true to his word. He bet Ernie Johnson on NBA on TNT he would eat frogs if Georgia beat TCU in the national championship.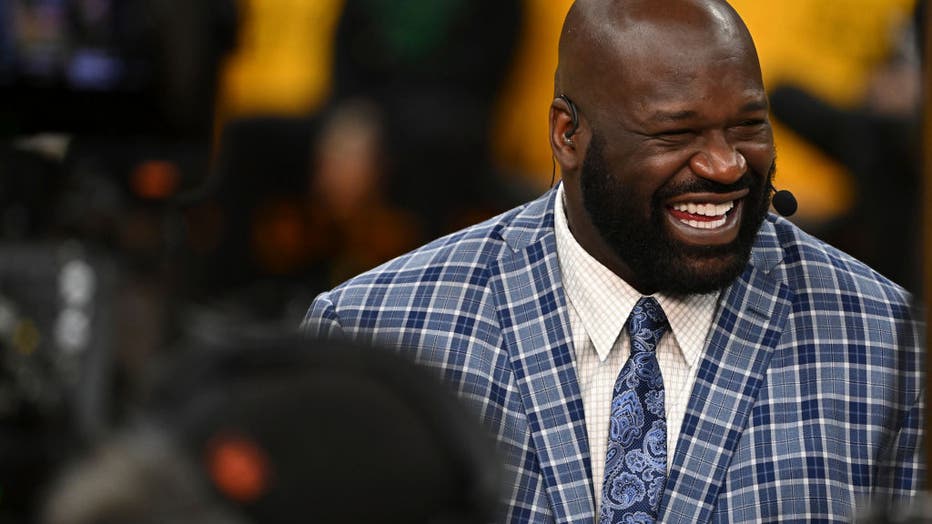 Basketball: NBA Finals: TNT broadcaster Shaquille' O'Neal laughs prior to the Golden State Warriors vs Boston Celtics game at Chase Center. Game 1. San Francisco, CA 6/2/2022 CREDIT: John W. McDonough (Photo by John W. McDonough/Sports Illustrated vi
6. Police test DNA on Rhode Island girl's cookie, carrots for evidence of Santa Claus: Is Santa Claus real? Well, one girl is on a mission to find out.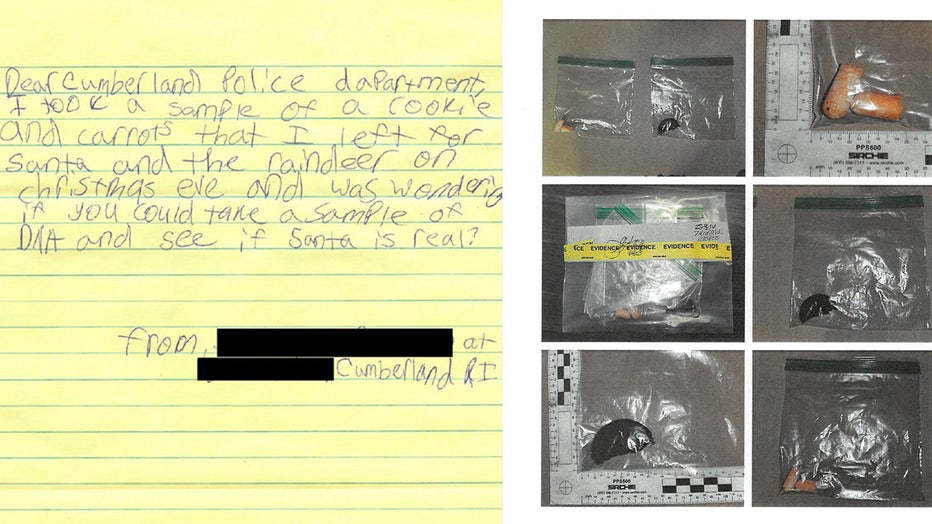 A young investigator from Cumberland submitted a letter requesting DNA analysis to be conducted on a partially eaten cookie and carrot remains she acquired on Christmas Day. (Credit: Cumberland Police Department)
7. Polka dot surprise: 'Rare' pattern of air pockets pop up in Utah school lot: The "rare" weather phenomenon was captured on Wednesday morning at Whittier Elementary School in Salt Lake City. Chris Herrmann came upon the icy playground when he came to work at the school, after rain had swept through the area the night before.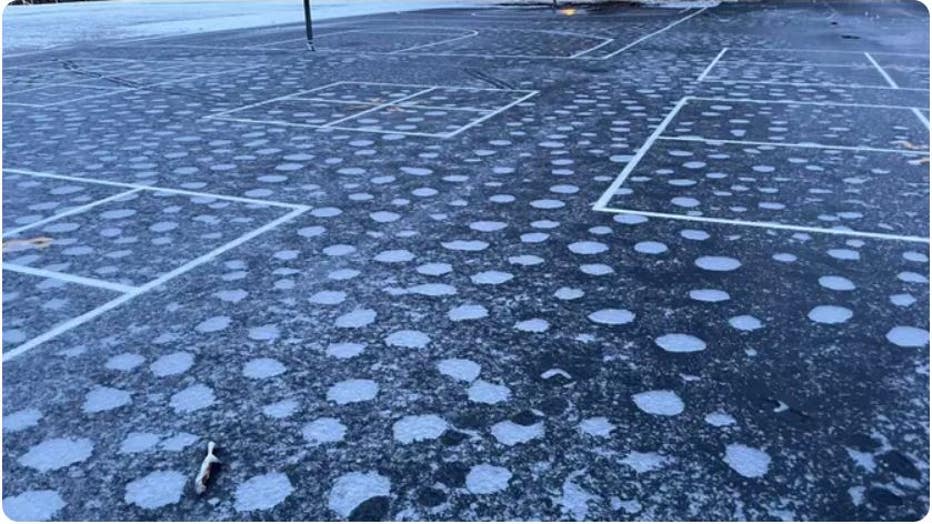 Thousands of air pockets formed under the ice. (Chris Herrmann / FOX Weather)
8. Get paid $1,000 to eat cheese before bed – in the name of science: Fancy a little bedtime brie, a Swiss snooze, or a Neufchatel nap? The folks at one mattress review site want to pay you to eat cheese before bed.
9. Dieunerst Collin, viral 'Popeyes meme kid' signs NIL deal with Popeyes: A man who gained popularity as a kid for his classic facial expression in a Popeyes restaurant in a social media video is gaining attention for another reason.
10. UK archaeologists ask public's help with puzzling cave carving: The cave carving was discovered last summer during a dig at Nesscliffe Hill in the United Kingdom.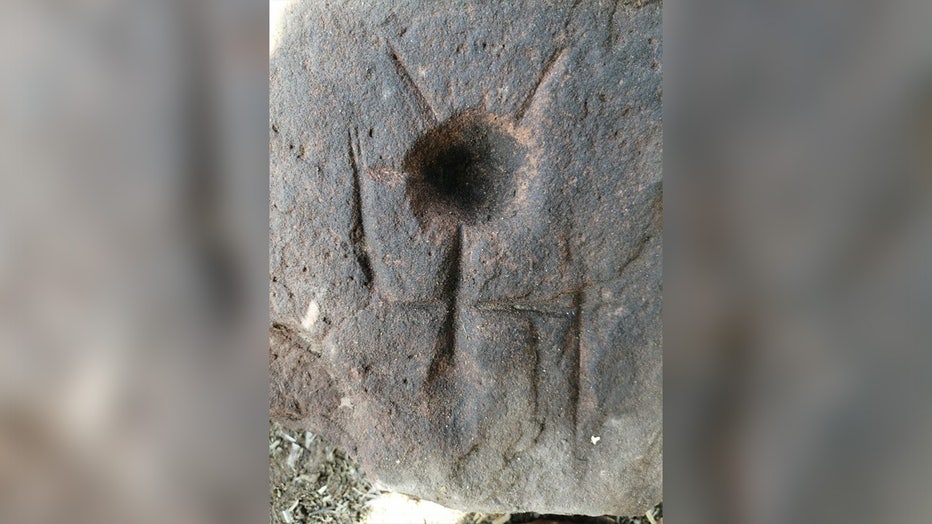 Nessglyph found in Nesscliffe Hill in the U.K. (Shropshire Council)