Phoenix biker crashes on South Mountain, falls 20 feet off cliff, fire department says
PHOENIX - A Phoenix man was rescued on Saturday, Jan. 29 after the fire department says he crashed his bike on South Mountain and fell 20 feet down a cliff.
"Crews arrived on the scene and, due to the man's location from his cell phone ping, decided flying to his side would be the fastest and safest for access. Firefighters found the man in critical condition with a head injury and a reported broken clavicle," says Phoenix Fire Capt. Scott Douglas.
Once he was lifted from the area of Telegraph Pass, he was brought to safety on the ground and was taken to the hospital for further treatment by an ambulance.
No further details were made available.
The fire department, along with other local agencies, says together, they've already made four rescues on local trails by Saturday afternoon.
Drones to be used in assessing possibly injured hikers
Keeping an eye on hikers from the skies using drones – a new plan outlined for the city of Phoenix to help make rescues more efficient.
"Give us a great ability to quicker get eyes on the patient, that's always our first – eyes on the patient," said Capt. Evan Gammage with the Phoenix Fire Department.
Drones won't replace in-person contact with hikers in trouble, but if someone calls with an issue, the drones will go up first.
"We've had stories before that we've done and issues with our guys getting up there four, five times a day. So having the ability to send that drone up first, being able to allocate our resources and know what we're dealing with helps," Gammage explained.
A lot of times, hikers who aren't familiar with these trails call for help, but don't know their exact location to notify first responders. Drones can find them even in hard-to-reach areas.
"We have a lot of out-of-town hikers, or new to trails. The difficulty is we're taking information from the patient. They may not know where they are, how deep they are in the trail, or even what trail they're on. They may have somebody else calling for them and or a family member who just thinks they're missing on the trail," Gammage said.
Especially during the summer, they get a lot of calls related to heat exhaustion on the trails.
"We encounter people who don't properly prepare for our heat here in Arizona, so our heat-related calls go up, and we're looking for this to help us out with not only locating patients, but we can also fly them up a cellphone, fly them up a bottle of water, in the meantime of us getting up there to help out," Gammage said. 
The bottom line: enjoy the trails, but be prepared.
"Hike safely, wear appropriate clothing, bring water, your cell phone and make sure people know where you are," Gammage said.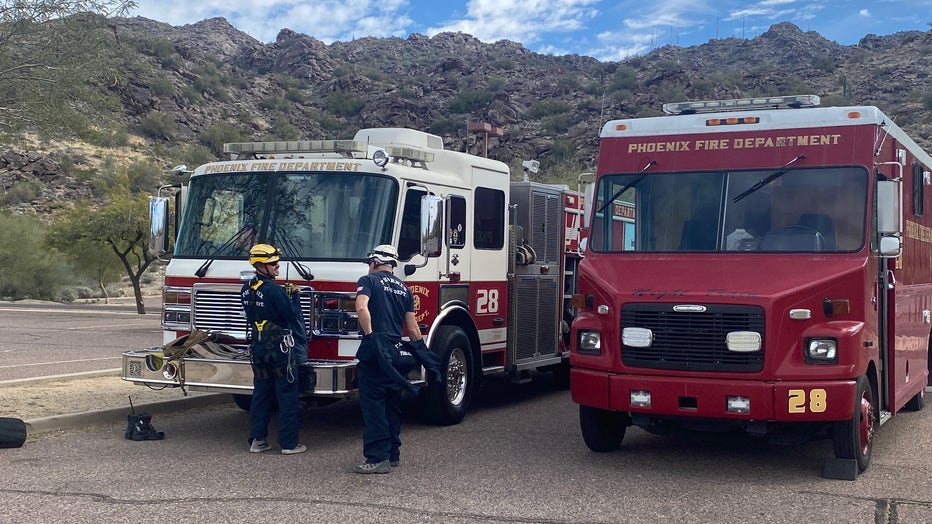 A Phoenix man was rescued on Saturday, Jan. 29 after the fire department says he crashed his bike on South Mountain and felt 20 feet down a cliff. Photo courtesy of the Phoenix Fire Department
Related Stories:
Tune in to FOX 10 Phoenix for the latest news:
Get breaking news alerts in the FREE FOX 10 News app. Download for Apple iOS or Android.