Phoenix Police sergeant hurt while investigating theft incident at QuikTrip convenience store
PHOENIX - Phoenix Police officials have released now information on an incident at a convenience in the West Valley that left a sergeant injured.
The incident reportedly happened in the area of 51st Avenue and Camelback Road. The sergeant was in the area to conduct a follow-up on a theft report at the convenience store when he was speaking to an adult man who was identified by an employee at the business as being the person who allegedly stole property the previous day.
"During this contact, the man and sergeant became involved in a struggle. The man entered a vehicle and quickly accelerated from the area the vehicle was parked, causing the Sergeant to be injured," read a portion of the statement.
"He reached for the young man to put handcuffs on him. The young boy reached over and said 'you're not arresting me,' grabbed the steering wheel, and drug himself into the vehicle," said one witness, identified only as 'Bob.'
The suspect, according to police, took off from the area, and ran from the vehicle at another location. He was later found and arrested by officers.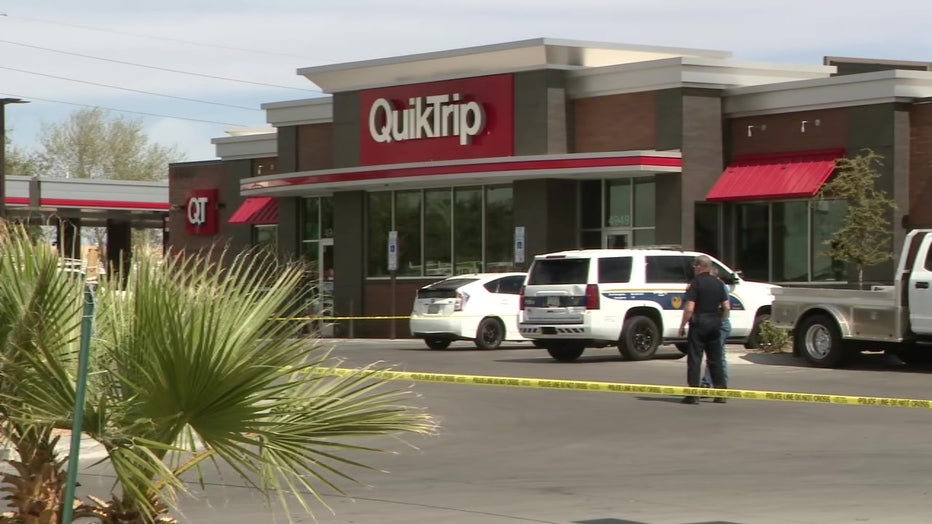 Crime scene tape surrounds the QT location near 51st Ave. and Camelback Rd.
"All I heard was squeaking and loud noise of a car, the roaring of the car's motor, and we heard it when it started sliding and he ran into something. Then I came outside. We all did," said Lewis Rameriz, who lives in the area where the suspect was arrested.
"What the heck is going on?" said Frank Delahuerta, who also lives in the area where the suspect was arrested. "I mean, there's always something going on, but not to this nature, you know?"
According to officials, the suspect was treated at a local hospital for injuries he suffered during the incident. The sergeant, meanwhile, was taken to the hospital for non-life-threatening injuries.
This is one of three incidents involving a convenience store in the Phoenix area on Mar. 14. In the first incident, which began at around 2:00 a.m. at a QuikTrip location in North Phoenix, where a man ran off the I-17 and into that convenience store. Police followed the man into the convenience store and after a confrontation, the man locked himself inside a storage room. The incident ended with the suspect's death.
In the second incident, police arrived at a QuikTrip in 27th and Northern Avenues just before 11:30 a.m., and found an employee who was stabbed multiple times. The suspect in that case was later taken into custody. As for the victim in this particular incident, that person was taken to the hospital with non-life-threatening injuries.
We have reached out to QuikTrip for a statement on this incident.