Phoenix Fire crews battle 3-alarm fire at salvage yard
PHOENIX - A Phoenix salvage yard caught fire on Sunday, July 4 and the fire department says a heavy amount of fire was seen when crews arrived.
The three-alarm fire started at Superior Recycling, near 29th Avenue and Buckeye Road.
While battling the fire, crews found a vacant home in the middle of the yard that was being used for storage. The home was lost in the fire, says David Ramirez, firefighter and spokesperson for the department.
"Firefighters had adjacent businesses to the north and south of the fire occupancy to protect. To the north, a lumber yard,  in which a ladder company was deployed along with multiple hoselines to protect the yard and its property. To the south of the recycling yard, there was a large pallet yard in which an additional ladder company and hoselines were set up to protect the property. Setting up these "Big Water" operations was successful in keeping the fire contained to the recycling yard without any extension to any of the neighboring properties," Ramirez explained.
Homes nearby the fire were evacuated to keep residents safe while their power was out due to the fire. They were bused to a location where they were kept cool and hydrated.
More than 100 firefighters battled the fire. One of the firefighters was treated for a heat-related illness.
The cause of the fire hasn't been released.
Just a month ago, a fire at Friedman Recycling prompted the largest response in history from the Phoenix Fire Department. About 200 firefighters responded to the six-alarm fire near 35th Avenue and Buckeye Road.
Tune in to FOX 10 Phoenix for the latest news: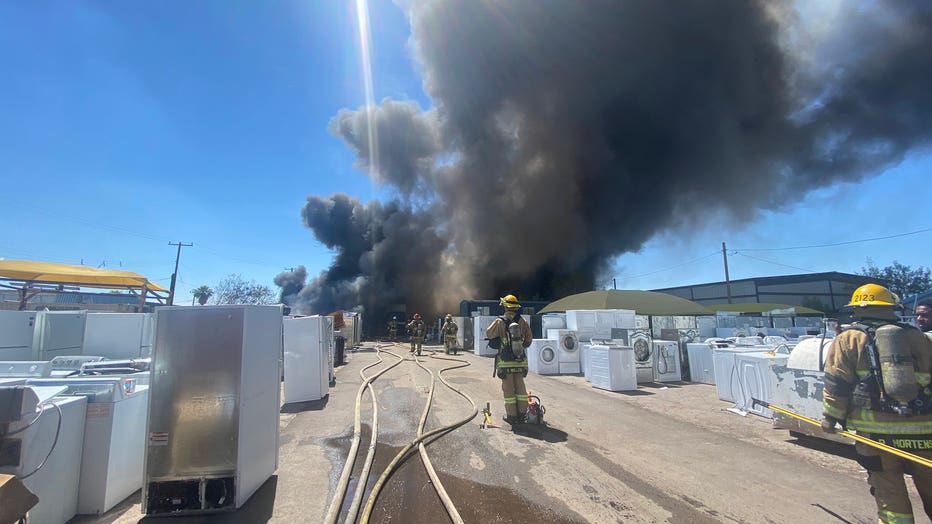 Photo courtesy of the Phoenix Fire Department
Related Stories:
Massive recycling yard fire in West Phoenix triggers 'largest response' in fire department's history
Get breaking news alerts in the FREE FOX 10 News app. Download for Apple iOS or Android.