Gas station employee arrested in Phoenix shooting that left teen dead, police say
PHOENIX - Police have made an arrest in connection to a shooting over the weekend in Phoenix that left a teenager dead.
Officers say they were called twice at around the same time on Saturday night: one was for a shooting near 43rd Avenue and Thomas Road, and the other for a teenager with a gunshot wound at the hospital.
Investigators linked the two calls to the same incident.
"Preliminary information indicates that the victim, along with other juveniles, left the parking lot of a convenience store when an unknown suspect fired several rounds in their direction. One of those rounds struck the victim, who was transported to the hospital by the other juveniles," read a portion of a statement released by Phoenix Police officials.
The victim, 15-year-old Bryan Perez, died at the hospital.
On Jan. 16, police said 18-year-old Julian Soto was arrested in connection to the shooting. He was booked into jail and is being held on a $750,000 bond.
Shooting suspect was gas station employee, court documents say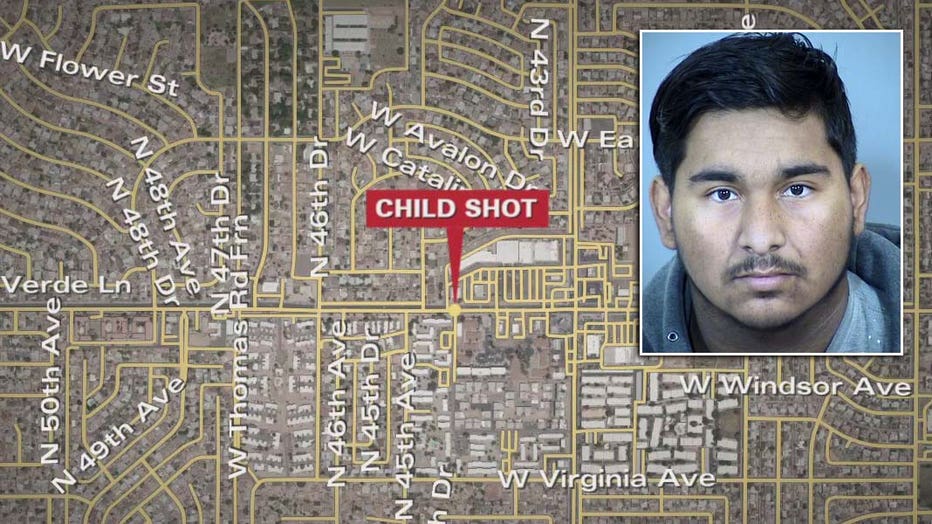 Julian Soto, 18, was arrested in connection to a shooting in Phoenix that left a teenager dead.
According to court documents, Soto was working at a Chevron gas station on the night of the shooting. When two teenagers went into the gas station, grabbed several food items, and left the store without paying, Soto chased after them. The teens were allegedly heading for a nearby vehicle.
"As Julian chased after them he fired a handgun at the two fleeing subjects and at the vehicle, the non residential structure, they were attempting to run to, which was occupied by two more subjects," court documents read.
The passenger in the car, Perez, was shot in the head, police said. He was taken to a hospital where he later died.
After the shooting, Soto allegedly picked up shell casings at the scene and the stolen food. Police say he also tried to change his appearance and hide evidence from the shooting inside the store.
"Even though Julian was present when officers arrived, he never made contact, nor advise them of his involvement," court documents read.
Soto is accused of multiple charges, including second-degree murder, tampering with evidence, and aggravated assault. 
More Arizona headlines