Super Bowl LVII: Fans fly into Sky Harbor Airport as game day gets close
PHOENIX - With Phoenix becoming the center of the football world for the weekend, Sky Harbor is set to see an influx of travelers ahead of the Super Bowl.
Due to demand from the Super Bowl, American Airlines has added more flights from Philadelphia and Kansas City to keep up.
"We added 100 incremental flights in 23 cities," said Sophia Ortiz with American Airlines. "After the two winning teams were announces, we added 10 additional flights. We're really excited to welcome them."'
Chiefs, Eagles fans speak out ahead of game at Sky Harbor
On Feb. 9, football fans began to arrive in Phoenix, and they were all ready to get involved in the Super Bowl action.
As the first additional flight landed at Sky Harbor and fans deplaned, fans were seen cheering as they stepped off the plane.
"35-10 Eagles!" one Eagles fans said, predicting the Super Bowl's final score.
Eagles fans coming to Phoenix had a big surprise at the airport on Feb. 9: when they deplaned, they saw fellow Eagles fan Patti LaBelle, as she wait ed for her flight back to Philadelphia to watch the big game there.
"Go Eagles! Go Eagles! I'll be at home cheering," said Labelle.
On Feb. 10, more Eagles fans, as well as Chiefs fans, arrived at Sky Harbor from other parts of the country. Amongst the fans are people who have very special connections to people on the two opposing teams.
"He's a quarterback coach," said a Mrs. Johnson, who was talking about her son's job with the Eagles.
"Jaylen Watson is a boy we've helped nurture in the community, so we are taking some of our boys on the team out here, so it's just an honor to be out here," said Christopher Max.
Some of the people who arrived at Sky Harbor on Feb. 10 were from another part of the world altogether. We caught up with people who flew in from London.
"Just out here to view all the aircraft in town visiting for the Super Bowl," said Andrew Charmin. "It's just so gr eat to see so many jets in one place at one time."
Phoenix Fire crews stepping up patrols
With thousands arriving at Sky Harbor for the Super Bowl, airport officials have ramped up security and safety personnel, including Phoenix firefighters, some of whom are on bikes with 40 lbs of gear strapped on in order to quickly respond to emergencies inside the terminals.
"A two-man team, advanced life support team, one EMT and one paramedic," said Marc Austin with Phoenix Fire.
The Aircraft Rescue Crews are activated when Sky Harbor officials expect a huge influx of travelers going through the airport.
"So, that cuts down response times," said Austin. "We get calls like a stubbed toe on an escalator, somebody is not feeling well or is dizzy after a flight."
The bike crews will also respond to calls for heart attacks and passengers who become unconscious. If necessary, they can also help get patients out of the airport, into an ambulance, and on the way to a hospital.
"On bikes, we're just more agile in the terminals, so we can generally get to patients must faster than an engine can," said Austin. "Oftentimes, we get calls on board the aircraft. There's a patient on board, we get dispatched, and we participate in removing that patient from the aircraft."
Read More Super Bowl Stories
Tune in to FOX 10 Phoenix for the latest news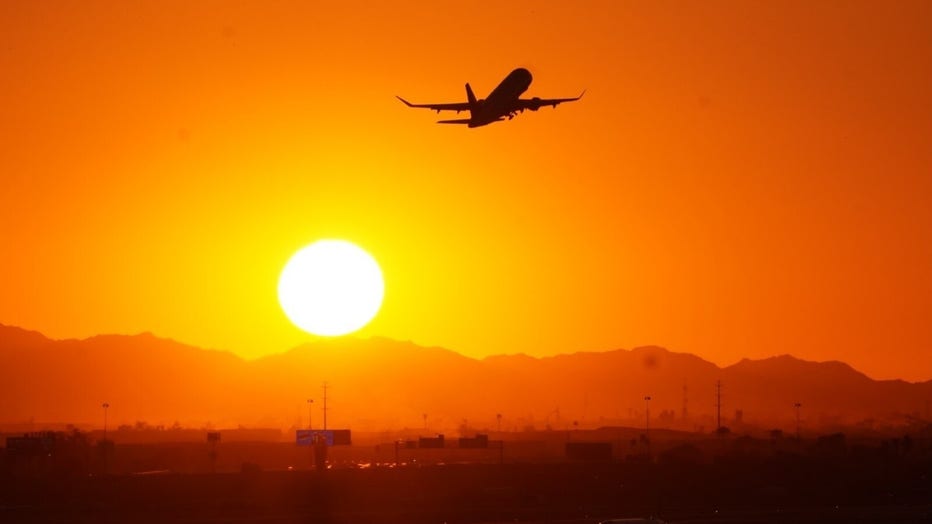 Breathtaking shot of a sunset at Sky Harbor Airport in Phoenix captured by Brian Johnson