To mine or not to mine: Project that could bring enormous benefits to Arizona at the center of court battle
SUPERIOR, Ariz. - Faith, profits, and survival: that's what's at stake in the small town of Superior, Ariz. for generations to come.
It is a years-long saga involving one of the largest copper deposits in the world, and a religious sacred site for a native tribe, and the outcome of this saga could forever shape the state's future, as well as the country's.
In Arizona, the copper industry supported nearly 50,000 jobs across the state, and contributes millions of dollars to the state's economy. 10 years ago, a company named Resolution Copper introduced plans for a proposed mine in an area outside of Superior known as Oak Flat, but a non-profit called Apache Stronghold contends the land is sacred for indigenous ceremonies.
Since then, the debate sparked a years-long feud that carried to the halls of Congress, courthouses and beyond.
Area was once mining country
Road Leading Into Superior
Superior is a town of 3,200 people located about 60 miles east of Phoenix. There is an old high school in town, as well as a handful of old buildings splattered with murals.
The town's mayor, Mila Besich, has deep roots.
"I love it's beautiful, natural surroundings. I love that my family has been here for five generations," said Mayor Besich.
"It's just, like, generation after generation of people who have just lived here for a long time," said Tony Facia, who owns a smokehouse restaurant in the town's downtown area.
Superior was mining country. Was. According to the Superior Chamber of Commerce's website, the town's largest mine shut down in 1982. Currently, the town reportedly has a poverty rate of 19.5%
"More people to come out here and increase and improve Superior and breathe that extra life into it, and bring main street back to life would be amazing," said Facia.
Resolution Copper officials talk about their plans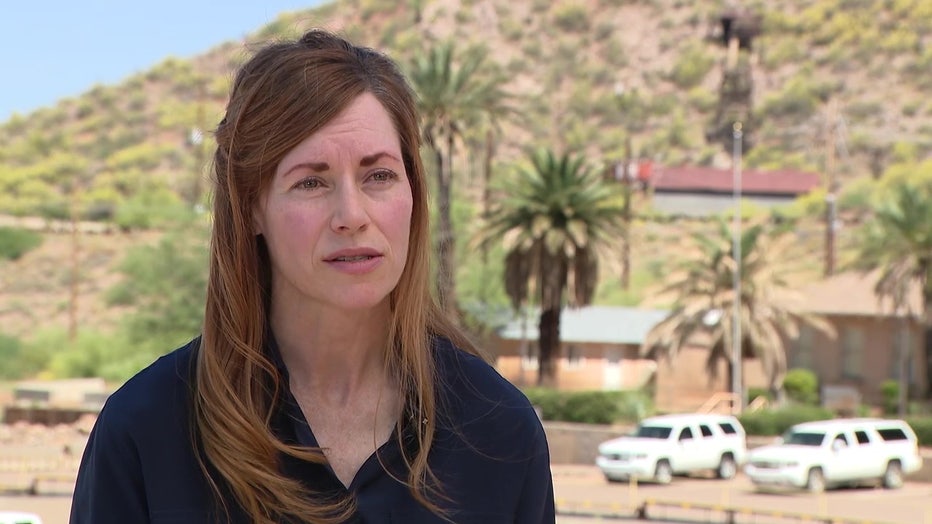 Vicky Peacey, President and General Manager of Resolution Copper
Officials with Resolution Copper say near their current site, lays an opportunity that could transform not only Superior, but the U.S. as well.
"There's nobody else investing in this area of rural Arizona, but we want to," said Vicky Peacey, President and General Manager of Resolution Copper. "I really think that this is the type of project that can really make a generational difference in rural Arizona."
Peacey's company currently employs 300 people.
"Trying to find a deposit like this is truly like finding a needle in a haystack," Peacey said.
Peacey was referring to an estimated 2 billion tons of copper deposit that she claims is enough to satisfy 25% of U.S.'s copper demand.
"Copper is important because it is the metal of electrification," said Peacey. "All of the clean energy trends require copper."
Resolution Copper officials expect this to create thousands of jobs, pumping a whopping $1 billion into the Arizona economy annually for 60+ years.
"Copper deposits like this just don't exist. You just don't come by them very easily. They are where they are," said Peacey.
Former native tribe chairperson lists his concerns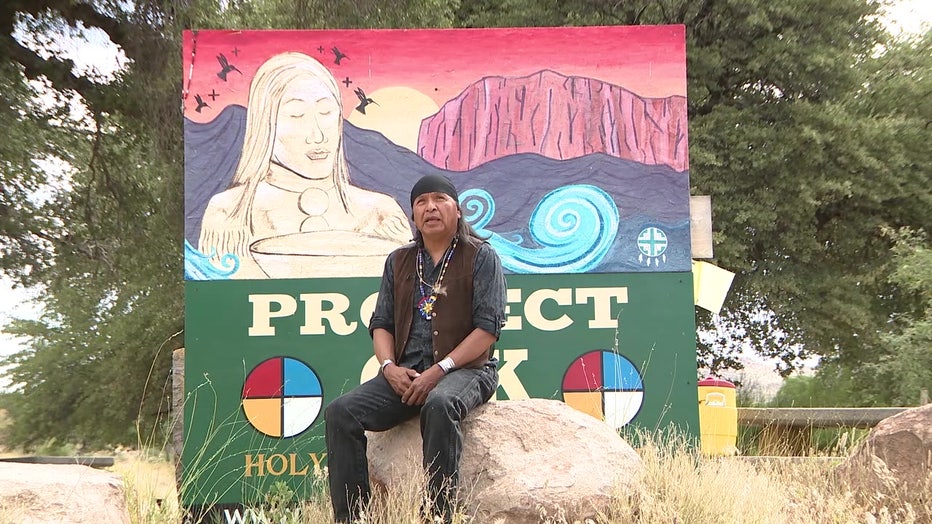 Wendsler Nosie Sr., Former Chairperson of the San Carlos Apache Tribe
Where the copper deposits are is, in this case, a problem.
"If this project does go through and it's destroyed, it's one of the greatest sins in the world," said Wendsler Nosie, Sr., referring to the Oak Flat area.
Nosie Sr. is the former chairperson of the San Carlos Apache Tribe. He said the land is sacred, Integral to coming-of-age ceremonies, and similar in sanctity to the Wailing Wall in Jerusalem, or St. Peter's in Rome.
"This is that particular place that reminds us of all creations, and how we are all intertwined," said Nosie Sr.
Nosie Sr. fears the holy place might be gone forever.
"It's no longer a Native fight," said Nosie Sr. "It's an American issue."
The issue is one that is at the heart of an ongoing court battle. Citing religious rights, other religious leaders have written court briefs in support of the tribe.
There are also environmental concerns, as well as concerns over the project's impact on the Oak Flat Campgrounds.
"Arizona accommodates mining with unlimited water, but we are at the point where we have to adjust, and if we don't adjust, then the future of the children of Arizona, and private ownership, cities, will be hit a lot worse than the reservation," said Nosie Sr. "The animals are going to leave, the trees are going to die. All this that gives life is going to be gone."
Mining company president respond to concerns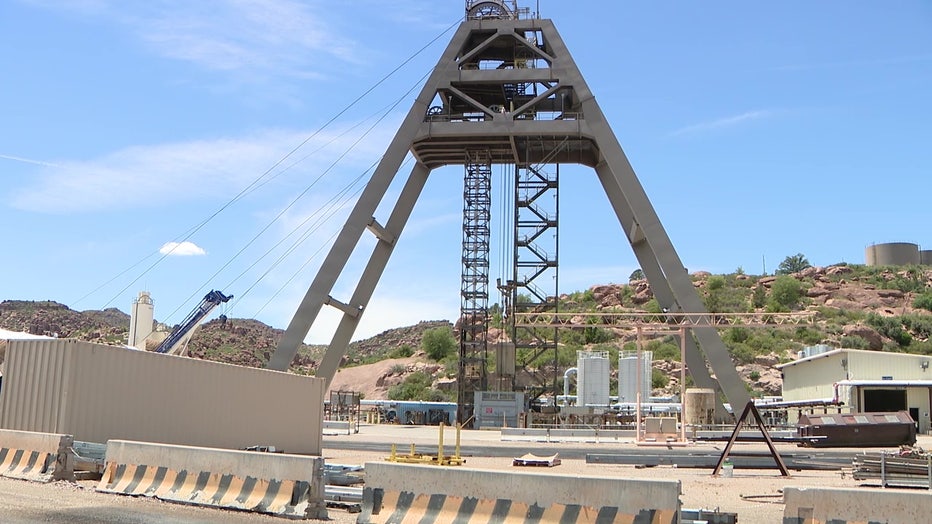 "Once in production, we will be the most efficient water user of all mines in Arizona," said Peacey. "We still know that's not good enough, and we still will be looking for ways to drop it."
Peacey said the mine, if built, will not be the kind of mine "that a lot of people have on their minds."
"This will not be an open mine with waste rock dumps. It will be an underground mine, located about 5,000 to 7,000 feet below the surface," said Peacey. "There will be far less footprint, and you really won't see a lot on the surface. There's no immediate harm, or no immediate impact, and we have time ahead of us to continue that dialogue, collect that data, and see if there's any more ways to minimize that impact."
As disputes continue, people are in limbo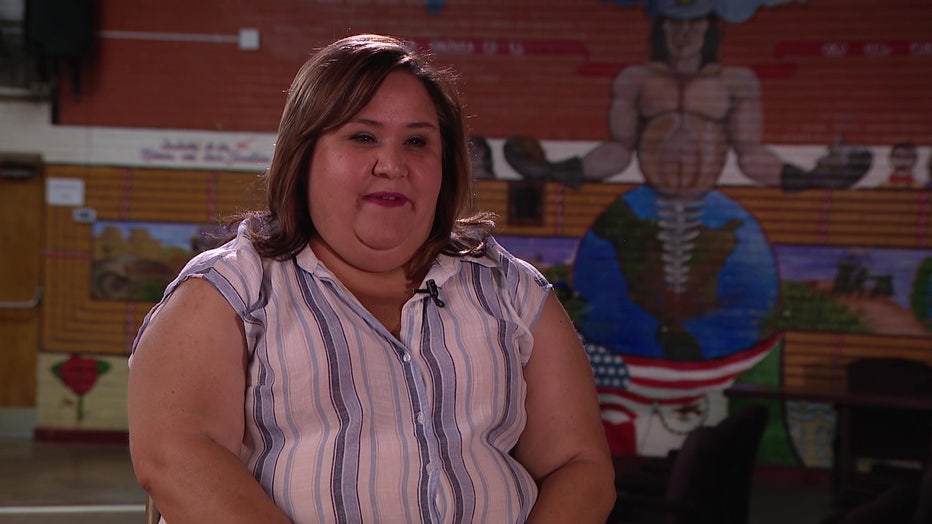 Mila Besich, Mayor of Superior, Ariz.
The proposed project is sparking a kind of tug-of-war over matters such as religion, money, the environment, and secure jobs. Meanwhile, real people with real convictions are caught in the middle.
"We have urgent needs around the green economy, to be able to produce electric vehicles, solar technology, so we need to get to work on this," said Mayor Besich. "We've had to plan for our future, and part of that is making sure we have a diversified economy."
Mayor Besich said the stakes are high.
"The decisions we make today are going to impact what happens in Superior 100 years from now," said Mayor Besich. "That's the lifeblood of our community, that these traditions continue because we have the jobs that families can live off of."
Plans for the Oak Flat Mine remain on hold, after the Federal government withdrew a review to consult further with tribes and others. In March 2023, attorneys representing Apache Stronghold argued to a full panel of the 9th Circuit Court of Appeals, stating that destroying Oak Flat would prevent Native American groups from practicing their religion.
A court decision is expected in the upcoming months, but as a result of the court challenges and Federal government delays, everyone is in limbo, waiting and wondering how to balance forces that seemingly can't be balanced will be decided.
"There's 3,200 people that live in Superior that wait for this elephant to determine what's going to happen," said Mayor Besich.